Nested Base Production without Tool Changing
Tool changers add a lot of versatility. But are they a necessity? Maybe not. March 22, 2013
Question
I know there are a lot of reservations out there, but I have heard you can do nested base with just a 5mm bit. I know the gut reaction is to dismiss this as an outlandish claim, but I saw this demonstrated at an AWFS convention some years ago. Is this possible on a semi-production level? I own a small shop and we are doing between 2-6 medium size kitchens a month. From what I understand it is possible to step cut the nest (that is 3/8" of an inch at a time) in about 12 minutes a nest. That said, the claim is you are able to process enough 3/4" melamine to build a kitchen a day. That seems to be a lot of capacity. I am looking to get into an entry level machine and trying to evaluate what price range to consider. The dilemma is, do I get into an entry level machine that can more than meet my capacity for $25Gs, or do I spend more than double on a machine to get a tool changer that will sit there idle 80% of the time?
Forum Responses
(CNC Forum)
From contributor R:
I would suggest getting the tool changer. It gives you so much more flexibility of tooling options, you will simply expand what you do with the CNC. Plus it will not be idle 80% of the time because you won't nest with a 5mm router. That really is just compromise if you don't have a tool changer. I have worked with machines where I performed manual tool changes in order to complete a cycle. It is not ideal. I am surprised that it is almost double to add a tool changer. But I haven't looked at pricing recently.

---
From contributor J:
As a cabinetmaker, you could regret not getting a tool changer within minutes of your first sheet and not just for nesting reasons. There is so much more you can do with a CNC these days to enhance your offerings and capacity with a machine. I went with the CAMaster X3 in 08 after initially purchasing a single Z machine in 07. One train of thought is to buy your second machine first. We are an all custom shop and this machine has done us well. Camaster has a machine owner's support forum. There are several good machines with ATC and vacuum (you need both) in the 30-40 range.
---
From contributor D:
A lot of guys have changers. I do not. Yes, it would be great, but I'm a one man shop and I do cut with a 5mm comp bit. It's slower than the big boys, but faster than me. I don't push my machine. I cut at 200 in per min. That translates to about a sheet every 15 minutes fully cut with shelf pins and dados. I can't edgeband and assemble the parts in that time. There are a ton of good used machines out there for less than 25k. That said, there are other costs too - software, electrical, dust collection bits, and time.
---
From the original questioner:
Contributor D, what kind of machine and vacuum are you running?
---
From contributor M:
My whole professional background revolves around CNC (machinist, programmer, tooling, technician, etc.) so naturally, I salivate over technology. That said, contributor D's comments reinforce what an individual can accomplish with a practical application of any technology. I know this is off topic a little, but I just wanted to commend contributor D. My daddy used to say in regard to salary "It's not how much you make that matters, it's what you do with it." Buyer's remorse is big in this industry. I hear all the time "I wish I hadda ordered..." My response is, "It's not always what you got, it's how you use it." Contributor D has a very practical, and I am sure profitable, approach.
---
From contributor D:
I run a 60x120 shopbot, 8 zone vac, 4 fein turbos. 5 hp columbo spindle, mach 3 and an ascension controller. It does the job and it's all single phase (easy on the meter).
---
From contributor J:
The Camaster x3 option is a bit over two grand as an option. Gives the end user three heads (bit choices). It's been called a poor man's tool changer, yet it has served me well. Mine is an 08 and I still have several offers at 75% of what I paid for it.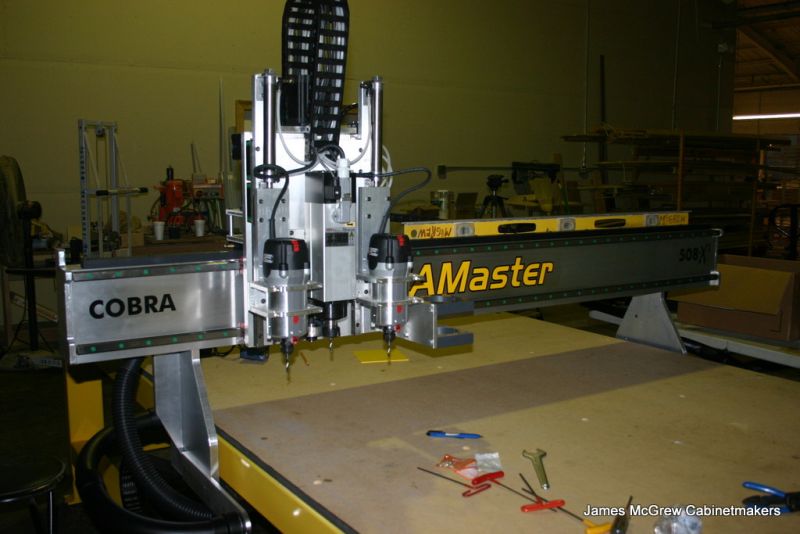 Click here for higher quality, full size image
---
From the original questioner:
How clean are your holes drilling with a compression bit? How many sheets of melamine can you do with one bit?
---
From contributor D:
Holes are pretty good. A lot of time on higher end stuff I'll do a grommet insert to pretty it up. It also helps with any tearout of overloaded shelves. Peck drilling is the toolpath to go with for holes. I'd say about 15 to 20 sheets on a bit. I usually bid in at least 2 bits per job. I have them made for me by a local shop. They run around $15.00.
---
From the original questioner:
What are the specs on your machine and what kind of vacuum are you running? Do you do much nested base and if so, what bits are you running and what is your cycle time?
---
From contributor J:
Sheet machine time is 8-14 minutes depending on complexity. I drill with one of the three heads. I use a 15hp fpz regen. The photo was taken new and now I have the Columbo 5hp for a main spindle, the two side routers provide tools 2-3 I cut dado with center spindle and 5mm shelf pin with one of the side routers. I believe Camaster charges 2500+/- for the x3 head and it was designed for a small shop. Mine was built in 08 and has performed well. It is a solid machine with excellent versatility. I also have the rotary lathe, yet do not use it as much as one would think. I like my 5x8 table (next one will be a 10' length). The 5 foot width is needed periodically with 5' ply, and I am glad I got it this wide. I have another 5 x 20 foot older digital that has been retrofitted with an updated wincnc controller.
---
From contributor J:
I should add mine is a stepper machine. All of their newer models are servos.