Outdoor Furniture Made from Low-Grade Wood
"Pallet-grade" beech is worth a lot more made into a picnic table than it is sold as lumber. September 14, 2006
Question
I built these from some warped beech lumber that was laying around. Took about an hour each. They are 6' long. I went to Lowe's and they had picnic tables that you have to put together for $88, and that lumber was warped too. The 4 legs are 30 1/2'' long with 25 degree angles. The 2 top boards that hold the table top to the legs are 26''. The 2 boards that hold the sets to the legs are 57''. The spread of the top of the legs is 17 1/2 and on the bottom it's 37 1/2'' and the finished set height is 17'' and the table height is 30''. The 2 angle braces are 30'' with 45 degrees on the ends. And 9 - 6' boards for the table to and sets.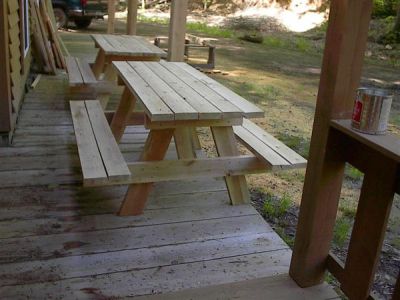 Forum Responses
(Sawing and Drying Forum)
From contributor L:
They look nice. However, I've never seen a pallet that was 6' long and made from 2x stock.

---
From contributor M:
He just said it was pallet grade, not pallet parts. Looks like a good use of low grade to me. Thanks for the measurements - might just make one like it.
---
From contributor D:
Good job. Beech is one of my favorite woods, and in my opinion, way underused.
---
From Professor Gene Wengert, forum technical advisor:
I do wonder what the definition of "pallet grade" is. Although we cannot see all the knots in the pictures, it certainly looks like No.2C or even a few pieces of No.1 Common. Construction looks excellent. So what is the selling price?
---
From the original questioner:
Doc Gene, the only reason I called the beech pallet grade was because I've never found anyone but pallet companies and RR tie plants who would buy it. Pallet cants bring .30 cents a board foot and 5/8'' boards were bringing .20 cents. I figure there's about 60 board feet in a table and in these parts of the country, I'd sell a table $75, or 10 or more I'd give a discount and sell them for 50 each.
Lowe's had a few tables put together and they were sitting out front of the store and I couldn't tell what kind of wood they were made out of, but they were warping bad. Looked to me like they needed to be cut up for firewood, but they had a sign saying "sale $89."
You got any ideas on who might want some nice beech lumber besides the pallet companies? I have thought about the eBay thing, but I thought the volume is too low and the overhead too high.

---
From the original questioner:
The tables sold quick. I was thinking that I need something to go along with the picnic tables, so I made this. It needs some refining but there's less than 5 board feet in the chair and it took less than an hour to build. I think I'll make the arms from 1 1'1/2 boards and make the slats 2" and space them out evenly next time. Made from beech and poplar.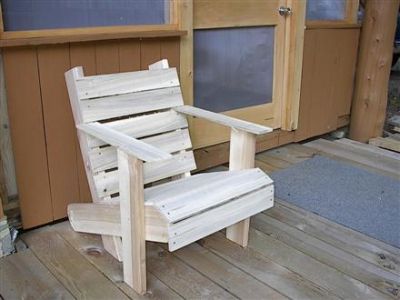 ---
From contributor G:
That's nice work!