"Pickled" Finish on Maple
Translucent white finishes on maple sometimes pick up a pink or blue tinge. But with "toning" techniques, you can gradually build up a whitewashed look. October 2, 2005
Question
I am having trouble finishing new maple cabinets to match existing ones with a Southwest style, white pickled or whitewashed look. I have no experience with tinted lacquer and usually use an oil stain under MLC Krystal topcoat. Every white stain I try seems to have a bluish or pinkish tinge to it. Even many cabinets at a gallery have the same tint, even apparently with a glaze finish. I need a purer white. Only thing I found close was Zinser shellac base white primer. Problem with that is it may interfere with adhesion of Krystal topcoat, and is difficult to apply evenly.
Forum Responses
(Finishing Forum)
From contributor M:
You will need to make a toner out of it (you can do the same with any type of white coating). Reduce it down with the proper solvent, until it has only a tinge of color when you are spraying it out. You need to do some testing. It takes very little color, as you need to slowly add color with each pass, so you get a uniform color without blocking out the wood. Practice makes perfect, and perfect takes lots of practice. It certainly would be worth it to learn how to tone.

---
From the original questioner:
I've never messed with white colorizing before. Maybe I should try white tinted lacquer, as I have never sprayed alcohol based products (shellac). Can I get Krystal tinted? Need to talk with ML Campbell dealer, I guess, but experimenting with different mixtures of that material could get pretty expensive. What toner do you use for the Southwestern look?
---
From contributor M:
Yes, definitely talk to the dealer. If they won't color it, ask what paste colorant you can use. You mix toners by adding a little color at a time, and then testing until you get the right formula. It's not a big deal... I would need to see a photo of the Southwestern look, as I'm a Northeasterner.
---
From contributor J:
Instead of tinting your coating, you can pick up a can of clear dye stain and tint that. It's a little more forgiving. Then, after applying your color, you can start clearcoating. With maple, you can really do some interesting things with this method. You can thin the stain down and spray it heavy so it soaks into the grain, or dry spray it to get a more even color. I've done lots of pickled colors this way. Make samples and with practice you could get the color in a single application without having a step of this and a step of that.
---
From contributor M:
What is a clear dye stain? Is that the clear base that is used for adding colorants for glazing, or the base (reducer) for making up dye stains? It's the colorant that appears pink because of the wood's colors. What would the clear dye stain do?
---
From contributor J:
Right, dye base. I misspoke. Add 844 colorants to it and you got yourself a pigmented dye, or toner, if you will.
---
From Paul Snyder, forum technical advisor:
To punch up the white on a pickled or whitewash finish, first I'll stain the wood, seal it with a coat of finish, sand it smooth, spray a coat (or two) of thinned finish with a little white pigment in it, and then topcoat.
If you have some 844 Titanium White pigment, you can add a little of that to your finish to make the toner/shader. Try 1 ounce of TW per gallon of finish - it doesn't take very much. You can add 844 TW to either your sealer or CV. Orů
If you have some white Krystal, you can add a little of that to your clear Krystal to make the toner. I usually use around an ounce of the white finish (paint) per quart of clear to make a toner.
The picture below will give you an idea of how the toner makes the pickled finish more white. The door on the left was stained and sealed. The door on the right was stained, sealed, toned, topcoated.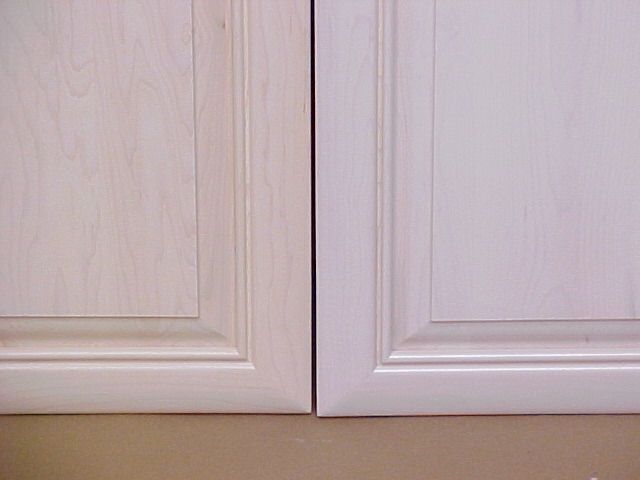 Click here for full size image
---
From contributor M:
You need to be very careful when you are applying color in your clear coat. Without some practice to learn the proper spraying technique, it's very easy to block out the wood, losing the grain, character, and figure.
---
From Paul Snyder, forum technical advisor:
It's always a good idea to do a sample, the larger the better, before trying a finish on the actual project. I usually spray the toner on the back of the doors and/or shelves first (after the large sample). That's just another way to make sure everything's right (e.g., the amount of pigment, how heavy to spray, overlapping, etc.). If those areas aren't just right, you don't have to start over unless you really mess up.
---
From the original questioner:
Thanks for the help. Paul, your pictures are great. When you say apply a stain first, I assume you mean some white oil stain. When I tried various brands, they came out with a blue or pinkish tint. Have you found this, and if so, does your tinted topcoat get rid of it? If you have not found this coloration, what brand white stain do you use?
---
From Paul Snyder, forum technical advisor:
I usually make my own pickling stain. I used to get white oil-base paint from the store and thin it down with mineral spirits until I liked the consistency. That works okay and does a good job. You can thin as much as you want to get the amount of color you want and to make it easy to spray and wipe.
These days, I mix some titanium white 844 pigments in with clear stain base and use that. The brand of stain I use dries for topcoating in under an hour, so I like it better than the thinned paint routine. If you're using Campbell, they have a clear stain base you can use (or have them mix it for you).
The stain does a pretty good job of making the wood white. The toner makes it even more white. I do like to use a water-clear (water-white), non-yellowing finish with a pickling stain to keep the color as true as possible. Krystal fits that description.
By the way, the picture looks a lot more pink than it really is. I had a heck of a time trying to take a picture of all white and still get the grain to show.

---
From the original questioner:
Thanks, Paul. I just got back from the ML Campbell dealer. You are absolutely right. They mixed me up some white stain using their clear base plus titanium white tint and it looks great. It's amazing that so many other brands (I tried Minwax, Olympic, Sherwin Williams and others, etc. premixed whites) have a greyish, bluish, or pink hue on maple. It must be the solvent, since titanium dioxide seems to be amongst the ingredients in all of them. And, as you said, the MLC stuff dries fast, but not so fast that it can't be rubbed on by hand, andů I can safely topcoat it with conversion varnish. Thanks again for the help.
---
From contributor D:
You can add a couple of ounces of Naptha to your stain to make it dry a little slower and give you some open time out west.
---
From the original questioner:
Thanks. I've never tried mixing Naptha with lacquer based products. Learn something every day.
---
From contributor M:
Solvent Evaporation Rates:
Naptha - evaporates in 4 minutes.
Mineral spirits - evaporates in 50 minutes (it's the slower drying solvent).