Planing and Moulding for a Sawmill Operation
Is it worth the investment for a sawmill operator to step up to more advanced solid wood machining? January 17, 2011
Question
I am curious to know how many sawyers take their rough cut lumber to the next step? I have thought about purchasing a planer/molder like a Woodmaster. If you've done this, do you feel that it was worth the investment in dollars and time?
Forum Responses
(Sawing and Drying Forum)
From contributor M:
Is your lumber kiln dried?

---
From contributor R:
I do. Along with milling lumber, I sell Appalachian hardwoods. I am in the south. Some woods that I will skip plane are quarter-sawn oak, quarter-sawn sycamore. I do some plain sawn of these and other species. This helps the buyer choose what they want.
I mill aero cedar also, but don't surface that unless they want it surfaced. This wood and a few others are always air dried at least one year. It's milled to 4/4. The customer is told the moisture content is at about 12% - that's about as low as it will get here in Florida with air drying. Skip planing adds a bit more value. I never go to 3/4" or whatever unless they buy. The lumber also stacks and looks better.
I wouldn't necessarily buy a planer/molder unless you're in a business such as I am. I do custom furniture, entertainment centers and the like, and sometimes I need a crown molding or something special. If a customer needs a certain type of molding, I use my 13" molder planer, but that's all I do with that machine. I keep 3-4 different profiles in the cutterhead at all times, including the crown cutter. Many times I only use a portion of a cutter profile for a certain look on the board edge, etc.
If I want to surface lumber, I have a 20" planer hooked up to dust collection. I have never been a fan of combination machines. A bench top planer is a hobbyist machine and does a fine job with already surfaced wood, but can struggle with rough sawn sometimes. A floor model with separate motor is best. 13" is borderline as to being big enough.

---
From the original questioner:
The wood I would be cutting in Oregon will be kiln dried. In California, I haven't found a kiln close enough. So far, 2 hours drive into the foothills is the closest one. It better be something special for me to go through that trouble.
I am not a craftsman. I have and can get a lot of redwood sometimes. I thought about building some huge picnic tables, custom entry gates and raised bed garden kits, nothing super complicated. I thought that finishing the wood would bring me a higher return on the BF. I don't think that the redwood would need to be kiln dried (I might be wrong); it air dries pretty fast.
Home Depot recently lowered the price of a 11/16 x 5 1/2 x 6 fence board to $1.87 per board. I used to sell my boards for $5 each for a 1 x 6 with little resistance when theirs were $3.99. I don't even want to try to compete with that. I am just getting back into milling after a couple of years, so I don't have a following. My goal is to do something a little different than everybody else. That is why I thought about the molder. I already have a 12" planer. Funds are a little tight right now, so I can't go hog wild on a big purchase.
I really appreciate a website like this and all the input I'm getting. It's amazing how the internet can bring people with similar interests together from thousands of miles.

---
From contributor A:
Next step nothing - I took a large leap! I bought a Logosol PH 260 and a Nyle DH200 kiln. The first day I wired the PH 260 up, I made the first two months payments. The kiln does not dry fast enough, as I sell all the wood before it comes out. We dry a lot of pine and then make car siding and flooring. Just can not do it fast enough. Part of the problem is I do not have enough dry storage and a dry place to machine wood.
This is why I say it is a leap and not a step; you have to have inventory. If you saw and sell green, then you may have X number of logs and Y number of boards on hand. As you sell the wood you can buy more logs. When you get to drying and machining you will have X number of logs but will have 5Y number of boards. They will be from green to air dried and kiln dried. Then you get the order for machining and you pull those boards and machine. Since there are hundreds of patterns, you just can not keep but so much on hand. There is the storage problem of the product once it is done till pickup.
But it does make money and you can take boards that no one wants to buy and make it into some pretty stuff. It can double the price quick, but it comes with problems that have to be addressed.
The photo is 2x6 ERC T&G flooring.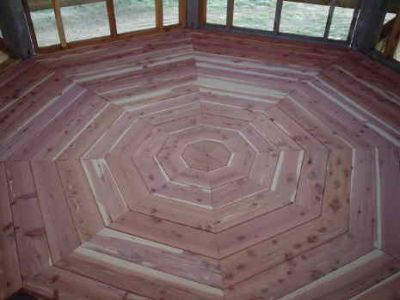 ---
From the original questioner:
Wow, that's a beautiful floor. Thanks for the input. Anything I do will be in several months.
---
From contributor P:
In my case, there is a mill 15 minutes down the road that will do D4S, shiplap, V-groove, double clapboards, etc. for $250 MBF, so I just load up the truck and bring it over.
What a beautiful floor. What color are you going to paint it? Sorry - it is April Fools Day, you know.

---
From contributor R:
Very nice floor! Now I don't even want to use all the ash I have ready.
If you do go with the Woodmaster, save the $60 for the planer blades and put it towards the spiral cutter head. The difference is night and day, especially after a couple thousand feet, when the blades are screaming and the spiral head is just getting warmed up. It leaves a much smoother finish as well. For me, having the ability to plane and mold has definitely opened new doors and made the whole process even more enjoyable.

---
From contributor A:
I just made it and put it down. I have not seen it since I took the photo. If it had been mine I would have brushed some 50 coat epoxy on it and called it good. I qsawed some white oak for a fireplace mantle and a cabinetmaker built a very fancy one for the folks. Then they painted it white.
If you are looking for work, then the PH 260 can get it for you. I have gone to town and bought lumber at the store and machined it to get quick orders done.