Pony Clamp Pads Staining Work
Watch out: an oil-based residue in the rubber pads on a clamp can mark your work. May 28, 2010
Question
Iím wondering if anyone using 3/4" pipe pony clamp has ever had a problem with the orange slip on pads? I am in the middle of a maple project and was using pony clamp and pads and left the clamps on the hard maple legs for about a day and when I took them off there was a stain on the maple. It appears to me to be petroleum based. I tried to rub it off with Acetone and lacquer thinner with no luck. I have three questions. What is it? How do I remove it? How do I stop it from happening again?
Forum Responses
(Cabinetmaking Forum)
From contributor G:
It is petroleum based, you will likely not be able to remove it and if you don't use the pads you won't have the problem.

---
From contributor M:
I saw this idea in a shop tips book, an alternative to using the pony pads. Instead, cut some wood stock about 2" wide and 1/4" to 3/8" thick. Then cut the stock into lengths of 2 to 3". These dimensions are by memory and can be adjusted to whatever works. After cutting, drill a hole into one end of the stock so it fits over the pipe. Install two of these inside the clamps, one for each end. They stay in the clamp always, at least until removed.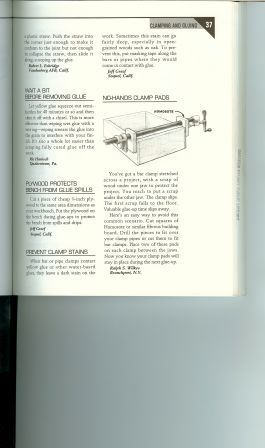 Click here for higher quality, full size image
---
From contributor D:
Jointer and tablesaw usually take pretty good care of that kind of stuff. Surely you don't clamp things together already sized?
---
From contributor V:
I would have thought that the Pony Clamp company would have solved that problem by now. I first had that happen to me in the mid 90's with the orange pads that came on my brand new Pony spring clamps. I was and am amazed that something designed and sold for woodworking would leave oil spots on the wood. I don't think I ever tried to get the spots off with solvents but they do sand off or scrape off. The pads lose some of the oil with the passage of years.