Portable Sawmill Comparisons
Users share views and experiences on portable sawmill types. November 13, 2005
Question
I would appreciate any comments and advice on the Logosol M7 sawmill. I intend to buy one for my woodworking business.
Forum Responses
(Sawing and Drying Forum)
From contributor B:
I have cut about 6000bf with mine and love it. It is not as fast as the band mills, but will cut just as good boards and maybe even better in some cases. If you need speed and lots of boards, spend the 30Gs and get the band - otherwise, go or it.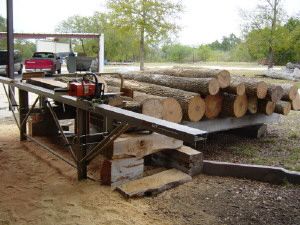 ---
From the original questioner:
Thanks for your input. Have you ever had a non-parallel cut out of this system (the thickness is not the same the full width on a wide board)? And any defects after this usage?
---
From contributor B:
Non-parallel cuts are very easy to make - we Logosol owners even make them on purpose. I have a neat tapered octagon lamp post I cut on occasion. We can also cut shingles with a taper. As for boards, yes, I have misread the scale and cut a board that was thicker on one end. But if the saw is set properly and you set both scales on the log supports the same, the boards will be nice and parallel. As for side to side variations, if you have the logbeds square to the mill and your chainsaw bar is parallel to the log supports, you will cut nice uniform boards. All mills will have to be set up correctly to cut uniform boards, this one included, and fortunately, it is pretty simple and it is very versatile.
---
From contributor W:
If you plan to cut wide slabs over 24", the Logosol or an Alaskan mill or Lucas mill would work well. For lumber and logs under 30", go with a small manual band mill. What do you intend to cut and how big do you expect to cut?

From contributor D:
Contributor B, what are you doing in the picture, cutting hackberry ties? A chainsaw mill is good for that kind of work. How long can you go maintenance free with a chainsaw mill (engine repair, replacement - that is a biggie)? I am asking because the little bandmill I run has a 13 hp Honda and will saw (quietly - I am in town, it is no more disturbing than a lawnmower) 7 days a week for years on regular gas. I got into my mill for $5k, can use it for years and resell it for about the same money. I just was in the market for a small mill for part time personal use and was looking at the Logosol and they looked good, but I went another way and am happy I did.

---

From contributor B:
Again, I love this M7 mill. It took me a good 8 hour day to mill the ash logs stacked in the first picture. They yielded about 500bf of 4/4. I have milled many 24" logs and several 36". The problem with the big ones with manual mills is the manhandling. I have a 1-ton Ford P/U outfitted as a wrecker to lift my logs, so it is not a big problem for me. This mill is also capable of cutting upside down and that is the way most people use it on the big ones. Drop the log, carry the mill to it (115# without saw), invert the saw on top of the log, screw the supports to the log and slab away.

---

From contributor D:
Contributor B mentioned a big advantage of the Logosol that I want to restate. You can set the mill up on the bigger logs. Material handling, I found out, was the hardest part of sawmilling - even a 24" log is heavy. I try to avoid big logs (my bandmill only cuts a 36" log or 28" square cant), but can't pass on one every once and awhile. A big log is a lot of work. I have to chainsaw it with my Jonsered 2095 into 1/4 then use my skidsteer to move the pieces.

You can break the Logosol down and store it if you are not going to saw for awhile and you need the space. They make mills for everybody, and I am not knocking any of them. Like everything, there are pros and cons. After weighing it all, I still went away from the Logosol, even though they are a good product and people who have them love them.

---

From contributor J:
I would seriously look into a swing blade, if you don't want to have to lift the logs. I'm partial to the big ones. Cuts 4 footers often and I don't have to deal with the lifting, etc. Easy to cut quartersawn, also. Good luck. Research and go see them in action. I'm partial to the Lucas Mill.

---

From contributor B:
The logs in the first picture are not hackberry - they are ash, and after I took them out of my solar kiln and let them lay around my shop a few weeks, they looked like this.

As for the longevity of the saw, I have cut over 6000bf of mostly 4/4 and the saw still runs like a champ. Only added oil and gas and a few bars and chains and sprockets (it is a Stihl 066). It is also pretty quiet as long as I have my ear plugs in and my earmuffs on. I am in the country and my neighbors do not complain. Also, when I have a big tree to cut down, I stick my 36" or 42" bar on and go cut it - a bit of the versatility that contributor D does not have with the Honda on his band mill.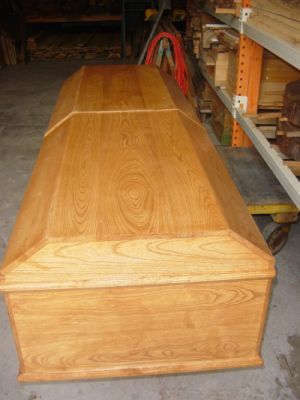 ---

From contributor D:
You showed your ash, now I am showing mine.

I said there was a mill for everyone. I am not in the country, and couldn't get by with the noise (nor would I want to listen to it). 6000bft., that is about a week's work with a small bandmill. A little gas and send a couple bands out for re-sharp would be the end of it for me in a week.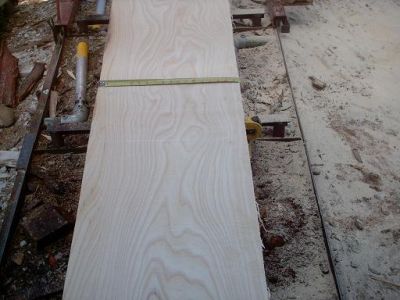 ---

From contributor J:
That's nice lumber. The picture is a box... er, umm… the one that goes underground when you die? Interesting market. Is that what you mill your lumber for or is that a special order? Keepin' on the green side of the grass for now.

---

From the original questioner:
Thanks for your input. Thought you'd like to see my latest acquisition. Bear in mind I live in the city.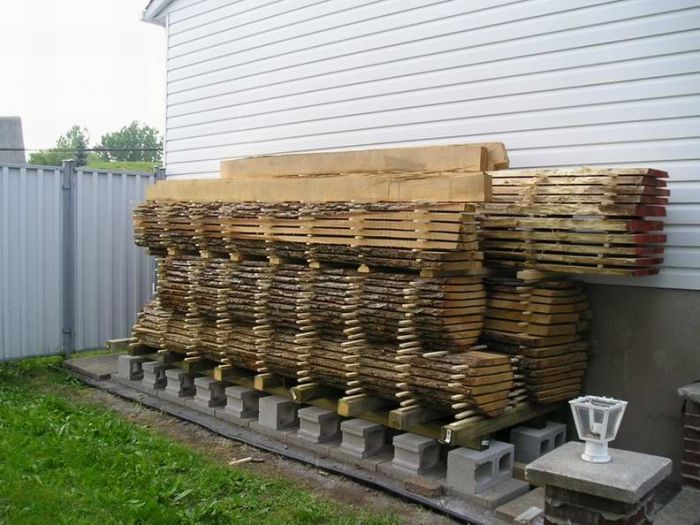 Click here for full size image
---

From contributor B:
I guess you could say that the box was a special order. My mom said, "You have all that wood up there, you need to make me a casket." I was not too excited about it and ignored her. Over the next two months she said the same thing two more times, and I started thinking that I needed to do something. I went by the funeral home and found out that the only requirement was "that the body fit in it." She has seen it and is thrilled and says she can't wait to use it and asked that at the end of the service we "nail the lid shut." She is almost 90 and in a nursing home and she says, "I have Jesus in my heart and I want to go make sure that my Sunday School teachers were not lying to me." She also told my sister-in-law that she was ready to die "but does not want to be here when it happens."

---

From contributor J:
Well, she's ready to go then. It's great that she's in such good spirits and has her sense of humor. Must be a great lady. Hope that box doesn't get used for a long time.

---

From contributor C:
I've had a Logosol M5 for 6 years and find it just about perfect for hobby/personal use. I live in town (unfortunately) and solved the noise problem with the E5000 electric option. It was a great investment - not only quiet, it cuts faster, does not require refueling, and has a large oil reservoir for non-stop cutting. Aside from somewhat frequent thermal protection cut-off on large logs, I'm very happy with it.

Another advantage with the Logosol is its weight. I store it overhead in my shop with a simple pulley and cradle system so I don't lose any floor space. I can raise and lower it by myself. I upgraded it with the heavy duty option and have cut logs up to nearly 36" diameter on it, upright. For that, I make the first cuts with my Stihl 66 and a 36" bar. I haven't tried the inversion method yet, but it looks interesting. The folks at Logosol have also been very good to work with over the years. I think that's true of most people I've met that work timber. There's a lot of God's art inside those trees. We're fortunate to be able to put it on display.

---

From contributor I:
I too just bought a Logosol. I got the Woodworkers version. I run it with an 066 chainsaw head. I love it. My sister and I fight over who gets to run it next. I'm milling maple, beech, ash, basswood, birch and cherry. I also own a 24" vertical bandsaw. I'll often cut cants out of the log with the Logosol, and then take the cants to the bandsaw to slice boards. Makes for an excellent combination, as I don't have the kerf waste. I considered a smaller bandmill, but didn't like the limitations in log diameter, and I needed the high portability of the Logosol. The Woodworkers version only weighs 85 pounds.

---

From contributor J:
I have an Alaskan mill and use ripping chain from Baileys. I cut 24' white oak this year (1000bf). Very slow and back breaking work ( I am 59). Would like to upgrade. I have seen the Logosol demo (Bjorkland) and was impressed. That was before I bought the Alaskan (Granberg) mill. The Logosol as a 1000 lb. rating, which seems insufficient for most logs (but what do I know?). My chains dulled very quickly. From this site, I am getting interested in the Schmidt and Turner bandsaws. They are about 3 hours from here (Sussex County, NJ).

---
The comments below were added after this Forum discussion was archived as a Knowledge Base article (add your comment).
Comment from contributor T:
I use my logo saw with a 60" inch bar just for breaking down the large logs into 1/4's that can then be milled on my Woodmizer 40hd band mill. The recovery and production with the band mill far exceeds that of the chainsaw. As for handling the large logs that is not a problem with the self loader log truck and off-road forklift. From there I process the flitches through a Woodmizer edger before loading them into one of the solar kilns. I am set up in a semi industrial area but can pick up and move the whole operation in a matter of 3-4 hours plus drive time to any wood lot.