Practicality of CNC-Cut MDF Doors
With opaque finish, MDF doors are hard to tell apart from wood raised-panel doors. Here are some cabinetmaker experiences and photos. February 18, 2011
Question
1. Are any of the CNC doormakers doing a good enough job to emulate a 5-piece flat-panel or raised panel door, with the corners done sharply (in MDF)? Or sharp enough to satisfy most buyers of painted wood cabinets?
2. If such doors were available, would they be cost-effective for painted face framed inset fronts work?
3. How would such doors behave in regard to seasonal movement, as compared to their all-wood counterparts?
4. Would one invest more time and therefore expense in finishing them, as compared to wood?
5. How about the comparison of finishing materials cost versus wood? Are more coatings required? Higher cost materials?
6. And for flat-slab drawer fronts, why not MDF in place of wood?
Forum Responses
(Cabinetmaking Forum)
From contributor J:
1. Yes, they can look very similar and most customers would not know the difference. Some, however, will and you just need to be honest and tell them what they are getting so if they have a problem with the MDF you can offer the alternative.
2. They can be, but only you know your costs and only you can determine whether they can be more cost effective. I know there are several companies with CNC now that are offering MDF doors starting at about 10 dollars a door.
3. They are very stable and will move and warp much less on average than wood.
4. Not in my experience. But it can depend on the particular type of MDF used, as some tend to look better than others with fewer coats.
5. No. In my experience they end up being the same.
6. Indeed, why not? You may need to sand the end grain more on MDF.
In the end they may be a viable option in many situations. The key is to be up front and state what material you are using and why. Then you don't have anything to worry about after the fact.

---
From contributor H:
We just finished a kitchen with shaker doors in MDF. Inside square corners were done with a special corner chisel for 15.00.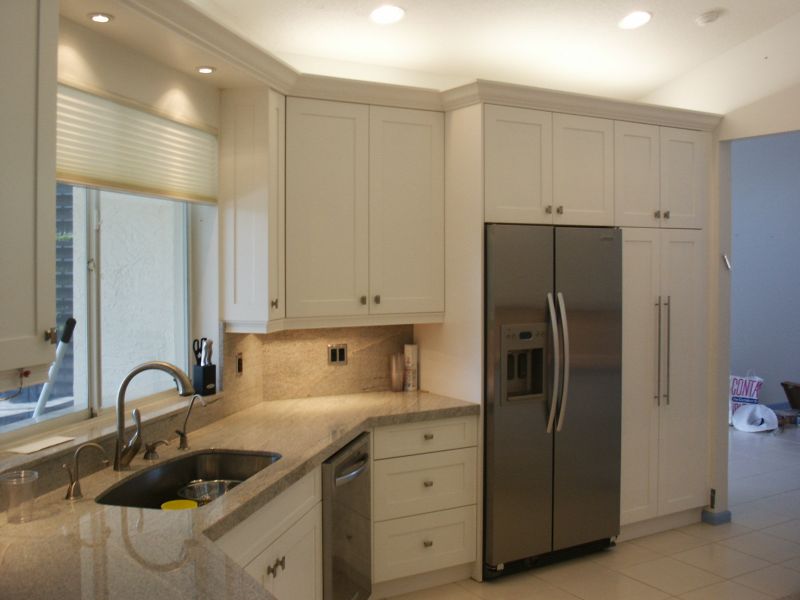 Click here for higher quality, full size image
Here is another kitchen using the same doors. The advantage is that there are never any cracks where the panel meets the frame, as it is all one piece.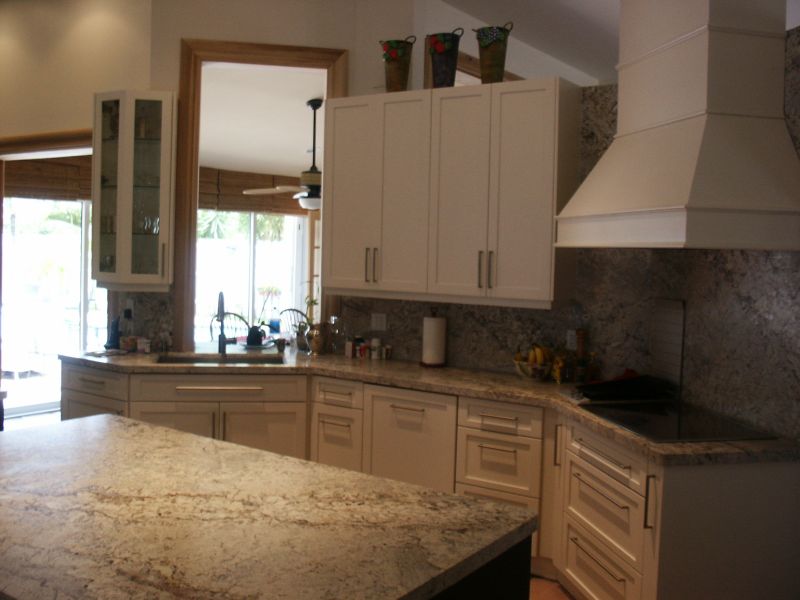 Click here for higher quality, full size image
---
From contributor T:
Would really like some close ups if you have any. What about the cost? MDF versus the paint-grade wood, which I presume would be maple.
---
From contributor H:
I do not have any close ups, but I assure you, you cannot tell the difference between these doors and solid wood. The cost of the doors with a white melamine back was 4.50 sq.ft. I have found someone in Miami who will supply the same doors already primed and sanded for 6.00 sq. ft. My regular finisher sands the white melamine back and sprays it the same as the face. It looks great and does not wear off. The face of the door does require a lot of prep and buying it pre-primed will be the way to go for me on future orders. We made a matching 20' wall unit to the kitchen with beadboard shaker doors in the base cabinets. We did this by having my CNC door company plunge the recess 1/4" deeper, and then inserted white pre-primed beadboard from Home Depot into the recess. We used latex based silicone to caulk the joints and they are better than real beadboard doors, as there is no gap between the beadboard and the frame like there is in a true inserted beadboard panel.