Pricing for Kiln Drying Lumber
Here are pictures of a drying kiln building under construction, with commentary on how to charge for drying wood with a dehumidifier kiln. December 8, 2012
Question
I'm in the process of adding a Nyle L200 kiln system to my sawmill operation. The building will hold 2,500 BF of lumber.
I'm in the East Texas area and would like to know how much you are charging to dry lumber for customers, or other sawmills. Do you charge extra to sticker lumber? I will be installing a separate meter to measure electric use.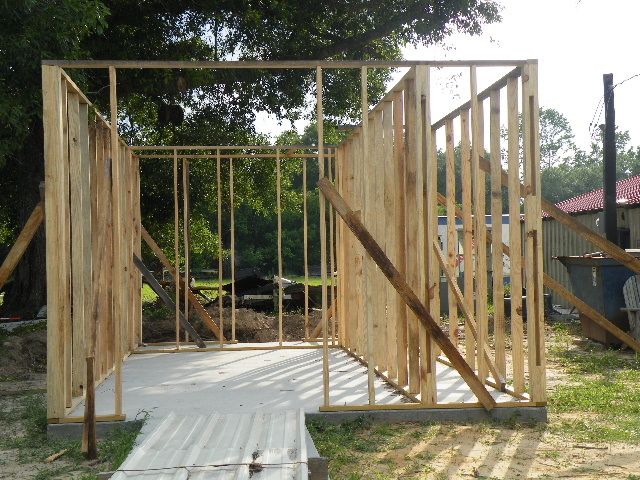 Click here for higher quality, full size image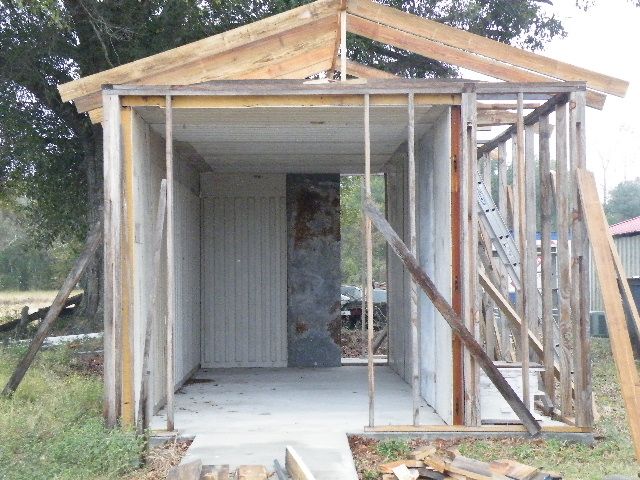 Click here for higher quality, full size image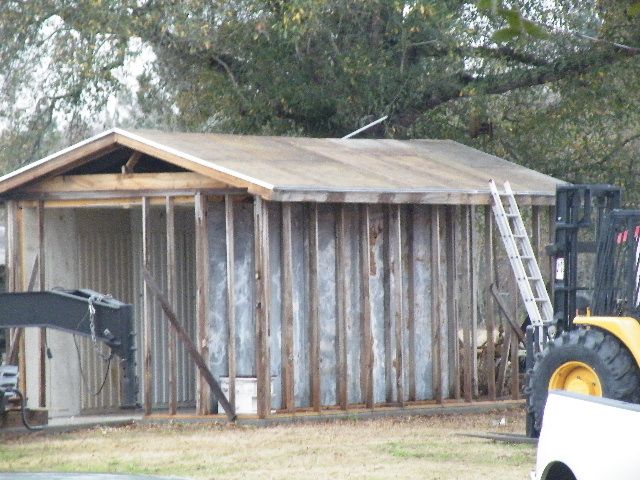 Click here for higher quality, full size image
Forum Responses
From Professor Gene Wengert, forum technical advisor:
Where did you get your plans from? Three words of advice: insulate, insulate, insulate.

---
From contributor V:
Depends on the volume. But I'd say between $.20 per BF on the low side and upwards $.30 to .35 on the high side for 4/4.
---
From the original questioner:
Plans are from Nyle. The side and back rooms are just to be out of the weather when checking the kiln. The insulation panels are 4+" thick; they are from an old walk-in freezer. How much insulation would you recommend? It would be much easier to add at this stage.
---
From contributor O:
I am in Canada and have to deal with quite cold winter weather. I have had a Nyle 50 for quite a long time. I do mostly my own drying of lumber for resale. I do occasionally do a customer's load. I charge 450.00 for a full load of air dried lumber. The capacity of my kiln is 800-1000 bf of 4-4 . I will also do part of a load and charge so much a layer at the same rate. I then fill the kiln with my own lumber.
My rates may seem steep, but my kiln is the only one in the area. Hydro and other costs have gone up. You don't need to worry about the kiln getting enough business; mine is usually full. Once word gets around you will be busy.
Be very particular about insulating and sealing things up. I think the loading doors and good gaskets to seal them are most important.

---
From contributor D:
I think it is better to charge by the day instead of by the board foot. If someone brings you 1000 BF of oak to dry, it is going to take as long as drying 2500 board feet, yet your income would be 40% as much. The electricity used will be less but the cost of the kiln sitting there is constant. Figure out what you would want to rent the kiln by the day. If someone brings you a load of lumber, give them a price to dry it based on how long it will take or for a fixed number of days.
---
From Professor Gene Wengert, forum technical advisor:
The NYLE plans are good. I cannot tell from the pictures... Did you insulate the edge of the slab? I suggest using at least 12" wide pieces of 2" rigid foam installed vertically, mostly in the ground but enough above ground to cover the slab edges too. Go all the way around the perimeter. This will give you a warmer slab with less heat loss. Concrete conducts heat well, but dry soil does not, so the perimeter insulation works well.
---
From contributor J:
I've been running a Nyle L200 for eighteen years in Wisconsin; good unit. Gene is right - insulate. My kiln is insulated to R40 in all walls and ceiling. The concrete is also insulated with pink foam to R25 all the way around and under the concrete as well. Doors must have good seals on them too.
I charge by the board foot. 4/4 is .28 for lumber under 25% MC and .32 for lumber over 25%. Hardwoods and softwoods which are thicker than 5/4 up to 8/4 I charge .38-.45 per board foot depending on kind of wood and MC. Thick stuff takes much longer and needs more care to ensure it is done right. Cost is also much higher when you add weeks on.

---
From Professor Gene Wengert, forum technical advisor:
Does anyone charge extra for stacking, or is that in the total fee? Does anyone have a time stated for picking up the lumber once dried? If they fail to pick it up promptly, do you have a fee for storage? Does anyone use a contract, or is it just an oral agreement?
---
From contributor G:
I charge .35 for drying, which includes loading and unloading. When I start the load I make sure they will be available when the load is done and for most, I require they help me unload directly onto their trailer. I mostly take 8'4" lumber so it will fit easily end to end in my 17' kiln. Some exceptions are made if it is a small quantity that will fit on top of the load and not mess the stack up.
---
From contributor O:
As I said before I charge $450.00 for a full load in my kiln, which is 12 feet long and holds 25 layers. If a customer just partly fills it I will complete the balance of the load with my own lumber. I always have a full load before I start. If the customer's lumber is shorter than 12 feet, and he wants to cut boards to fit, that is okay with me. I allow two weeks to dry a load of air dry, more or less. If the load is finished and the customer doesn't show up to take the lumber out, I have charged 10.00 per day. I am slightly flexible if there is a reason.
---
From the original questioner:
Thanks all for the responses. Gene, I cut corners and did not put insulation under or around the slab. We don't get a lot of cold weather. I do have plenty of insulation so I will be putting some around the slab. Almost finished with the roof and started working on closing in for the doors.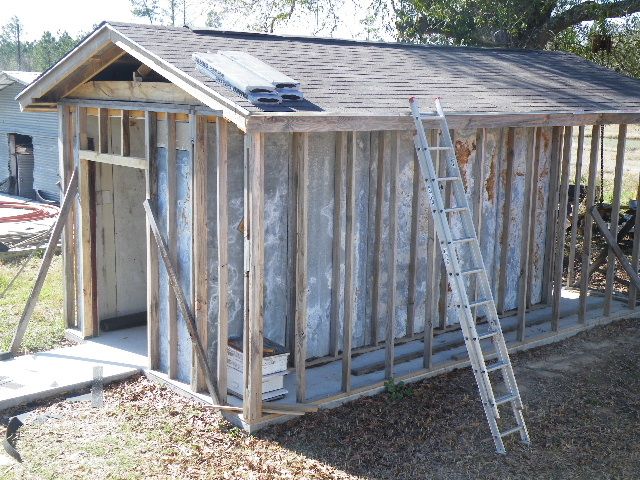 Click here for higher quality, full size image