Quartersawing Patterns Illustrated
Here's a set of drawings from the Wood Doctor depicting various ways to saw for vertical grain. June 16, 2014
From Gene Wengert, forum technical advisor:
I am continually amazed of the incorrect info on the Internet about how to quartersaw and what lumber is quartersawn and what is rift. This is a good diagram of quarter sawing methods. The most figure will come from the right-most pattern, but it will have the lowest yield. Every piece is 100% quartersawn - that is the grain or annual rings are at a perfect 90 degrees to the face. The bottom is the way many people do quarter sawing, but there is a lot of rift - the rings are at an angle between 45 to 75 degrees to the face.
The left figure has more figure than the bottom, but still has a lot of rift. The top will have the least figure and the least quartersawn, but turning is minimized as you saw three pieces before turning. The second photo shows the end grain pattern for quarter, rift and flat sawn. Note that q-sawn is 75 to 90 degrees to the face, rift is 45 to 75, and flat is 0 to 45 degrees. The most figure or ray fleck on the face of the lumber will be with quartersawn. Rift will not show much fleck, but will have the straight grain lines on the face that quartersawn also has.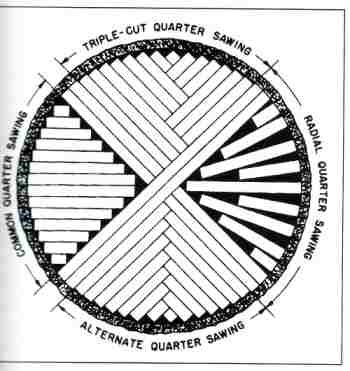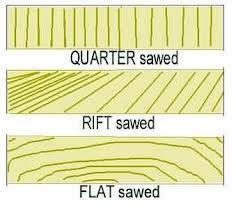 Forum Responses
(Sawing and Drying Forum)
From contributor A:
That's a great chart. How would one go about cutting radial quarter sawn like on the chart? Could a band mill do something like this?

---
From Gene Wengert, forum technical advisor:
Some mills have jigs to do this.
---
From Gene Wengert, forum technical advisor:
Here is a diagram from Lucas Sawmill for a swing mill that gets a lot of q-sawn and some rift too.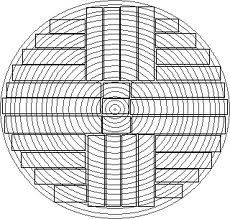 ---
From Contributor B
:
Are there any other species besides oak and sycamore that have outstanding ray and fleck? They are beautiful when quartersawn.
---
From Gene Wengert, forum technical advisor:
Beech is another. Even hard maple has a bit.
---
From Contributor B
:
So does alternate quartersawing (bottom diagram) have more true quartersawn lumber than common quartersawing (left diagram)? I'm just trying to figure out which method produces the most ray and fleck. Also, will all oak and sycamore show ray and fleck when quartersawn? I've seen millions of feet of flat sawn, but never intentionally quartersawn. I also read somewhere that locust will also show figure.
---
From Gene Wengert, forum technical advisor:
I believe the left and bottom are about the same in the amount of fleck. The right will have the most. All oak, beech and sycamore have lots of fleck, white oak more than red. I do not know about locust.