Radius Cabinet Fronts
Advice on making (or outsourcing) radius-front cabinets. July 30, 2009
Question
I need to make some radius cabinet faces from black walnut. What is the best way of doing this? Steam bending or laminating? When a radius front is made, do you also radius the vertical stiles or leave them straight and just bow the rails?
Forum Responses
(Architectural Woodworking Forum)
From contributor P:
I like to do bent laminations for everything when I can. Sometimes I will cut the door rails from solid stock if it does not require too large of a piece of stock and the grain remains pleasing.
I always put a slight radius on the stiles. This can be simply done with a hand plane or you can do it on a shaper. Things get a bit tricky if you are doing cope and stick or r/p doors, but it's all doable with a bit of thought and patience.

---
From contributor A:
Whatever methods you use, don't underestimate the time! If you haven't done it before, estimate it minute by minute, then double it at least.
---
From contributor J:
Steam bending is a crapshoot at best, and a bad choice for your application. Even if you're experienced and armed with all the right equipment and information, every board is different and results will vary from piece to piece.
From where I sit you have a few options:
1. Laminate the curve, or bandsaw the rails from wider stock, and leave the stiles straight, (or even put a slight radius on them with a plane as suggested above.) Cooper the panels (like a barrel) and then sand them and shape the panel raise.
2. Veneer MDF parts with a vacuum bag.
3. Make a phone call.
I have used all of these options many times and the results have always been acceptable. The answer to your question is more about the destination and not so much the journey. Are you looking to increase your knowledge and skill or your bank account?

---
From the original questioner:
Thank you all for your responses. I already contacted another Canadian arc maker and received a quote. My hunch is to go with a professional. I'm surprised how few arc makers there are out there on a commercial level. I guess their margin should be good. I thought that I might try the arcs to see how difficult it is, knowing the profit on this small job would be limited by the learning curve.
---
From contributor R:
Laminating is probably best. Use a good hide or plastic resin, as you will get very little spring back. Band saw the laminations thicker than you need and then run them through your wide belt or drum for uniformity. As far as steam bending is concerned, if the wood is kiln dried, forget it. It won't bend properly and will most likely begin to split or delaminate. Success is a crap shoot at best. You can only steam bend green wood as the cell structure still has some elasticity in it and will compress or expand depending on which side the radius is on.
Laminating is pretty easy even if you don't have a vacuum press; you can make a cawl and glue up the strips. As far as the stiles, I would draw a full size section of the door with a top down view. If the radius is wide enough that you can hardly see any variance across the stile when you put a straight edge across the inside points of the stile, you should be fine with flat stock. Make a radius jig for your copes.
If you are doing raised panels, then use a vertical raised panel cutter in a router table with a high fence and some type of guide to keep it tight and perpendicular to the knife. It is not as daunting as it looks and can be quite an enjoyable challenge.

---
From contributor M:
I use St. Georges. I found that whenever I order from anyone else, they are ordering from St. Georges and reselling to me. There might be one or two others who could come close to the quality of these guys, but I seriously doubt it! Their work is the finest, and reasonable too.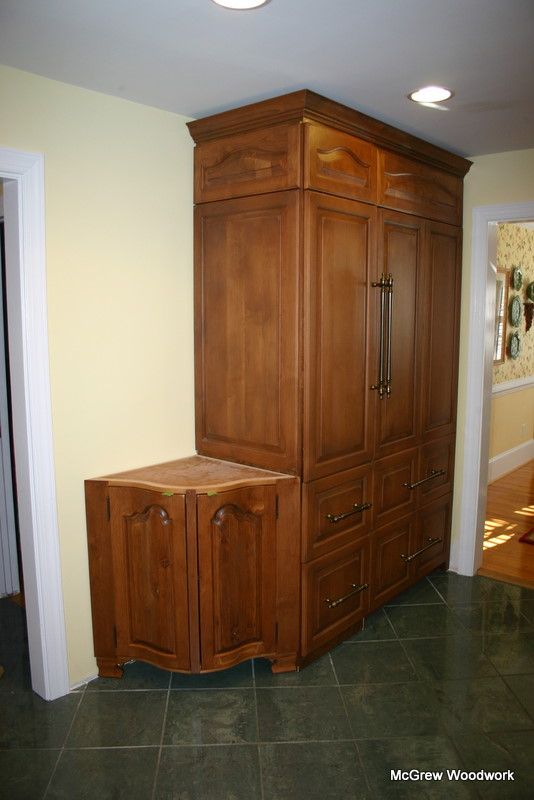 Click here for higher quality, full size image