Refinishing Melamine Cabinets
Whether you want a solid color or a faux wood finish, melamine makes a decent substrate for a number of available finish coatings. July 3, 2008
Question
I live in a subdivision were the original builder used some cheap white RTF cabinets in all our kitchens. There is no brand name and no way of figuring out who made them. I switched out my cabinets two years ago and built cherry cabinets. My neighbors love them but afford to replace theirs. So being a "cabinet guy" they have asked if there is anything I can do to make their doors look right. The problem is that they are discoloring. Most of the doors have turned to various shades of yellowish-white. If you live in the south I'm sure you've seen this with cheap quality melamine doors that went into houses here in the mid-90's.
Short of replacement with new doors and some boxes (some exposed ends turned as well) can you apply a new finish over the existing doors and have it bond to the melamine and be somewhat durable? Note: the melamine is still bonded well to the substrate it was wrapped over.
Two thoughts I have are:
1.) Clean, spray white vinyl sealer, topcoat with non-yellowing acrylic lacquer.
2.) Clean, spray Bin-zin white pigmented shellac, topcoat with non-yellowing acrylic lacquer.
I know the Bin-zin will stick to just about anything, however, I was thinking that a good vinyl sealer might adhere to an RTF door and allow for top-coating. Can anyone out there come up with an inexpensive solution to this problem?
Forum Responses
(Finishing Forum)
From contributor V:
Actually melamine doors are good substrates provide you clean them well and scuff a little. You can successfully paint over them with many modern finish products. I am particularly impressed with XIM's UMA (urethane modified acrylic bonding primer). I have done this on many occasions.
I often do a faux woodgrain look and sometimes add distressing. I have also faux finished melamine parts to blend with wood cabinetry. Sometimes edge areas will be loose and I have used heat (carefully) or added titebond and clamping to re-stick the melamine.

---
From contributor C:
XIM's 400 clear is great also especially for a bonding coat to glass which is harder than any melamine surface and it bonds without the need to sand on glass, acrylics can be applied over it and vinyl's also.
---
From contributor V:
Here's a job that I did a couple years ago. This customer's neighbor and friend have a similar job that is about three years older than this one. That job was wood but included some melamine parts that were exposed and had to be fauxed into the look. This one was white thermafoil (heat and vacuum shaped melamine) to begin with. To the right of and above the skillet you can see a door in the background that was not included in the makeover project and shows the original look.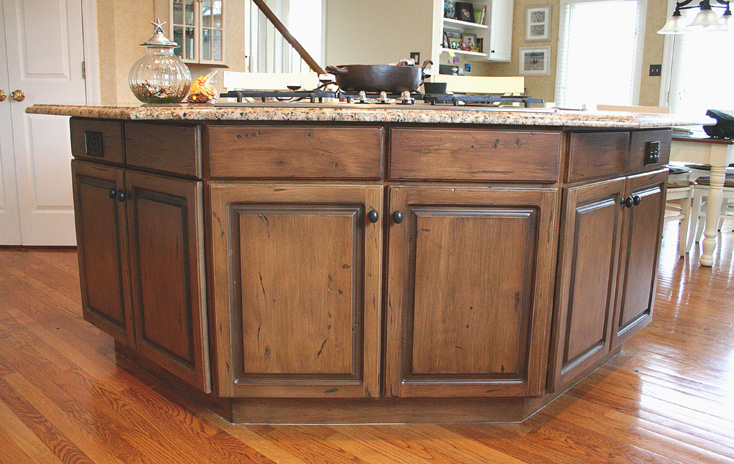 Click here for full size image