Refinishing Reproduction Furniture
A finisher gets advice on how to make repairs to a piece that's not really an antique, but looks a lot like one. December 23, 2014
Question (WOODWEB Member) :
I've just received a commission to repair some strange ridges on the surface of a "Pembroke" table. I have both a "what do you think this is?" question and an ethics questions. This "looks" like and antique Pembroke table with fold down leaves and all the inlay - very impressive from a distance.
In the first image you see the top of the table with lines visible in the light reflection. These are not grain lines, the only thing you see are what feel and look like ridges in a strange regular, yet irregular patter all over the top and side leaves. History: The client bought this as an antique on ebay - looked fine in the photos. It also has some white stuff running in the rule joint and underneath that comes off with mineral spirits so I assume itís wax. My first thought was that the previous owner had done a quick and bad attempt to make the photo's look better by slapping on a coat of something (shellac I hoped) but doing it so poorly that it left ridges.
Now that I have it in the shop, I see its made by Henredon, inspection date 12-93, and many parts look like MDF and the ridges don't seem to follow a brush pattern So my questions are: Have you encountered this before? Are the ridges something a company like Henredon does to make the pieces look old? The pattern does not seem natural or brush made. Does one tell the client it's not what she thinks it is? When at her house I thought it was a hack that a slapped a coat of shellac on and I might be able to refurbish the surface or might have to strip and refinish. What would you do?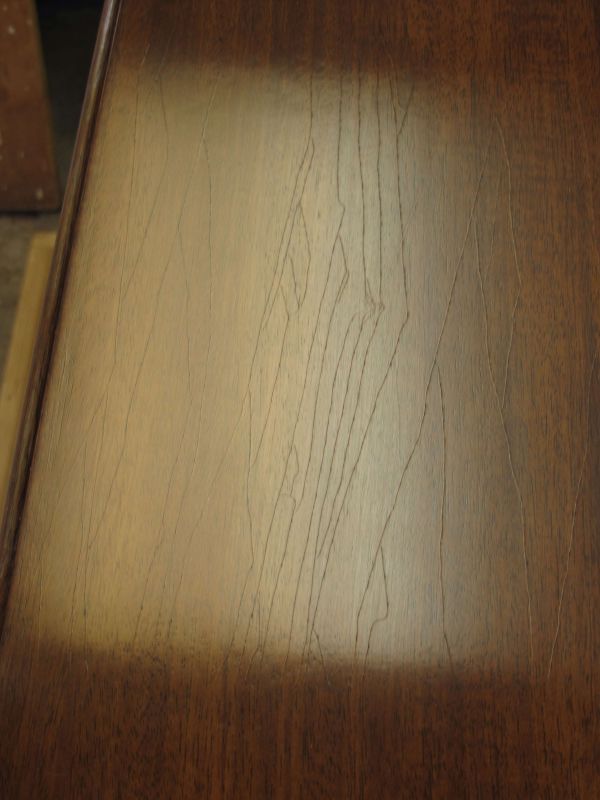 Click here for higher quality, full size image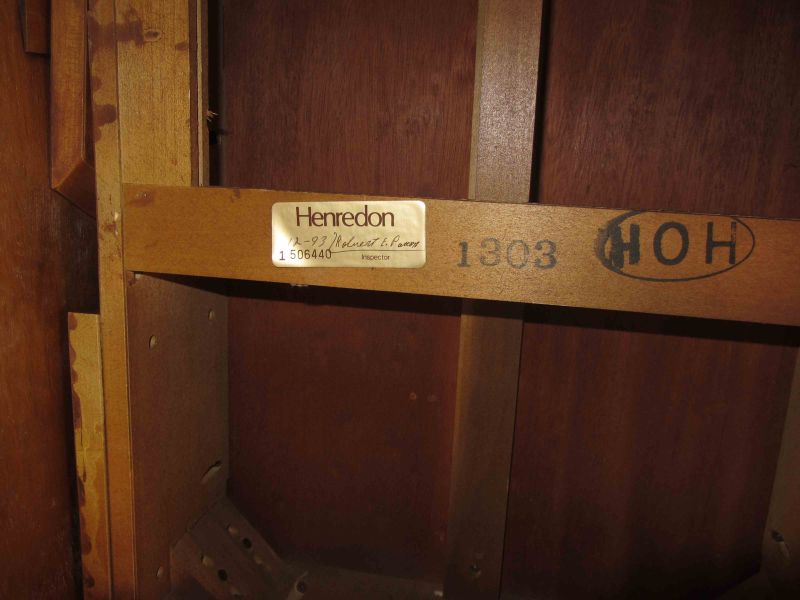 Click here for higher quality, full size image
Forum Responses
(Furniture Making Forum)
From contributor B:
I wonder if the ridges were caused by creases in a vacuum bag whilst the veneer was adhering? Either way that is not an antique, and probably not even worth refinishing.

---
From contributor T:
Henredon is/was one the "higher end" manufacturers. The photo looks like finish checking to me. If so, itís easy and well worth re-finishing.
---
From the original questioner
:
Thanks for the responses. Yes itís definitely not an antique as you can see it was inspected in 12-93 and they don't mean 1893! After a little more research this is Henredon "Historic Natchez" described as: "Mid-19th century American Rococo Revival styling reinterpreted for contemporary homes; a study in fine veneering... intricate carvings... precise detailing... stunning scale, executed in rich mahogany and highly figured ash burl. The full complement of furnishings was developed under a licensing agreement with the Historic Natchez Foundation of Natchez, Mississippi, and reflects a warm and welcoming "Southernized" taste". Another reference refers to this collection as being "antiqued".
These are definitely ridges - you can feel and see them - but also deep cracks. When I started sanding the ridges went away fast but I had to sand a fair amount to get rid of the deep cracks. I believe this might have been done by dragging a "nail board" like thing across the dry or almost dry finish to simulate crazing or checking as Contributor T suggested but this was fake checking. Luckily for me and my client the finish is shellac so it will be relatively inexpensive to re-coat as I didn't have to strip it - so even though not of great value, worth "fixing". Unfortunately, in my google search I ran across a number of antique dealers and auctions selling this stuff as antiques. Looking underneath this table I'm glad you put the "higher end" in quotation marks! I hope she knew it was henredon before she bought it because I don't want to be the one to tell her she's been had.

---
From contributor C:
This thread is funny because I just had a similar incident with a re-finishing job. A client bought some small bed side cabs at an auction or estate sale and after a few years wanted them refinished. At first glans they look like antiques but after a closer inspection I saw they were full of Faux painting, chip board stops on the drawers and plastic buttons to smooth the ride of the drawers. Lucky for me it was nitro lacquer and there was very little contamination from silicates or furniture polish. They did look nice after re-finishing.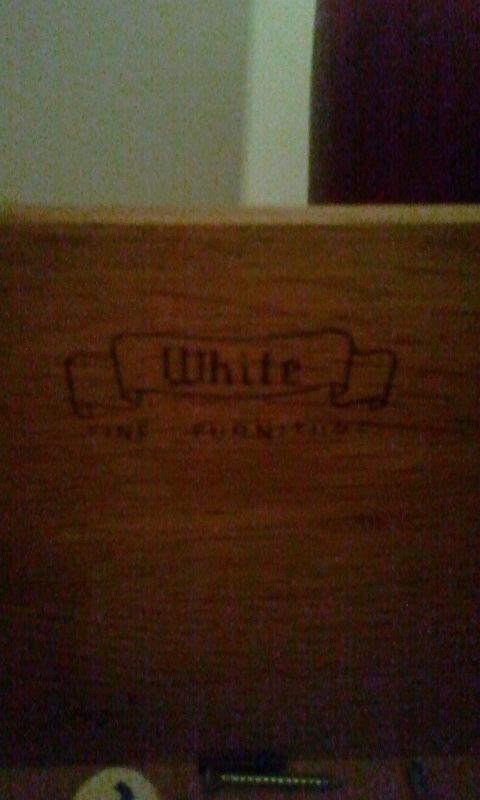 Click here for higher quality, full size image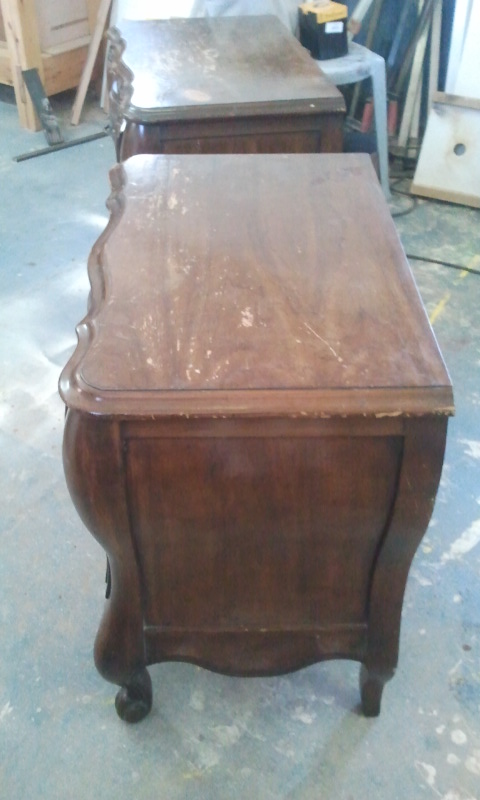 Click here for higher quality, full size image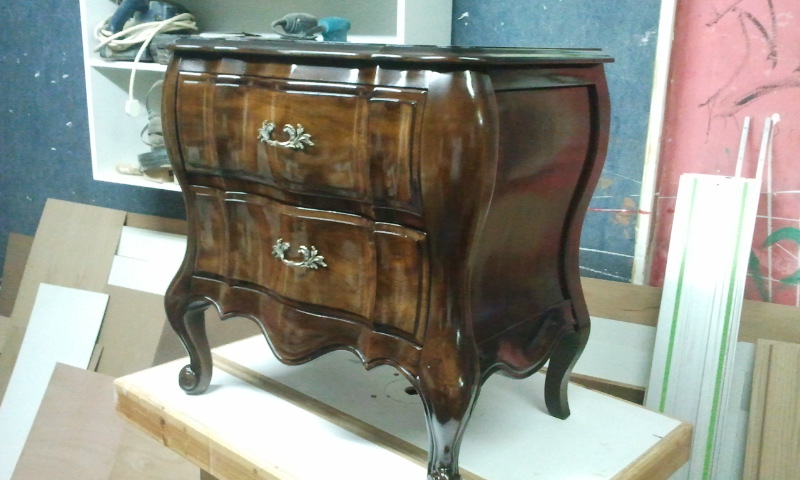 Click here for higher quality, full size image
---
From the original questioner
:
It did look good in the end, however those ridges/gouges end up going nearly or into the veneer. I carefully sanded until I couldn't see them anymore but then when I coated with shellac they re-appeared in the "right" lighting. I sanded some more and stopped before I starting taking out any color. In the end I could still make them out even after 0000 steel wool and wax but I don't think anyone else could.
---
From contributor C:
I started taking photos of everything I do, from the simplest molding, melamine cabinet to the higher end cabs and furniture. I find that clients sometimes tend to exaggerate things and having the photos can be a big help in this regards. It also helps to build a portfolio of keep track of the volume of work you have. With storage media so small and their ability to store many pictures in a small space it is well worth taking the time to document the work you do.
---
From Gene Wengert, forum technical advisor:
I am going to guess that the ridges were caused by something indenting the rough surface before final sanding. It could be sanding dust from an inadequate dust system. The wood cells are then collapsed more deeply into the wood than can be removed by sanding. I have seen this with a defective belt on a sander. Initially the surface after final sanding looks fine and smooth, but with time and moisture cycles, the collapsed cells pop back to their original size eventually. Oftentimes, the ridge will appear again after refinishing unless the surface is first wetted, which will quickly recover all the collapse.
---
From the original questioner
:
Thanks Gene. Itís always a bit scary when there are things that are invisible until later. I'm hoping that since I didn't remove all the finish the final surface is flat and itís been a long time since manufacture that the collapsed cells will have settled down (or up) and stay there. If not then at least now know an approach I could take to fix it.