"Refreshing" a Very Old Table Top
Thoughts on how to clean and re-finish very old table tops still in active service, without lessening the value of any historic existing finish they may have. March 12, 2009
Question
I have some very old tables from an Inn that were built in 1740. Neither I, nor the owners, currently know how old they really are. They could be 200 years old, or they might be 50 years old. Iím not an expert in that area. Nonetheless, they are adamant about having these tables put back into the revitalized Inn when it re-opens. I am doing a lot of work there and they wanted me to "spruce up" these tops. No stripping/refinishing, just a good cleaning and polish.
My question is, does anyone have any suggestions on the best solution to mix up and remove decades of wax and grime and general dirt? I would love to remove all residue down to the last top coat and possibly put on a fresh coat of Poly to brighten it back up. I tried a bit of denatured alcohol in a small spot but donít know if thatís the best way to go. This top, as you can see, has not one square inch of flatness to it. It is a slab and it has seen a hard life - lots of knife marks, gouges, etc. I cannot sand anything.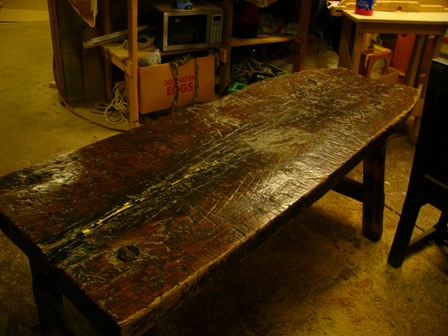 Forum Responses
(Finishing Forum)
From contributor S:
If there is any chance that the tables are original to the Inn, you would be best off finding that out before you do anything. The table looks to be early, don't know for sure without seeing construction, but very unlikely they are 50 years old.
That general dirt could actually be "General" dirt, which means it would now be considered "patina". Do your homework before you start scrubbing and including poly in your treatment. There might not be a last topcoat to get down to. If there was a coating, by now the dirt and grime may have become one with it, and trying to remove it all will remove it all. There are ways to treat this to please the eye and provide protection. Simpler is usually better in a situation like this. Is the Inn on the East Coast or New England by chance?

---
From the original questioner:
A couple things I can tell you about the table. This table has been coated and recoated several times by various people working at this Inn - Iím assuming poly. Youíd have to see it up close to see what I mean. You can just tell people didnít know what to do and they just went out and bought a can of poly and put it on. I am very aware of the patina being swept away by something I put on. I have a great respect for the possible historical value. In the end I might just clean it and wax it.
The main problem is that in all the gouges and divets, the finish is almost white, very worn and dull. It looks like crap. I also doubt it is only 50 years old. This Inn rests on the banks of the Delaware River north of Philadelphia. Everything in this place is old Ė real old. The new owners just really want the old stuff put back in so that new customers can use the same tables, furniture, etc. that was used by people over the last 100-200 years.
My job is to clean and tighten it up so it doesnít fall apart when new drunks sit at it. The new owners, although respectful of the historical value, are more interested in keeping the Inn with its original contents but still have them useable. They donít want the tables to be further damaged by wear and tear and would like them to be protected in some way.
As far as the construction of the table - it has very crude round legs each with an end stretcher, the long center stretcher is missing and is nowhere to be located.That is another problem, they want a replacement stretcher made from some recently found original woodwork from the Inn.

---
From contributor J:
You could start with a mix of tsp and water and a semi stiff scrub brush to get the filth off of what finish is left. Then use a squirt bottle of VM Naptha and some more light scrubbing. Once itís dry you could either wax it or use something like the general finishes wipe on oil urethane. It all depends on what the end intention is. If it has been dumped on with Minwax urethane in the 70ís and continually treated that way I wouldnít be all that worried about ruining its "value".
---
From contributor S:
Does the top of each round leg go through and end up flush with the top of the table, with a center cut line across the round and a wedge inserted? Are the stretchers a similar construction or different?
Years of slapped on coatings over grime and dirt could work in your favor. Do an adhesion test with some tape and see if any coating releases. This could be a fairly easy original surface recovery treatment. More often than not when multiple campaigns of coatings were added over the years, the surface would not be cleaned well first. When this happened the dirt became a barrier coat which usually prevents good adhesion. You may be able to get down a couple of layers just by rubbing down hard with tape and ripping it back off (you may only get one layer at a time). Give it a test.
Using the tables will always subject them to wear and tear. I have no issue with the owners choosing to keep these tables in active use. The museums are chock full of artifacts behind glass. The owners may change their minds were they to find out that the tables have a story/provenance and are valuable not only historically but also monetarily, but that is their choice.
The stuff done to the tables, coatings and such, is not what causes a loss in value (it doesn't help it either, usually). It is removing it all in a way that also removes the original, if the original is still under there. Sometimes these overcoats have actually helped an original coat survive so long, so it is not the end of world nor the value. Stripping it in a way that would cause the loss of any original coating would cause a loss in value if there is any. (Hey, I didn't make this rule; I just follow it because the market decided this was the rule a long time ago).
Anyway, this really should not be a difficult job to please your client. It may come down to a light cleaning of the existing coating and some pigmented hard wax fills for the cracks and white areas, and a nice hard wax with a soft sheen overall.

---
From the original questioner:
Well, to appraise them is their responsibility and I have already told them that over a month ago. They are aware of the possible value. Like Iíve stated, there are numerous coats of something on it. The patina will never get touched by me. By the way, I messed a little with just some simple wax and elbow grease and came up nice, but Iím not sure if it was quite nice enough.