Repairing Humidifier Damage
Working from a photo, finishers make educated guesses about moisture damage to what looks like an old shellac finish. April 10, 2008
Question
I have a client that is requesting I try to repair the damage to this dresser drawer. They said that they left a humidifier near it overnight and this yellowish stain showed up. It is not in my possession, so I have not seen it personally. To me it looks like water damage to a shellac coating. If this is what it is, how would I go about repairing such damage? If it was nitrocellulose, I would use a retarder to melt it out again. Can I do the same with shellac and denatured alcohol?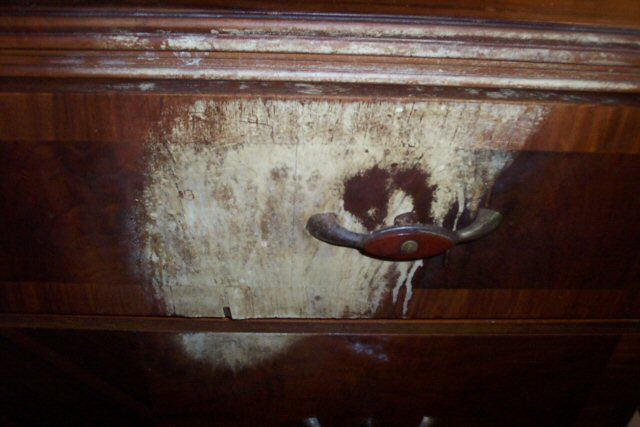 Click here for higher quality, full size image
Forum Responses
(Finishing Forum)
From contributor C:
Dark stains above the handle, plus plain evidence of both finish cracks and veneer cracks, veneer at bottom of drawer missing in small area. Re-melting a finish that has been whitened by water damage this severely - whether shellac or lacquer - is not going to rectify everything that's wrong! So don't even bother thinking in those terms. The area needs major restoration!
Please provide more details, like age of piece - antique, vintage, recent, etc. Does your client expect perfection or not? What are they willing to pay to put back in pre-damaged condition?

---
From contributor P:
Looks like moisture damage to me also. The first thing I would do is to remove the handle, place the drawer face up, and fog on a very light coat of MAK or Butyl Cellosolve (lacquer retarder). I'd expect the problem to either disappear completely or 95%+. If it works well but isn't quite 100%, you may need to remove some surface contamination by abrading very lightly, and then apply a thin topcoat on the entire face to even it all out.
---
From contributor C:
Let's say it is lacquer or shellac, and you are lucky enough to be able to re-dissolve the coating with retarders and bring all the clarity back again. That still leaves you with the problem of what has happened with the substrate veneer and its damage, such as loose veneer, veneer checking, veneer bubbling, curled or upturned veneer edges, etc. Then there's contamination problems with wax, silicone polishes, oils, etc. Clearing up the finish is only the beginning of what could be a much more serious area repair, which you may wish you had never attempted once you start, and which you will be responsible for once you do.
---
From contributor D:
I have to agree with contributor P. Looks like straight moisture damage - heavy moisture damage, but still moisture damage. Someone who can look at that photo and pick out missing veneer and calling the dark areas above the handle "stains" and seeing fine cracks in the veneer has my respect. I, however, don't see it!
The spot above the handle looks to be the wood with the original color and finish unaffected by the humidifier. Most likely the handle blocked the flow of moisture. I have been finishing, refinishing, restoring and repairing wood finishes for almost 30 years.
My approach in this would be to clean the surface to remove any contamination, then lightly scuff the surface with 600 or 800 grit wet dry and mist with retarder or solvent, depending on the finish (lacquer, shellac).
Since this is a banded drawer front, there may be some loose or bubbled veneer. I would think that if bubbles or glue failure were going to happen, there would already be tell-tale signs. Check the area closely and discuss anything you find, which may be a concern with your client.
If we start concerning ourselves with the what-ifs, we should all close up and call it a day. Approach this job as any other, do your homework, make a plan, discuss the possibilities with your client, dot your I's and cross your T's.

---
From contributor C:
What I'm saying is, don't price it cheaply thinking it's going to be a quick job, and then end up finding out it's much more involved and lose money over the miscalculation, as I have in the past. I can pick out the damage because I've done lots of water damage for cleaning companies all over and what looks like an easy fix many times is not.
---
From the original questioner:
There is a small section that is lifted and cracked slightly. But it is mostly water damage. I am not a pro re-finisher and don't claim to be. My wife knows this person through work and suggested that he contact me. I said I would give it a look - I have only one email correspondence with him, so no terms have been exchanged. I would probably re-glue the veneer and then attempt to clear up the moisture damage. This is a piece he had gotten from his grandparents and it has sentimental value but is no treasure. He would like it to be fixed but not a full restoration. This I am capable of. I will talk with him and see how far he needs me to go. If it is a full restoration I will pass, but if he wants it fixed so that it looks presentable, I will rework it. Thanks for the info. I will see what happens.