Reproducing a Two-Tone "Haloed" Finish
Suggestions for imitating a custom toned and glazed finish on drawer faces. April 16, 2010
Question
How might you tackle this finish? I will be using maple. Is maple the best wood for this?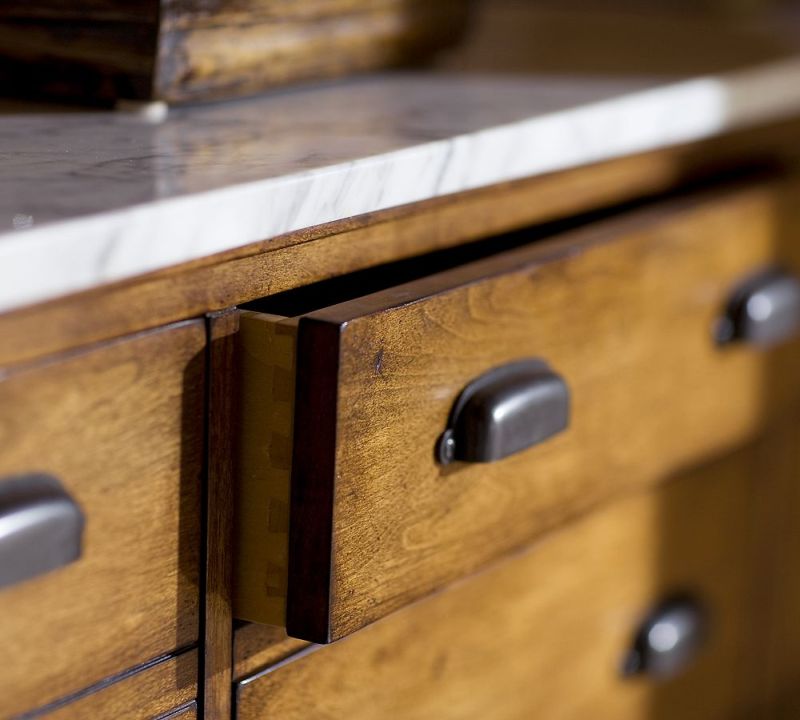 Click here for higher quality, full size image
Forum Responses
(Finishing Forum)
From contributor D:
I would accomplish this finish by applying a one-step stain to achieve the base color. For the perimeter haloing, I would apply a glaze using a high quality brush and dabbing the perimeter with the tips, then softly dry brushing to soften it. Maple would work fine.

---
From contributor J:
That looks like a brown maple wiping stain that has been slightly diluted or applied over maple that was sanded to about 220 grit. It may also be a diluted Van Dyke brown, possibly with a glaze. It is hard to say from one photo. Try sample boards until you get it.
---
From contributor B:
You might try sanding the drawer front with 150, then sanding the edges with 100 or 80, then staining. That might give the rough, worn look on the edges.
---
From contributor W:
I would use stain for the base color. For the antique look on the corner, I would use glaze.
So the finishing steps are:
1. Stain
2. Sealer
3. Glaze
4. Sealer
5. Coloring (if necessary)
6. Topcoat
Make color panel first!

---
From contributor C:
Seal the wood with a thin coat of sealer, 80/20, let dry well, apply a coat of V D brown and B umber (9 parts VD brown to 1/2 part B umber and 1/2 part black as a starting point) in 16 parts mineral spirits with 1 part BLO (if necessary on larger surfaces only). Wipe or spray on and brush out the glaze, cleaning your brush often till all the color that will come off on the brush has. Clean brush and dry or have another clean, dry brush and continue to remove the last residue. At this point you will have the pores developed as in the photo. Using the same glaze, dry brush the edges. Those little areas that show up on the face will be from your brush contacting the surface. No need to do anything to them -just leave. Always make samples first!