Rough P-Lam Edges, Specs, and AWI Standards
A bad case of chip-out on some laminated door edges leads to an informative discussion of AWI standards and quality specifications, along with some good guesses about what caused the unacceptable chip-out. November 23, 2012
Question
I'm an architect working on a project with some p-lam cabinet door faces and edges. I've seen enough finished p-lam cabinets to know that these edges leave a little to be desired. There is one door where the edges are crisp, but all the others resemble the picture I've attached. I'm not sure if it's just a dull blade issue or what... What else could it be? Would I be better off specifying PVC edges for the next project?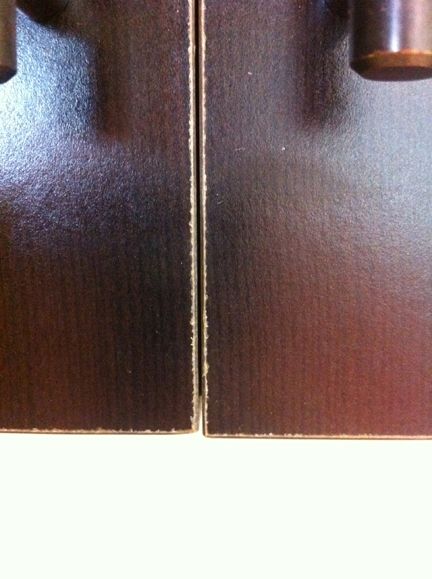 Click here for higher quality, full size image
Forum Responses
(Cabinetmaking Forum)
From contributor J:
You don't need to change edgings, you need to change the nitwits you had fabricate that mess. Besides that, the doors in the picture appear to be an ultra cheap grade of wood grain vinyl with the particleboard core telegraphing through.

---
From the original questioner:
Unfortunately it's a Pionite laminate that's been hacked enough to look like cheap vinyl. I can't find anything in the AWI that specifically mentions quality of these edges, probably because in cases such as this, it's plain unacceptable.
---
From contributor D:
Chip-out shall be inconspicuous when viewed at 24", 48", and 72" for premium, custom and economy respectively. I believe they called this edge/joint quality in the older standards I have from 1994. Who is doing the viewing probably determines if it is inconspicuous or not.
What quality grade are you specifying? If it was me looking at those doors, not zoomed in like the photo is, and I was looking at it as standard grade, I may not see the chip out from six feet away, but then I need 1.5 diopter to see good. Nah.. It still looks like crap without glasses 15 feet away from the screen.

---
From contributor A:
Either the saw is chipping when cutting, or the trim is set incorrectly, or both. Require edgebanding to be flush with adjacent surfaces (see Test F illustrations in Compliance) not to exceed:
4.4.1.8.1 0.010" (0.25 mm) M economy
4.4.1.8.2 0.005" (0.13 mm) M custom
4.4.1.8.3 0.003" (0.03 mm) M premium
Contact the Woodwork Institute, AWMAC or the AWI for a manual.
---
From contributor D:
In my 2009 standards, 4.4.6.5.2 edge chip out on decorative laminate wall surfacing states those chip out distances. I cannot find it in the casework section, but surely AWI does not intend to hold decorative wall panels to a higher standard than cabinet doors, drawer fronts, etc. Flushness of the banding is one thing. You can have it perfectly flush but still have the joint look really bad with chip out, a wide glue line and the wrong color glue. I did notice they changed the wording from invisible to inconspicuous.
---
From contributor A:
I quoted from page 266, then the diagram is on 296. It could also fall under tool and knife marks - basically there is no way that work is acceptable by grade rules if the grade rules were part of the project.
I imagine you can see the light color line from 4' away. I suppose it could be one of the laminates that uses white paper in the color and you see the white, but I am pretty sure we are seeing a chipped edge from the saw. Sometimes pictures don't accurately convey what is going on. Can you take a picture from 3' away that is at the same scale as viewed with the human eye?

---
From the original questioner:
Thanks for all the responses. Chip out sounds like a very good description. It is most definitely the p-lam that is chipping and revealing the paper below.
As mentioned, every door looks like this besides one. That one was actually a lighter color p-lam, and it looks pretty bad as well. Don't let the picture fool you, though. It really is that bad and is very noticeable from a distance.
Also, specification called for custom grade. GC is offering a credit, but I wish it was just done right to begin with.

---
From contributor C:
That is pure and simple glue auger chip out. Tell them to pull the damned doors and saw off the banding and reapply. Looks to me like a piece of melamine cut to size, sanded, laminate applied, zipped off and then run through the bander. The chip out is indicative of the knurled glue auger chewing the crap out of the slightly overhanging p-lam. Consequently, an unbalanced panel. Whatever the standard is, it looks terrible, no excuse. Make 'em fix it. I don't let that out of my shop ever.
---
From contributor M:
This is not something to be passed on, especially while it could be fixed or replaced. I am sure this is melamine and not a plam face. It could be trimmed and a PVC edge used to replace, but it will be cheaper and faster to just get new sheets and redo. If you specified plam, get plam. There will be a plam manufacturer and color number which will match the actual product. Were submittals required? How many doors are in the job? If it is a breakroom and a copy room, it could be done in a day and the value for future work to all could be lifelong.
Joining the AWI in 2001 was one of the smartest things we ever did. I came real close to a disaster in the 90s with a young architect. Fortunately I read the AWI specs a bit better than he. Once he realized we both were a bit new and not the experts we thought we were, we read it together. That was 1997, and he was in my office yesterday while we laid out a path for a large cherry panel job (we got some good summer work). We are having a small seminar soon to discuss specs with several architecture firms in our area. Look to your local fellows in the AWI.
The photos below are from an 80% walk-through in a health care facility I did Tuesday. This is basic custom AWI spec (premium requires plam inside doors and drawer faces - drives cost up) and custom allows for wild grain direction and some cheaper material. (There is a filler missing in the third pic and the columns are a change order.)
I had also been a standout on the AWI QCP program. After the last few years of competing with those who do work as is shown here, I finally went on and became qualified in the program. The costs were not as high as I expected. The test made me go back and reread specs I had long looked over, and I learned a lot. Just doing the good work as specified was a no-brainer. I get a few more invites to bid I may not have seen before, but the good news is it buys a millworker a little bit more clout when communicating back up the ladder. I got a set of plans this week which were a copy and paste from several previous jobs. It showed differing materials and methods between cabinetry in the same elevations (3mm eb on uppers, PVC on lowers, for example). Call the architect for clarification and most are glad you did! The relationship between the architect, GC and millworker, even if just for a short time, is a partnership, not a competition.
My dad loved to tell me "Son, quality only cost a nickel more, and takes about 5 more minutes!" I do miss him.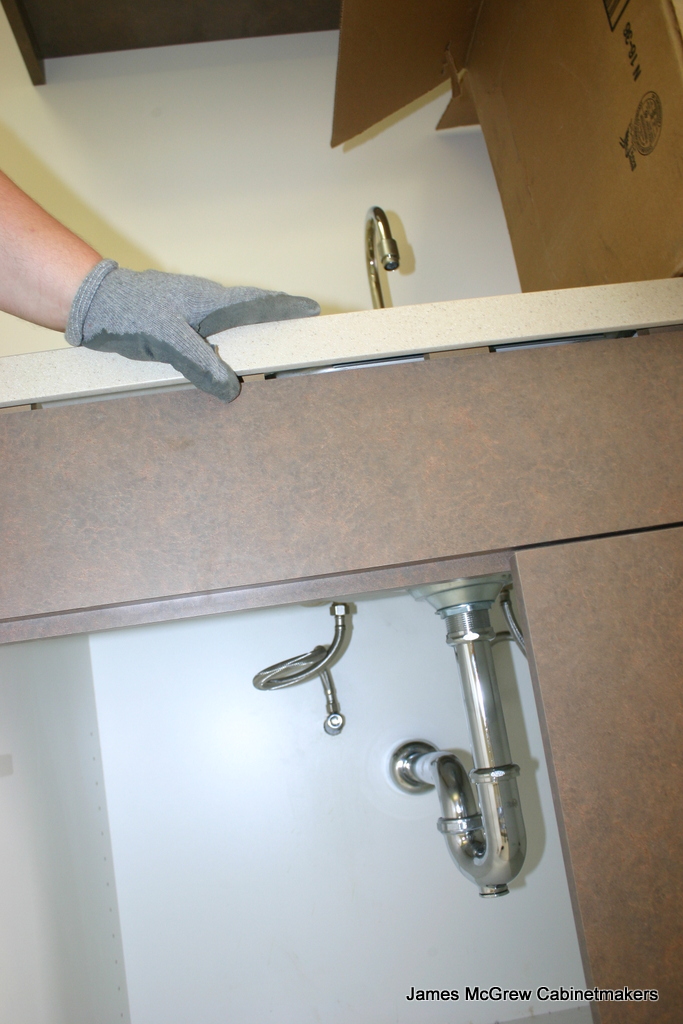 Click here for higher quality, full size image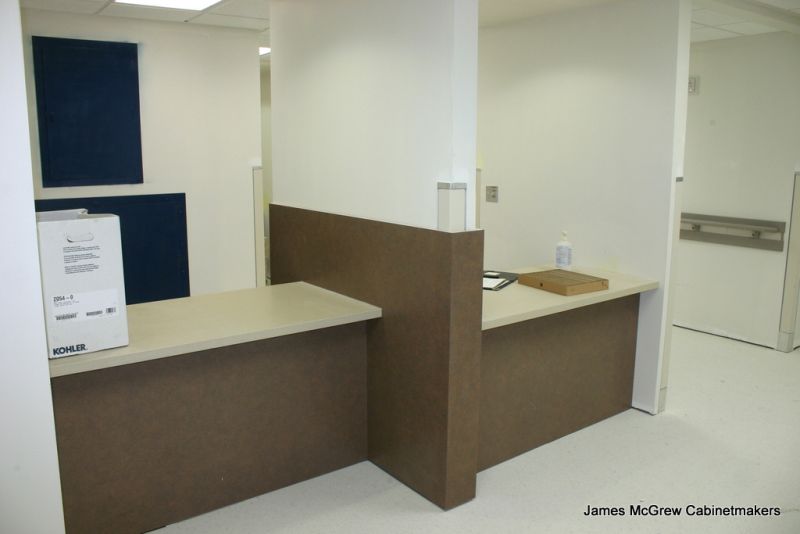 Click here for higher quality, full size image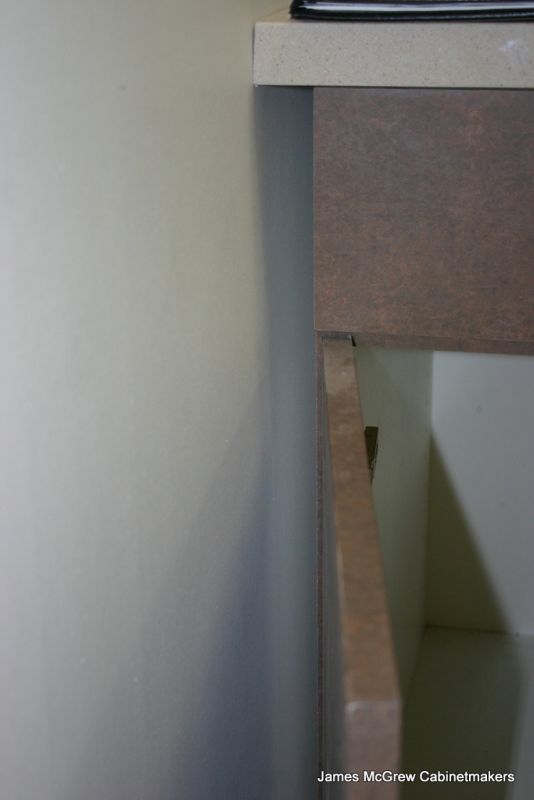 Click here for higher quality, full size image
---
From the original questioner:
I'm leaning to asking them to replace doors and drawer fronts, but I'm not sure if I have anything solid to stand on other than them looking like crap.
---
From contributor C:
Have them re-submit their bill on G-703 and schedule the cost of the doors and drawer fronts, add it to retainage and hold it until compliance. I thought you signed a document stating that you would work as the owners' agent assuring quality? This kind of work makes us all look bad. Period. The remedy is to fix it. Painful as it may seem, a pre-mill or a new double sided blade will cut the crap off. Then it can re-banded.
---
From contributor M:
You have every bit of ground to require replacement. If those specs call for plam (specify it as hgpl, horizontal grade plastic laminate) on all surfaces where required, the AWI specs do not allow for this edge treatment anywhere. In the future use "custom Grade AWI." This will solve the rest of it. AWI premium plam casework is not that much different and calls for plam on inside drawer faces and doors (overkill in most cases). All panels, veneers and trim work should be premium.
---
From the original questioner:
Thanks. I am asking for replacement of doors and drawer fronts. I've told them I would expect much better craftsmanship from an AWI certified manufacturer. I'm sure I'll be challenged to the death match, but this is unacceptable.
Yes, as the architect, I am the owner's agent, and I am trying to ensure that the owner receives a quality product/project. That is why I decided to come here and get some insight from millwork professionals. I'm trying to get all my bases covered, because last time I told the GC something looked like crap, all I got in response was, "This is what you get with the low bidder." I'm tired of hearing that. I really appreciate everyone's help in trying to figure this out, so I can challenge this issue with some substance.

---
From contributor C:
Some of the laminates are very tough to work with, no doubt. But the picture is completely unacceptable. AWI specs or not, it's terrible work! Refuse payment and have them resubmit with the doors and drawer fronts scheduled. You take the owner out, the GC is out of it, and now it's got a value. No more arguing.
---
From contributor D:
AWI certified shop? It blows me away that they would put out this kind of work and expect to keep their certification. I agree with the others - new door drawer fronts, end panels, anything that shows. That kind of chip out is not tolerable even on semi exposed surfaces. I think anyone would agree, including AWI.
---
From contributor M:
Just because one is the low bidder does not absolve them of reading the specs. Specs set the standard and that is the basis of the bid. I am AWI and recently QCP. A simple statement to the effect of either membership or a few year history of compliance with AWI specs will generally do the trick. Possibly make them give you a plam submittal with a full edge done. Joining the QCP was not as difficult as I imagined and the cost structure is reasonable. Look into this requirement, yet it will not work for everything. You can also go to the AWI site and find all members within a geographic area. Many architects around here require prequalification 10 days prior to bid and have been pretty stiff about it on the better jobs!
---
From contributor G:
I am the inspections manager for AWI Quality Certification Corporation and would like to comment/clarify a couple of things from this post. First and most importantly, the chipout of this edgebanding as shown does not meet the quality standards. Secondly, QCP accredits firms and certifies projects. An accredited woodworker is certainly capable of producing millwork which meets the standards and specifications, but that doesn't necessarily mean that they always will, particularly when project certification is not required in the contract specifications. That leads me to point #3 - for architects and woodworkers, this is where the project certification comes into play. If this were a certified project, then the project would be eligible for third-party inspection services to determine whether the work did or did not meet the contract specifications and quality standards. In my three years with QCC, I have seen this work both ways where woodworkers did not live up to their commitments and remedial work was necessary. I have also seen it work where architects have been a little overzealous in their assessment of the woodwork and the inspection provided proof for the woodworker that they had indeed met the standards and specification.
Additionally, the chipout tolerance/distances were omitted in error from the Architectural Woodwork Standards, 1st Edition, 2009 (green book with trees on the cover). However, they are a part of the published errata page which is available online at www.aws-errata.com. All errata are in effect as standards based on their creation date as compared to the bid date of the project.