Selecting Shelf Pins
Shelf pins are a small detail, but one that can make a difference. February 20, 2008
Question
Who makes the strongest shelf pins? What size hole? 5MM, I'm guessing, but don't know if they make a king size or what. I'm freaking tired of this project and ready to move on to another.
Forum Responses
(Cabinetmaking Forum)
From contributor J:
I use 1/4" pins - they are a little bigger. I also use the ones that are shaped like Ls just because they have more surface to bear on - I don't know who makes them, but you can find them at most good hardware places.

---
From contributor R:
If you use grommets with the spoon type shelf pins, they are very strong. 1/4" pins and grommets are plenty strong. It is not intended for holding a heavy television or something that should be on a fixed shelf, though.
---
From contributor E:
"L" shaped pins for a 1/4" hole is what I use because I feel they are strongest. You can also get a metal sleeve to insert in the hole, which adds a bit of support.
---
From contributor B:
I don't know that the 1/4" are that much stronger than the 5mm, but I do know that the metal L shaped ones are much stronger than the plastic ones or even the combo clear/metal ones where the shelf sits on top of the pin. The strength of the L shaped ones is partially derived from the fact that the L runs up the ends of the shelf and the shelf keeps the pin from tipping inward.
---
From contributor R:
This should do the trick. 5mm pin and 1/8" hole for running a screw from underneath. We get them from Hardware Resources.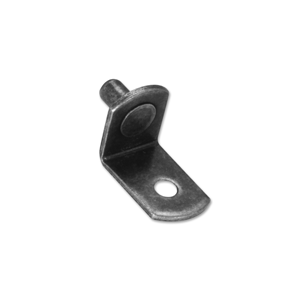 ---
From contributor U:
I cut my shelving tight, width wise. All the pin has to do is provide sheer strength. The 5mm steel spoon supports work quite well.
---
From the original questioner:
Thanks. I prefer fixed shelves in my old face frame style cabinets, and most of the adjustable ones I see out in the field have been positioned evenly spaced and look to have never been moved after the install. This customer is so symmetrical that I have to stack the DVD and TVO because they are different colors (he believes if they were the same color, they would be fine side by side, but with one being silver and the other being black, stacking will look better). My point is that if everything must be proportioned and symmetrical, will the shelves ever be moved up or down 32mm? Are there any hole plugs that I can get to cover the unused holes in this painted white headache?
---
From contributor B:
For covering the unused holes, look at FastCap. They've got adhesive backed caps in any color and any size.
---
From the original questioner:
Thanks on the Fastcaps - I had forgotten about them.
---
From contributor H:
Contributor R has the best solution. We used to make computer furniture with adjustable shelves that would hold a CPU, monitor, and printer. If you could get the screws in shelf pin it would hold up very well. Other than that, KV standards are the only other good solution. Nobody wants to see KV standards anymore, but if you're going to support a lot of weight, they really work well.
---
From contributor R:
I forgot about this one until contributor H mentioned it. The screw screws into a 5mm hole, then you can secure the shelf from below so it won't warp.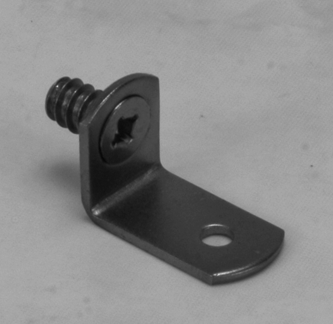 ---
From contributor U:
Where did you find the clip with two holes in it? That would make a very good shelf connection.
---
From contributor R:
Hardware Resources. They have their own factory and make most of the shelf pins for everybody else. It comes with the euro-screw already attached and in different finishes.
---
From the original questioner:
I found them at Custom Service Hardware. There are several good supply houses in Nashville, but it's such a drag fighting traffic, and unless I'm loading down my truck, UPS shipping costs less than my gas. I guess 1/4'' pin, I use 1/4'' drill bit? Since no line borer, I guess I flop them up on the drill press for good strait holes? 32mm center-center? I guess I just start 32mm from the bottom. Where can I get a predrilled jig?
---
From contributor B:
You can buy a jig from many places. I think I've bought them from Eagle America, but I know Rockler has them, and I'm sure Woodworkers Supply does, too. They come with a vix bit that auto centers in the jig and automatically sets the depth. If you're not hung up on 32mm spacing, the fastest way is to put a piece of masking tape down so you can write on it without writing on your material. Draw a straight line, and then make tick marks every inch or 1 1/2". Hit the cross marks with a center punch, and then drill them with a brad point bit with a depth stop collar on it. The tape will also keep the stop collar from defacing your material, as well as cutting down on chipping. Pull up the tape and you're done. Of course, a line borer will pay for itself quickly if you're doing a bunch, but I've drilled thousands of holes in the way I described. My experience is that the jigs will wear when you drill the holes and the spacing doesn't stay perfect when the holes begin to wear on the jig.
---
From contributor Y:
Pegboard and a VIX bit works for me.
---
From the original questioner:
Peg board - that's it! I could not remember. Now what the heck is a VIX bit?
---
From contributor Y:
It's a self-centering, adjustable depth bit. I like them because they (help) eliminate drill bit wander.
---
From contributor P:
Pegboard and a Vix bit? How do we get from a 13/64" (the biggest I've run across, but it won't fit in a pegboard hole) Vix bit to a 1/4" pin hole?
---
From contributor Y:
It's been a while, so I don't recall exactly. It seems to me that the pegboard I used had 1/4" holes, and I used 5mm pins. I may have even substituted a 5mm drill bit for the 13/64". Just noticed you can get metal pegboard - I may try this since it would seem the holes would wear hardly at all.