Shop-Made Frame Assembly Table
Details on construction, including images. March 14, 2004
Question
A couple years ago I saw a shop-made frame assembly table in a WOODWEB Forum. It was made from wood and manual clamps. The article showed a couple pictures. Now, I would like to build one but cannot find the article again. Any help in building this table (or finding the article) will be appreciated.
Forum Responses
(Cabinetmaking Forum)
From contributor K:
I know the post you're talking about. I built a table based on the one in the pictures and other pictures of factory-built tables. It really simplifies things. Couldn't do it any other way now.
Here are a couple of pictures.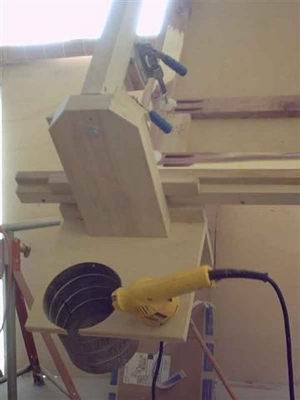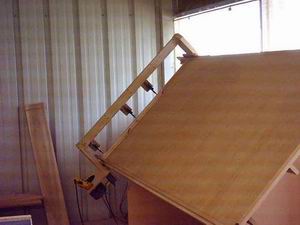 I remember that DE-STA-CO clamps were used for this table, but don't know size.
I cut off the bearing ends of a few drawer slides and mounted them to the top and bottom of the arm and also to the face portion that rests on the table, with a rigid cleat at the bottom of the arm supports to prevent uplifting of the assembly. It rolls very well and stays parallel to the table. As for the clamps, I used the same as was used by the person who originally posted (I wish he was reading how popular his pics became), which were Kreg Togle Clamps, same as used on the Kreg Pro pac. The table stands are a 2' rip of 5/4 oak plywood that I had laying around the shop. I marked a length on alternating edges of the rip and drew a line, and cut using both ends as the sides, which made a very comfortable angle for the table. I measured 32" from opposing ends, which makes the rear top at about 64". Made a torsion box for the melamine table, added some trim, edge and bottom fences to rest the frame on and to keep the frames square while clamping. As for the clamp blocks, I cut a dovetail slip joint on the underside of the arm, but there has got to be a better way. The clamps want to tilt out as force is applied.

---
From contributor B:
Sorry y'all, haven't been paying attention - I'm the one who posted the original pictures. The arm is just oak with Slip-it so it glides. Clamps are Kreg jig replacement clamps. Bottom clamp is fixed, the other two slide in T slots under the arm. It works well, but tends to "rack" and clamps require readjustment often. Sorry I don't have plans for this one, it was just done off the hip...