Solid Wood Cabinet Backs and Wood Movement
A cabinetmaker considers, then rejects, the customer's request for an 8-foot-long solid wood back for an island cabinet. July 25, 2010
Question
I've done many finished island and peninsula back panels that are frame-and-panel, whether raised panel or shaker. My current client wants it solid this time, no frame and panel style. Plywood and veneer are not an option.
It's a spalted maple kitchen, so my plan (like on the cabinet finished ends) was to just glue up and biscuit a solid wood panel. My concern is that on the 8' long island back, what the expansion result could be down the road with that many solid boards jointed together side to side. I'm going to have 1/2" plywood as the interior back, so I figured I could try to fight the expansion/contraction by screwing the heck out of it from the inside when I install. I'm wondering if anyone else has done a back like this with no frame and how it worked out?
Forum Responses
(Cabinetmaking Forum)
From contributor J:
While I am not 100% sure how I would go about this, I'm pretty sure that screwing the heck out of it would certainly add to its ultimate demise.

---
From contributor B:
I would agree with contributor J. One option would be to re-saw some of your maple into 1/8" (or less) veneers and glue them on a substrate (1/2" plywood).
---
From contributor P:
Or devise some kind of design that allows for expansion/contraction of smaller glued-up panels. I don't see the logic in making a solid wood panel that mimics a plywood panel. If you're going to lay up 1/8" or so veneer on a ply panel, do something similar on the back face to balance it or face warping issues.
Make sure the customer understands and accepts liability for the design decisions he makes. Itís funny how even the most stubborn clients often have a change of heart when confronted with a "hold harmless" agreement to sign.

---
From contributor L:
Attached is a drawing of a way you could do this with no problems, provided you screw the solid back to the plywood through slotted holes following direction of expansion using pan head screws with washers and just snugging the screw. Also, only fasten the filler to the gable and not the back. You may need to calculate out the expansion to find the size of the gap you will need at both ends of the solid back panel.
** NEEDS IMAGE WORK **
http://www.woodweb.com/images_forums_public/cabinetmaking/Solid_Back.jpg
** NEEDS IMAGE WORK **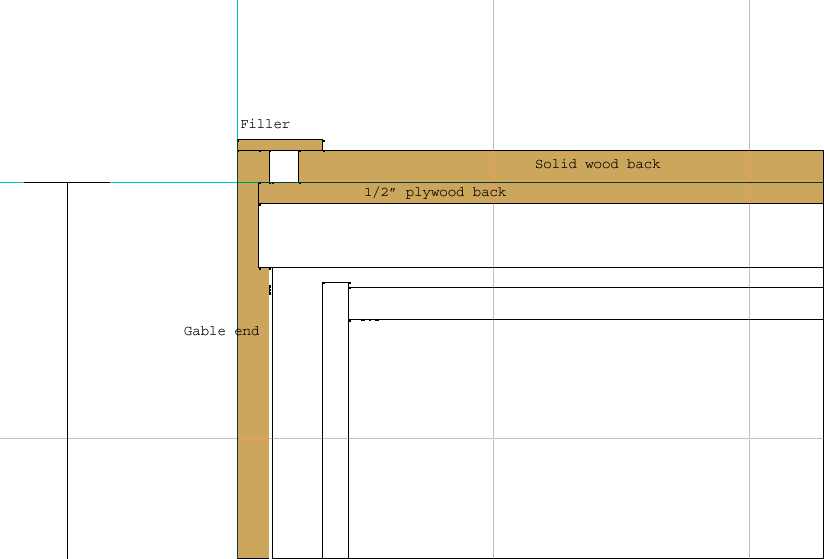 Click here for higher quality, full size image
---
From the original questioner:
I'm unable to re-saw right now as I'm starting the shop again from scratch and havenít been able to throw down on the right bandsaw yet. I like your idea contributor L about fastening through slotted holes in the island. I think I'm going to give a recommendation of the structural integrity of frame-and-panel vs. this design and see if it goes that direction. I also thought of a couple sliding dovetails, but over that length and two of them I could see it never going together.
---
From contributor F:
Fighting expansion and contraction is not going to work. Wood is going to move, if you restrict it, then it will destruct. I like contributor L's design as it allows for the wood to move. Make sure you check out a wood movement calculator before designing to see how much movement that panel will likely have. With that said I highly recommend after you explain to your client why this is a bad idea, you get them to sign off on a release from any kind of warranty on that particular panel.
---
From the original questioner:
I think I have a plan. I'm liking contributor Lís idea of floating trim pieces at either end that mask an expansion gap. I think I'm going to make two full length beefy sliding dovetails that I will slide into the back of the panel before installation then mark their location on the back of the island on site and predrill some holes in the island back. I'll then screw from the inside of the island into the sliding dovetails to mount the whole beast to the island. This way the actual solid wood panel isn't fastened by glue or fasteners to anything. I'll look into a wood movement calculators and see if I can make sense of it.
---
From contributor K:
In our area of northern New England we can expect to see a range of perhaps 6 to 10% moisture content in service over the year. An 8' wide solid glue-up in hard maple will expand and contract well over 1" under those conditions. Fabricating such a panel, keeping it flat and disguising its seasonal movement is not something I would care to attempt. If your client insists on solid wood, why not use individual tongue and groove boards, whether toenailed or fastened from behind? Millions of square feet of flooring have been installed in this fashion over the centuries. Why reinvent the wheel? If joints between individual slats are unacceptable, then make up a panel with balanced veneer construction as suggested. The seamless look, however you choose to attempt it is going to take more time and effort, and if in solid wood is likely to be disappointing.
---
From the original questioner:
I wonder how table tops and dresser tops get away with this. Those get fastened to the frame all the way around and those arenít designed for movement in that sense.
---
From contributor P:
"I wonder how table tops and dresser tops get away with this. Those get fastened to the frame all the way around and those arent designed for movement in that sense." Well-designed tops are designed to allow for movement.
---
From the original questioner:
Frame and panel it is. There's not enough money in this job to take a chance of something breaking apart or shrinking over an inch. Thanks for the input. I certainly gained some ideas for other things based on responses though. The slotted mounting holes for expansion are pretty slick.