Sourcing Exotic Laminate
Cabinetmakers discuss how to find unusual and interesting laminates, including distinctive patterns and glow-in-the-dark laminate. February 12, 2009
Question
I'm trying to find a supplier of modern cabinet laminates. I know Formica has a few that are not bad, but they just are not high end and unique enough. I would like to find something in a laminate that has a large wood grain pattern, maybe similar to a zebra wood veneer look, or even something more interesting like the image below. Any help would be great.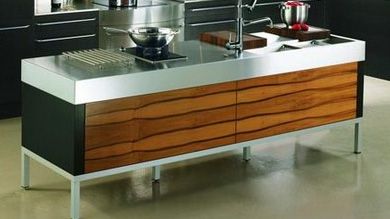 Forum Responses
(Cabinetmaking Forum)
From contributor s:
Brookline has some really nice products that are like laminates, but are actually veneers that are finished and applied to a laminate type backer. They are very durable, and look great.

---
From contributor B:
Try Cabinet Components.
---
From contributor S:
You could look at or pick up Certainly Wood's veneer catalog. It is three binders of the woods of the world and if you need product simply post requests on the veneer section for the high end items. The sky's the limit and there are many production guys watching. I have read requests for up to 4,000 square feet at a time.
---
From contributor J:
You can try either Laminart or Treefrog veneers.
---
From contributor T:
You want to be careful with real exotic colors. We had some Abet laminate one time that arrived to us rolled up in a cardboard box. It must have been sitting around a warehouse for a very long time because the material had developed a memory for the curved shape it arrived.
We couldn't cut it on a tablesaw because it wanted to curl up like a sleeping bag. We ended up having to strap it down with C-clamps and sticks and cut the blanks to size with a hand held router. It is pretty cool stuff. I always wanted to edgeband my cabinets with their glow-in-the-dark banding so I could see a line drawing of my kitchen when I turned the lights out.