Sourcing Knotty Cherry Lumber
A discussion of knots, character, grading standards, and how to find Cherry that looks interesting. August 31, 2010
Question
For knotty cherry cabinets, what kind of cherry do you use? Around here, there are two kinds of knotty cherry. The first is # 1 common, not too many knots, but big ones. Wood grain is just like of FAS. The second is rustic cherry. It has a lot of character in the wood and a lot of knots. I have customers that want the knots, but not the character. Are there other types of cherry you can get in your area?
Forum Responses
(Cabinetmaking Forum)
From contributor G:
See if you can get cherry cut from a pin cherry tree. It is a usually non commercial species because it is a bit the small side and is full of small knots as the tree does not self-prune very well (but that is a plus for you.) It should cut as normal timber, but be just full of small knots.

---
From the original questioner:
My suppliers don't carry it – they are not really interested in more inventory.
---
From contributor G:
I am afraid it is a noncommercial item not in regular distribution, which is a pity since knotty cherry is a valid wood. However, any small mill should be able to find it and cut it for you, and suggest a place to get it dried but because traditionally all people want is clear and wide cuttings of cherry most all of the pin or fire cherry is either skipped over or becomes firewood.
---
From contributor T:
Not sure where you are. In Vermont, I've been buying local cherry that has tight knots with little waste if you could live with the occassional knot (not too many). Boards are typically 4-6 inches wide. They machine more like birch than cherry as grain runs pretty wildly and tear out is a factor when planing.
---
From Gene Wengert, forum technical advisor:
Large knots occur when the tree is growing in an open location. A dense forest will have small knots. Your comments about lumber grades are not too accurate in this case because the standard grades are based on clear area. For example, No.1 Common must be at least 67% clear in several clear rectangular areas. There is no specification about the remaining 33%, including the size or frequency of knots. However, we do know that lower grades will have more knots and character. As you probably want circular knots rather than long spiked knots, it is essential that the sawyer use so-called grade sawing patterns.
---
From contributor K:
Here on the west coast it's called "character grade" cherry. I would give it a try. We have ordered #2 cherry and it does have small knots, but too light in color. Here's a photo of "character grade" below. We incorporated a lot of grain variance in this kitchen, but you could easily cut around it. We pay about $2.50 a bt. ft. and usually order double what we need. Keep in mind you will have to get your panels laid up because no one stocks rustic cherry panels ready to go.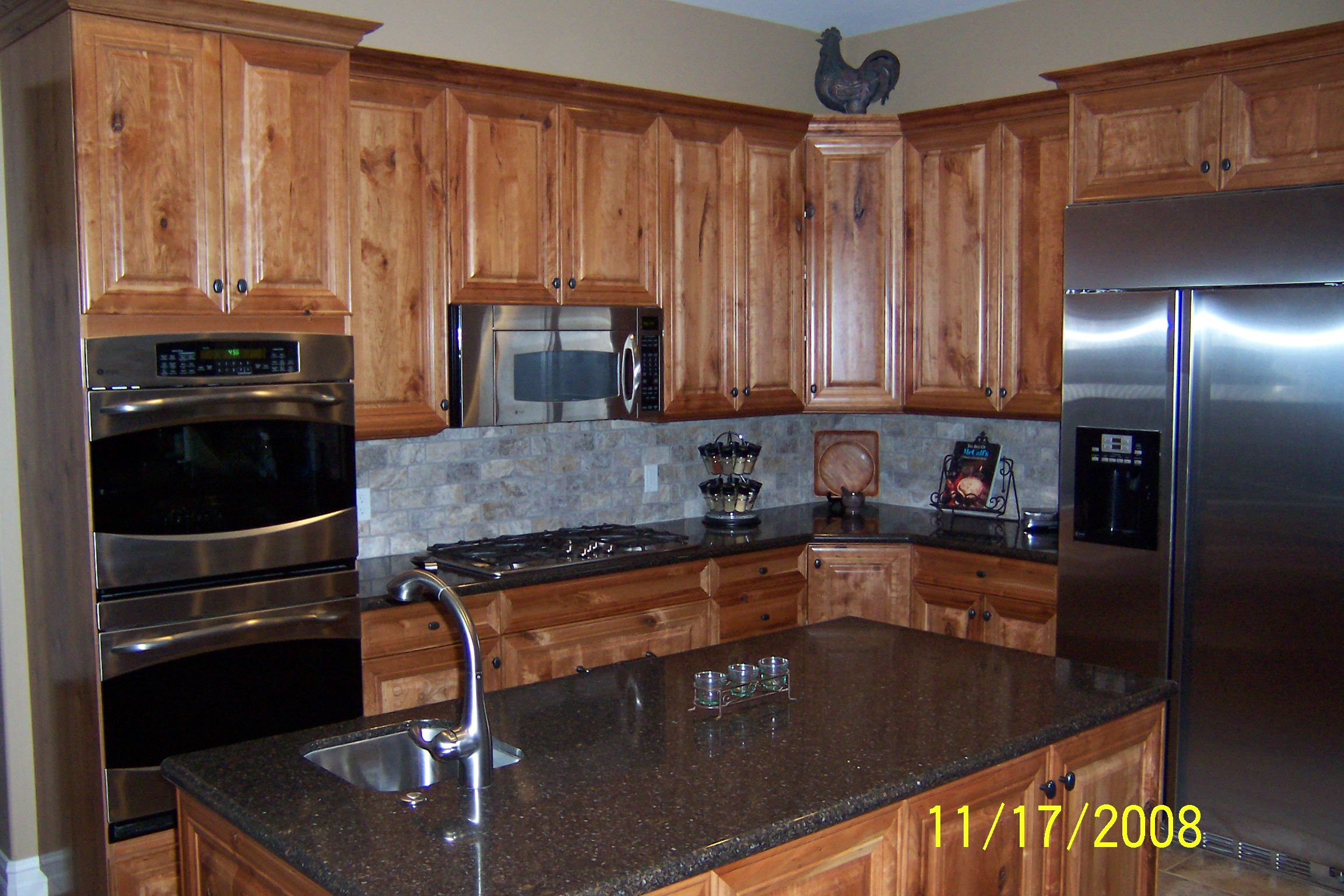 Click here for higher quality, full size image