Southern Yellow Pine for Timber Framing
Is SYP a good material for a timber frame house? February 24, 2008
Question
I want to build a post and beam house. I have a good supply of SYP, but some tell me not to use it for the beams. Anyone have experience with this?
Forum Responses
(Sawing and Drying Forum)
From Professor Gene Wengert, forum technical advisor:
Please ask them why they do not want you to use it. It might twist. It might stain. It might drip sap. It is heavier than other choices. It is stronger and harder to drive a nail into. In your case, the price is great?

---
From contributor B:
Our timber frame house has southern yellow pine posts, beams, joists, floors, etc. I cut all of it on my Wood-Mizer. There were no problems. Sometimes people will not give good advice.
---
From contributor T:
The hoisting and rigging handbook I have has span tables and relative wood strengths - southern yellow pine and Douglas fir are the standard by which others are compared. According to the tables, oak is not as strong as SYP. Your advisers either don't know what they are talking about or know much more than everyone else.
---
From contributor J:
I used to work in a barn that was framed with SYP. It was built in 1886. Sure, that might have been heart pine or long leaf pine back then, but it is still standing. I work SYP a lot, and would not hesitate to use it for a timber frame, if I was building one.
---
From the original questioner:
Thanks for all the responses. I am going to continue the research on post and beam and will be using SYP.
---
From contributor A:
This whole house is SYP from frame to siding and flooring. So I would guess them folks got something else to sell or just no good SYP handy. But it works well and holds nails better than just about anything else.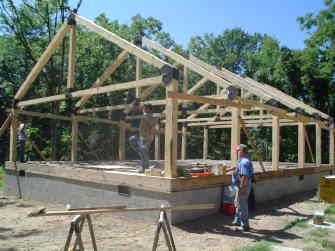 ---
From contributor D:
If you have yet to build, I would recommend having your SYP timber heat treated or you may bring old house borers in with you and you don't want to hear those things crunching away.