Spice Racks on Doors
Tips for building spice racks into door backs. May 14, 2006
Question
I'm building a set of kitchen cabinets and the customer wants some door mounted spice racks on one of the uppers. How do you avoid interference with the shelves? Do you just position the shelves between the racks, cut the shelves back, orů?
Forum Responses
(Cabinetmaking Forum
From contributor M:
You can certainly cut the shelves back enough to miss the short parts of the rack, but the problem with that is if they need to adjust the shelf to a different height, they're S.O.L. I would cut them back enough so they can have full adjustment. Another option would be to make them fixed shelves, per the placement of the racks.

---
From contributor L:
I made a pantry like that. I made the shelves adjustable, but they were narrow enough so they would never interfere with the spice rack. Maybe you want to make this cabinet a little deeper than your normal upper. Just remind the client that they will be losing shelf space by having the spice rack. They can't have it both ways (rack and full space).
---
From contributor J:
I set my shelves back about 3" or whatever, which means special drilling for adjustable shelves. I also put an 1 1/4" nose on back of shelf to keep it from being pulled off of back shelf pins.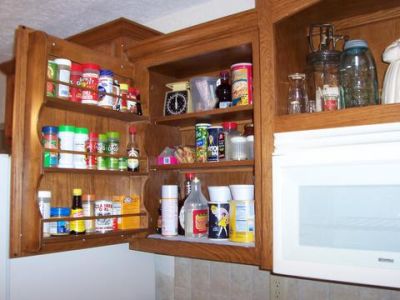 ---
From contributor M:
Something else to consider is the weight of the shelving unit. I would put 3 hinges on that door, versus your typical 2. If the cabinet door is 40" or larger, then I'd put 4 hinges.