Staining Resin Corbels to Match Walnut
Advice on a finishing schedule to make synthetic trim elements blend in with natural wood. December 2, 2009
Question
I have a lot of corbels to install with a stained walnut project. I'd like to save some money by using resin corbels. How could I stain them to match the real walnut?
Forum Responses
(Finishing Forum)
From contributor R:
I don't know what color you are going for so this is just basic technique for what is in the attached picture.
1. Isolante sealer (the last thing you want is for the finish to peel off later so do adhesion tests).
2. Base color - a little lighter than the lightest area in your sample. Mix it yourself with whatever finish you are using with UTC colors
3. For this on I used artist oil color mixed in mineral spirits van dyke brown with a little black.
4. Shaded with Mohawk dark red mahogany ultra pen dye stain mixed in with the finish to match.
5. Top coat and ship.
For some detailed work a little wood graining may be required but usually it is pretty simple to get a good match. All off the carved areas in the photo are resin everything else is stained cherry.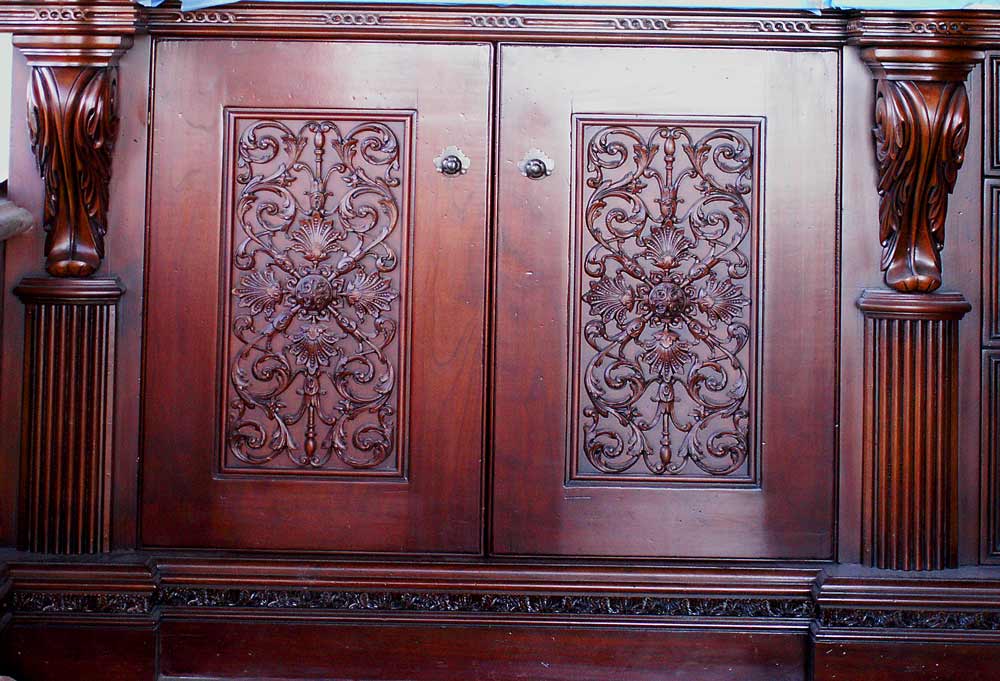 Click here for higher quality, full size image
---
From contributor M:
This picture shows a step sample which may be more helpful - white resin, base color, burnt umber glaze, van dyke brown and black glaze, shading and top coat. Sounds like a lot of steps but it goes really fast.


Click here for higher quality, full size image
---
From contributor P:
Nice work contributor R. No glaze in this example?
---
From contributor R:
Both examples are glazed and shaded.
---
From contributor C:
To contributor R: those corbels look beautiful. What a nice rich color! My hatís off to you.
---
From contributor P:
I donít know if it's saving all that labor to make them look like walnut, they're not really that expensive.
---
From the original questioner:
The cost of walnut corbels is about $120 each and I need ten! I found resin for about $20. I would like to save on this project, you bet. Here's a picture attached of a panel from the job, of which I did the finishing. My question to you expert finishers out there, what are the step by step instructions for me to pull off this matching job all by my cabinetmaker 'ol self?
** NEEDS IMAGE WORK **
http://www.woodweb.com/images_forums_public/finishing/walnut_with_english_oak_stain.JPG
** NEEDS IMAGE WORK **

---
From contributor R:
Can you post a picture of the resin corbel? The base color should be burnt umber with some yellow oxide or raw sienna (maybe a drop or two of white for coverage). Just a Gilsonite glaze over your base coat will get you close to your color. The only thing left is any wood graining you may need or glazing. Your picture looks like a straight forward stain and finish without any antiquing. As a result you will probably have to take a crash course in faux wood graining. Post that picture and do a sample with what you have to see where you are and hopefully we can get through this. You can do a sample on a piece of MDF just so you can check your color (a step sample may be helpful for visualization).
---
From the original questioner:
Thanks contributing R for the input. I didnít buy the resin corbels yet because I wanted to determine if it could be done first, so I have no base color to post. I'll commit now and order those 10 Ė Iím always up for a challenge! Should I use brown MDF for a test step sample?
---
From contributor R:
You are basically doing a paint base color. Your base color should be very similar to the second picture I posted. If you can get the color right on the MDF you can do it on the resin also.