Stiffening Long Cabinet Shelves
Pros discuss details for beefing up shelf edges. June 4, 2009
Question
I have an upper cabinet that needs 40" long adjustable shelves. I'm thinking this is too long for just edgebanded ply. How long do you usually go before you add a solid wood face? The other uppers are all about 20" wide. If you put say a 1-1/2" solid wood edge on the longer shelves, then do you typically do the same for the shorter shelves just to make them look the same? The interiors are prefinished maple ply, so I was planning on using two- sided prefinish for the shelves. Any slick ideas for adding the solid wood face to the prefinish?
Forum Responses
(Cabinetmaking Forum)
From contributor P:
From the Complete Illustrated Guide to Furniture and Cabinet Construction (by Andy Rae):
Max span for a 10"W shelf:
3/4 PB - 24"
3/4 MDF - 28"
3/4 Hardwood ply - 32"
3/4 softwood - 36"
1" softwood - 48"
1 1/2" softwood - 63"
3/4 hardwood - 42"
1" hardwood - 48"
1 1/2" hardwood - 66"
A 1 1/2" solid edge will definitely do the trick. I would do all of the shelves that way if it was my project. You could prefinish the solid edge and biscuit it on, but it's not going to look perfect.

---
From contributor B:
I too have this dilemma, how to provide a beefier edge to prefinished shelving. I would love to hear what others are doing.
---
From contributor M:
For long, adjustable plywood shelves I usually miter the front edge, apply (screw glue) about a 3" wide strip to the front (also mitered) and glue in a double-mitered "wedge" for a fully finished front. Then I glue and screw a 3" or so strip to the rear. I recess the standards and set them so that they support the middle (3/4" thick) portion of the shelves effectively hiding the supports. I've made them up to 72" this way and they're very sturdy with very little deflection even with a heavy load. Don't forget to rapidly relieve the front edges by sanding as they will be very sharp. I sliced the crap out of my hand the first time I made shelves this way. Fortunately it was for painting - the blood stains would have ruined had it been for clear finish.
---
From contributor J:
Add a solid wood piece to the front. Something like 3/4" thick x 1-1/2". If you're using prefinished plywood it's easy. Just glue it on make the solid wood just a hair heavier as you would with veneered ply and sand flush. Sand with 180-220 the entire piece and reshoot it with a coat of lacquer. If you don't scuff it and break that shiny factory coating the lacquer will crack right off of it - if you scuff it up it will adhere well. Have to do this every now and then works well. Do a sample first with your finish though.
---
From contributor B:
I edge all shelves with 1 1/4 wide hardwood. I round over all four edges of the stock, cut to length and pocket screw from the underside onto the 3/4 ply with the hardwood edge a little higher than the ply. I know this is overkill on most shelves, but I do not have an edgebander, and anyone that sees these know they are getting a rugged shelf. You could prefinish the stock, then pocket screw or biscuit it onto your prefinished ply.
---
From the original questioner:
Have you had any concerns with the slight lip at the front of the shelf?
---
From contributor D:
Place a solid band on the back side also or pre-stress a piece of 3/4" plywood and glue a piece of 1/4" to it. Use a real warped piece of plywood for those shelves to your advantage.
---
From contributor S:
You could just build 2 - 20" cabinets. If they are euro cabs it would look the same either way. Also you could drill shelf holes in the back. I did this on a 42" cab in my house and after two years the shelf has no sag.
---
From contributor K:
Good list contributor P. Thanks for that. Here's probably all the combinations.
** NEEDS IMAGE WORK **
http://www.woodweb.com/images_forums_public/cabinetmaking/ScreenShot016_2.jpg
** NEEDS IMAGE WORK **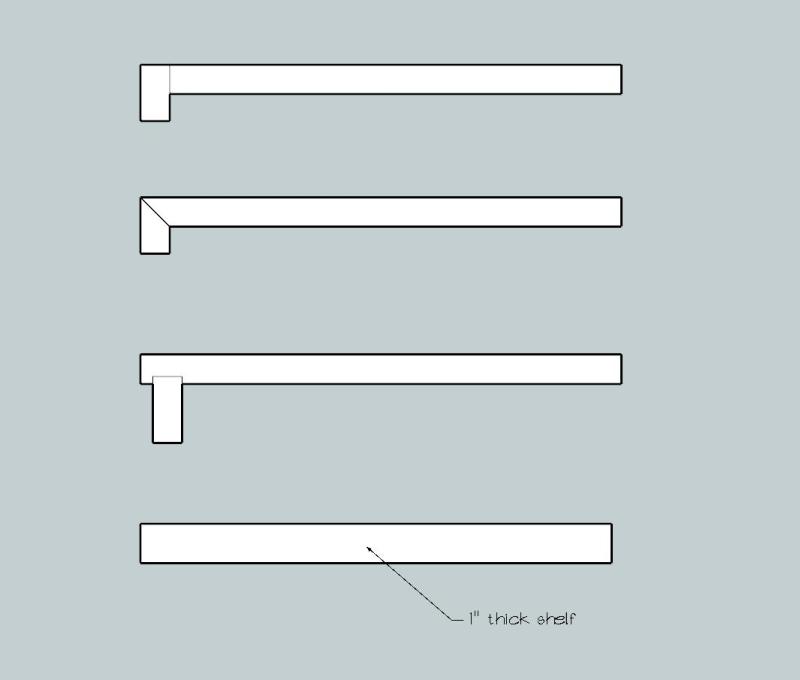 Click here for higher quality, full size image
---
From the original questioner:
Thanks contributor P. #3 is interesting in that it would work well with prefinished plywood - actually the rib could be prefinished too. But it maybe looks a little odd - has anyone done them this way?
---
From contributor J:
Contributor D had the right idea. If you have some 3/4" ply with a nice crown in it, you can use that. I have some from Timber Products that has a nice crown on almost every sheet (I plan on going back to import after using this stuff).
I plan on using it on some uppers and lower's that need 40" wide shelves. I will add 1" x 3/4" solid wood edge banding glued and clamped on. Import plywood is often warped also, so much so you could build a bridge out of it and it would support a Mack truck.
For heavy loads 1 1/2" x 3/4" it will do the trick. We used to make computer furniture with 42" x 16" wide shelves that support a CPU, monitor, and large printer. I'm looking at mine right now, and there is some sag after ten years, about 1/16".