Stiffening a CNC Rake
A technician comes up with a shop modification to stiffen the rake attachment on an SCM Pratix CNC machine. February 15, 2015
Question
Does anyone out there have an SCM Pratix equipped with a rake? We set a new S15 with rake recently after running pod and rail for 14-15 years. Coupled with CV software and S2M we can flood the shop with work and not tie up manpower at two saws, stop premature greying of hair in engineering, etc. - everyone loves it. We are a dedicated SCM supplied shop with moulder, gang-rip, p2p, panel saw, etc. and think highly of their equipment. My concern with our S15 is that the dust extraction plenum/splitter that sits on top of the router seems very top-heavy with the addition of the extra steel involved with the rake.
When the machine is working, there seems to be quite a bit of movement of the plenum/splitter in the x-axis and we have now noticed that the plenum itself is listing in the -X. We have loosened and slid the assembly back as far as it will go and have voiced our concerns and are awaiting a fix from SCM. I am assuming that the vertical support for the new assembly was not re-engineered for the added weight and that all who own one are having the same issue.
Forum Responses
(CNC Forum)
From contributor C:
I have only one customer with a rake on a S15 that hasn't showed any issues as of yet even though they just got it. I will check there's out to see what you're saying.

---
From contributor B:
I had exactly the same issue with the head wobbling and bending forward, from the get-go. I have the smaller Pratix s12b. I called the guys who sold me the machine, they took it up with SCM and they said they forgot to add a certain stabilizing part to the head. The part is on order and I am waiting. In the meantime, the tech tied the head to another part of the machine to stop the forward sagging.
Most important of all, I have been searching high and low to find better software with a post processor that outputs to ISO, or at least PGM or XXL which can be converted to ISO without errors. I am sorry to say, but SCM has been positively unhelpful. I got an email from a high ranking person in Italy saying they will not be able to help with software integration, apparently even for pay. I am quite shocked and disappointed. So I turned to Enroute, after two other software companies promised me a post and couldn't work it out, and I am currently waiting for Enroute to respond. In case that fails too, what cabinet making software solution do you use please? I need nesting and toolpath optimization. Xilog Meastro has plenty of issues and lacks important features, so that's out.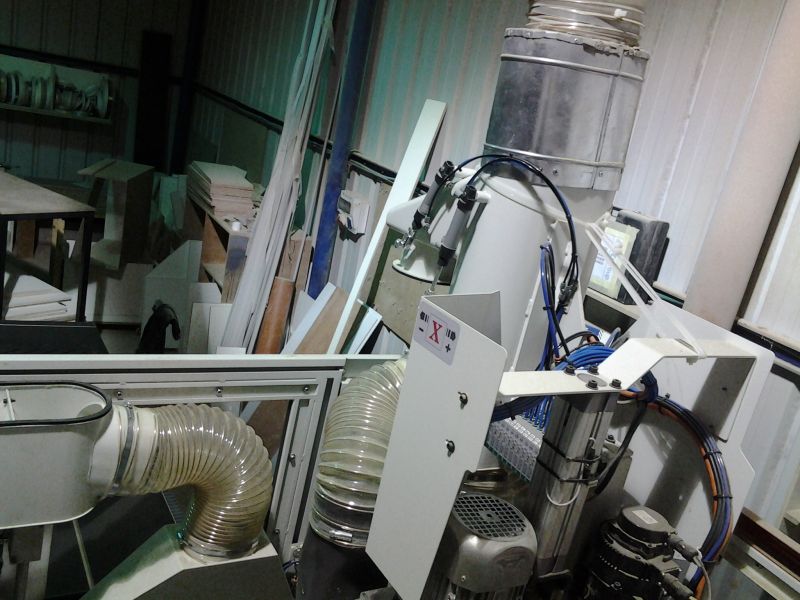 Click here for higher quality, full size image
---
From the original questioner:
We have both a temporary fix with a ratchet strap, and a permanent idea with some aircraft cable, and a turnbuckle. It seems like the plenum will need to have some flexibility when it engages the rake as it seems to put quite a bit of pressure on the plenum. What we do not want to do is transfer the stress to the top of the pneumatics that drops the drill block. We will use the ratchet strap to keep running but will wait on a solution from SCM before any alteration to the machine is attempted. As far as software and the push program, we purchased CV and S2M to speed up engineering. The machine came with Alphacam. We have been using other CAD/CAM software so the learning curve was quite small as far as drawing/nesting individually drawn parts in Alphacam - just way slower than CV/S2m. CV/S2M has been working quite well for us and we are pushing more through it as we become more adept at it.
As far as the push program goes it is automatically attached to the end of each sheet program. At this time we are using 8' of the 12' bed and had Jonathon Bagby at SCM do a remote team viewer session to stop the rake at 8'-6" and then park. You may want to look into this option.

---
From contributor B:
Problem solved: The technician returned today with a permanent solution for the wobbling machine head: A simple flat length of iron, twisted 90 degrees to attach the head to the frame as shown in the photo. No more vibrations or listing! We jogged up and down in all 3 axes, and tested the rake - simple, ingenious and effective.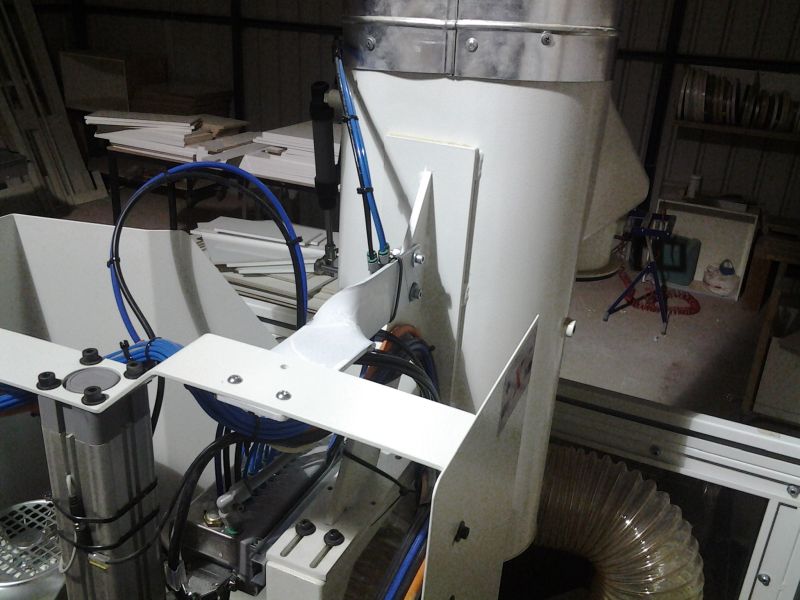 Click here for higher quality, full size image