Success with Black Stain
Pros provide tips for staining wood a deep, dark black without purple overtones. July 12, 2005
Question
I am trying to replicate a cabinet finish I did about ten years ago, but I can't find the solution. I stained ash black and the grain read through beautifully. So far I've tried several stains and aniline dyes, but I'm still getting a purple hue. Any tips?
Forum Responses
(Finishing Forum)
From contributor T:
Mohawk 15" stain should work. It's an oil-based pigment wiping stain. Something else to look at is Dick Blick India ink. It's true black and water-based as well.

---
From Paul Snyder, forum technical advisor:
Black dyes often have a blue or purple hue to them, but there are some that are more true black. To get a deep ebony color, I dye the wood, and then use a black wiping stain over it. I also use a black dye toner for added depth of color. The combination allows for a very dark black with the grain clearly visible.
The sample below shows the dye in the middle and added stain/toner on the bottom.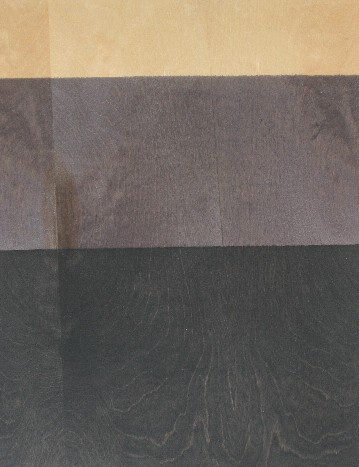 Click here for full size image
---
From contributor G:
You can try a wipe stain made with 844 CB, which is carbon black, or bone black. It is warmer than LB, (lamp black), which has the blue tone.
---
The comments below were added after this Forum discussion was archived as a Knowledge Base article (add your comment).
Comment from contributor M:
I use black pigmented colorants for making my black stain, and use the same black pigmented colorant for making up my black shading stain.
Once I acheive the color I want, I go to my clear coats to complete the black finish.