Supporting an Elevated Countertop
Tips for supporting a cantilevered counter on one side of an island. March 3, 2009
Question
I'm looking for suggestions for supporting the raised (red) counter in the DXF below. It's 42" high, while the rest of the counter is 36". I've considered turned legs at the ends and outside angle, but am not quite sure how it would look with a leg/skirt detail. I'm open to any and all suggestions.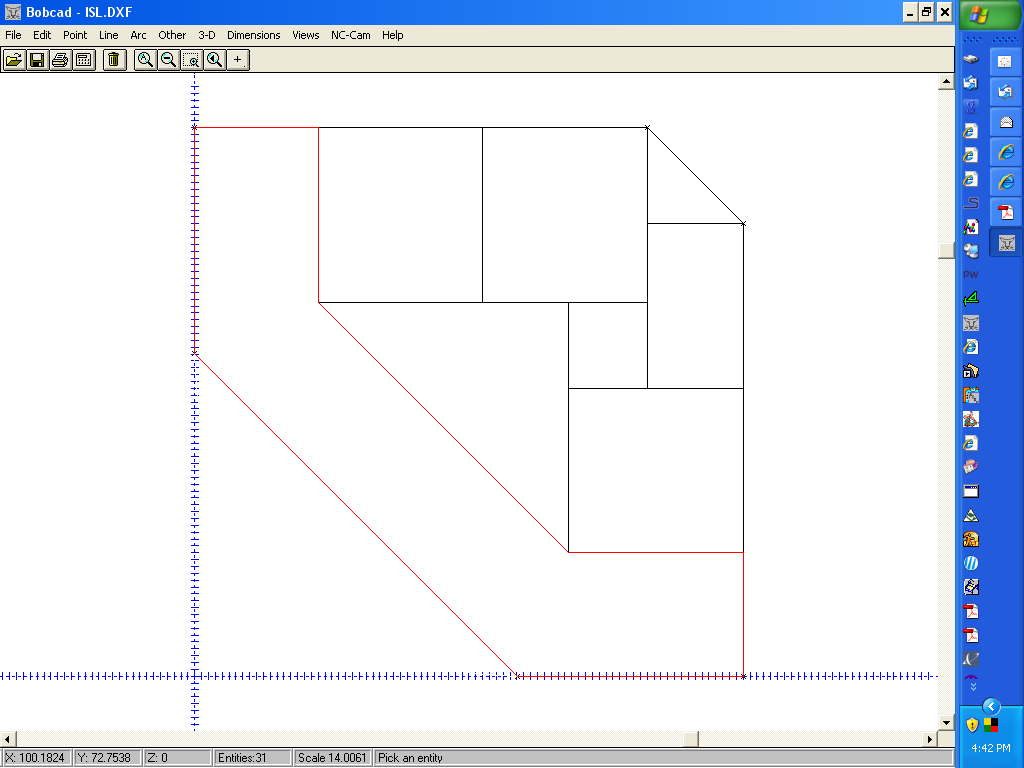 Click here for full size image
Forum Responses
(Cabinetmaking Forum)
From contributor R:
I just completed a similar counter, without the angle. I built a stud wall up the back of the cabinets. The studs were "L" shaped, cut on the CNC so that the higher countertop was cantilevered allowing stools underneath.

---
From contributor P:
What is going on for the tops and is it built yet?
---
From the original questioner:
Granite for both – it's just the design stage.
---
From contributor T:
There is probably going to be enough mass in the transition between upper counter and lower counter to accommodate an electrical outlet. If this is the case you also have room to bury some steel. We do this with some regularity. On occasion we will also add a wooden corbel but the wood one is only cosmetic.
For what it is worth, (perhaps not this application), inexpensive framing squares are a tremendous source of structure for cantilevered things (small bathroom vanities etc). They are easy to get and they don't require any gussets. The framing squares also make a great shelf support around the shop if you need to situate a shelf with something tall below it.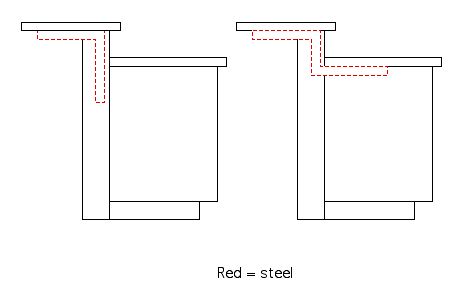 Click here for full size image
---
From contributor P:
The steel we use is only a 1/4" thick, secured to the stud and glued to the top as well. Will the higher piece be in three separate pieces?
---
From the original questioner:
If the customer does go for the design, the elevated section will be one piece, if at all possible.
---
From contributor D:
I would frame a wall behind the island with 2x4 framing. (Maybe that is already there I can't tell from the drawing) with the 3-1/2" of the 2x4 plus the thickness of whatever you skin it with you may only need some decorative brackets. Also the wall combined with the cabinet will give you the structure that only using a cabinet won't give you.
---
From contributor S:
How do you hide the framing square? If you make a corbel to enclose the square, you might as well just make it strong enough? I don't understand the need for the frame square and a corbel to hide it.
---
From contributor P:
I am thinking it was drawn that way to make it easier to see. If it's the flat way (1/4" thick) and embedded into the wall the only part exposed is under the top.