Terminating Waiscoting at an Uncased Opening
Wainscoting needs a door casing to end against, or it won't look right, a trim installer decides. May 6, 2006
Question
A customer wants painted plywood beadboard wainscoting and chair rail for their dining room. The dining room has two openings - to a foyer and a hallway. Just drywalled openings with no trim, no doors. What is the most elegant way to end the wainscot? I planned on mitered returns for the chair rail, but then I have a problem with the panel. I would have an inch of the exposed drywall. I don't want to turn the rail and run it down to the base, which would look goofy.
Forum Responses
(Cabinet and Millwork Installation Forum)
From contributor S:
I'd use a small strip of matching wood with a rabbet down one edge and slightly profiled (rounded, chamfered, etc.) on the other. The rabbet will go over the beadboard and the other profiled edge will finish off the look. As for the size of the strip, it depends on your chair rail, cap and base mouldings. Typically I'll start off with a 3/8" x 1" strip, but you'll have to adjust these dims to fit with the look and reveals of your other mouldings. It's a good look - it frames off the beadboard very nicely.

---
From contributor C:
If it's possible, remove the trim and install trim with 5/4 at the back edge. If not, use a back band on the edge of the existing trim.
---
From contributorD:
If you have beadboard paneling for wainscoting with a chair rail, the doorways should be trimmed out. The two design elements do not go together. So just sell them on the door trim or it won't look right no matter what you do.
---
From contributor B:
Contributor D makes a good point. Consider, also, that a plain return of the edge of the plywood wainscot will give away the fact that the wainscot is fake - i.e. thin plywood. Casings would make everything look better. If the wainscot dies into the casings, then you can't see the edge of the plywood, and you might assume that it was made of regular 4/4 tongue and groove - the stuff that the plywood was made to simulate. Incidentally, 1/2" MDF wainscot paints nicely and looks more like the real thing than the plywood versions. It's heavy but you can get it pre-primed.
---
From the original questioner:
Thanks everybody. Sold them the cased openings. Here is a picture of what I ended up doing. This view is from the foyer into the dining room. Poplar for jambs, casing and chair rail. But instead of plywood paneling, customer came up with a different plan. Just wanted an applied molding to the drywall. (I ended up sanding existing wall, patching, priming, sanding again. Then I sprayed everything with semi-gloss white.) Thanks again - they really like the cased openings now, and I already got more work from them.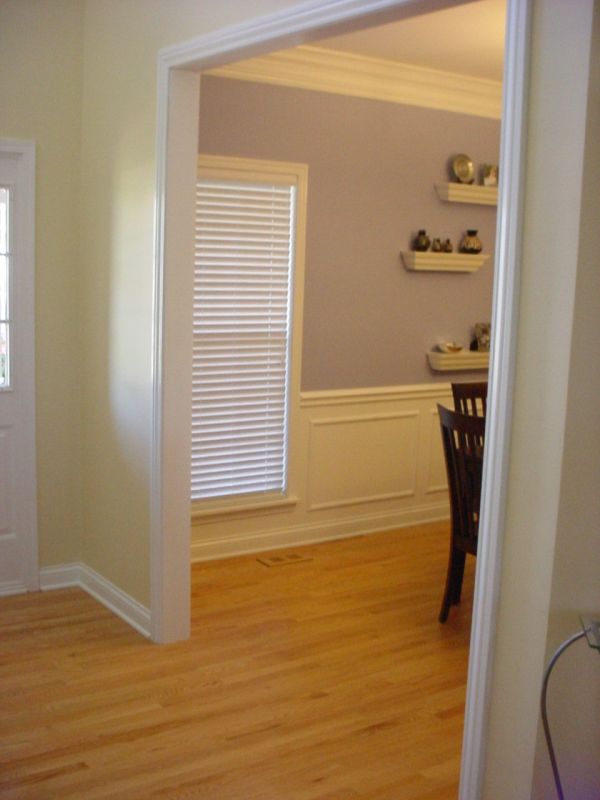 Click here for full size image