Toning Oak Cabinets in the Direction of Cherry
Here's a discussion of the ins and outs of toning existing cabinets. June 30, 2014
Question (WOODWEB Member) :
I'm a painter and do stain and topcoat work but I've never tried to color shift cabinets. Before I submit a bid I want to verify what Iíve read. They want to darken existing kitchen cabinets from a natural golden oak to a natural cherry. From what I can tell the best way to do this and achieve a factory finish is to use the toning process. What's the formula to create a dye toner to achieve the natural cherry look, understanding this could take several coats to achieve? I did see one formula that showed 28oz of lacquer thinner, 4oz of lacquer and then add the dye. Is this correct?
Also I just want to confirm the following process:
1. Clean with TSP and scuff following the grain.
2. Seal with vinyl sealer.
3. Spray toner until color is achieved.
4. Finish with a topcoat.
Forum Responses
(Finishing Forum)
From contributor C:
I'd say that step three will be your stumbling block. Do the oak cabinets have any added color on them? Do the pores of the oak stand out from any pigment in them? Let's just say you have a yellowed clear finish on them giving them the golden color. How are you going to shift from golden to the pink/salmon color of natural cherry? Or do you mean the color of aged cherry? Or do you mean the deep burgundy color than many production furniture houses call natural cherry that obscures the grain of the wood? Spraying toner until color is achieved indicates multiple coats. How will you keep it consistent over the entire kitchen?

---
From the original questioner
:
The cabinets do not have any color added to them. The golden reference is from the yellowing that is occurring from the age. It sounds like itís not possible, however I have read several knowledge base articles stating that it can be done? The customer wants transparency so they can see the grain of the wood and from what I can tell this should be achievable using dyes? Maybe Iím off on the multiple coats part but that is why Iím asking. I understand uniformity is going to be the issue, but again I have painted for over 20 years and understand the challenges this brings. I receive so many of these types of requests that it's time I learn how to do it. I'm hoping someone can assist other than telling me to hire someone else.
---
From Contributor J
:
That toner formula sounds about right. You want to spray lightly and evenly. Too wet and you get a mottled look. The trick is going to be with the color (which dye and how much). What we do to check before going live is get a clean piece of glass (a window pane) and mask off a third of it. Spray the rest with your toner mixture. Unmask the clean glass and lay that portion over your target sample and the toned section over your future work piece. See if the color moved in the right direction. If it did, but not enough, mask a section of your toned glass along with the clear section and spray a second coat over the first. Dry, unmask and check. I think you get the idea.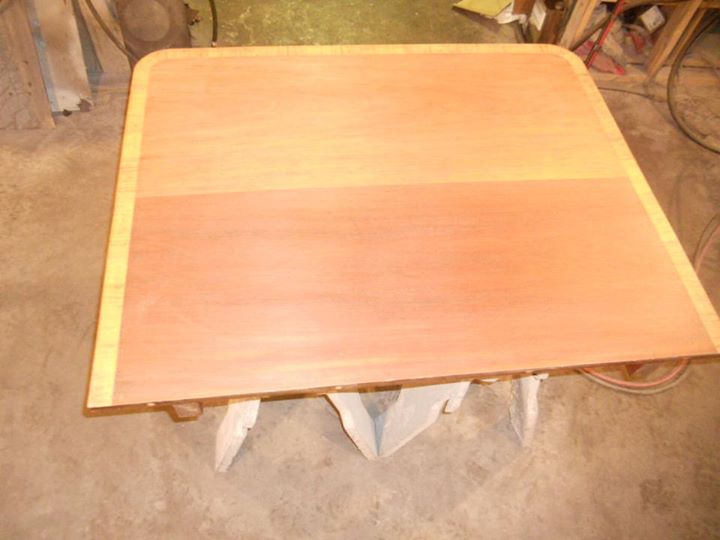 Click here for higher quality, full size image
---
From the original questioner
:
Interesting ideas using glass and no doubt the color formula is going to be the challenge. The good news is I'm not trying to match up to anything I just need to get a color in the range and get approval. They actually have a spare cabinet door from when they had the house built and it got damaged so I have something to test on before going live. Any recommendations on which brand of dye to use?
---
From Contributor J
:
The cool part about the glass is that you can wash it off with lacquer thinner on failed trials and start over again. As to which brand, I'm a little limited. We use the Valspar dye concentrates or NGR stains (beware the concentrates - a little goes a long way). We have also have used ML Campbell Microton spray dye stain. That said, we use toners fairly often, even on nightmare pieces (see below) so with some playing around I think you can get it.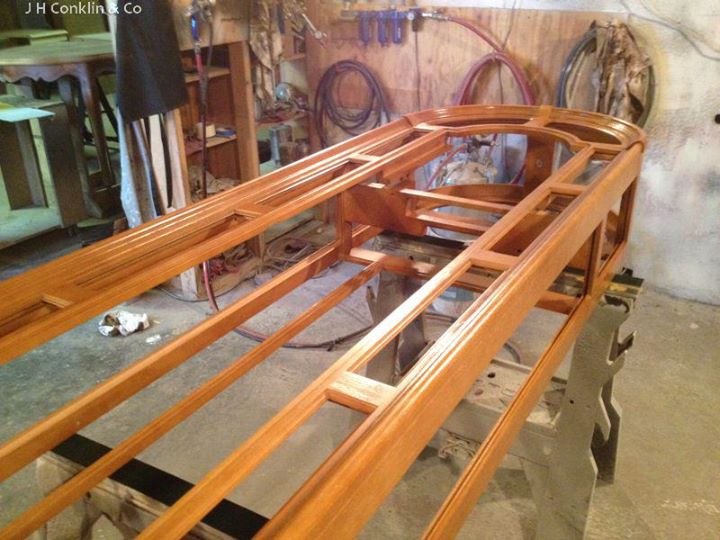 Click here for higher quality, full size image
---
From Contributor B
:
We consistently used a tone made from acetone and our regular wiping stains. Mix nine parts acetone to one part stain. After you have washed and sanded try a wiping stain, seal with your vinyl sealer, scuff then tone to even out the wiping stain. Very light passes until you get a handle on it. It will flash off in seconds and you can top coat right away. Most industrial stains work but I have seen some like Goudey and Minwax do not mix well.
---
From the original questioner
:
Have you had any issues with your toner made with stain covering the grain of the wood? That was the drawback that I read about and why I was leaning towards dye.
---
From Contributor B
:
It is pretty thin. You need several coats to obscure the grain. You should get your color most from the wiping stain.
---
From contributor F:
Do not spray a toner made with acetone and wiping stain over an old finish. That is not a toner anyway - it's a spray-no-wipe stain and there is a big difference. Spray stains made this way are ok for bare wood and possibly between coats of finish in the original process before the previous coat is completely dry or cured but not for use over an old existing finish. Potential issues with this range from no adhesion (due to lack of any finish in the mix to act as a binder) to the acetone wrinkling the old finish if it is not strong enough to resist it and too much pigment stain obscuring the grain of the wood.
A true toner will always have some finish or sealer in it to act as a binder to the old finish. Different types and brands of dye can vary quite a lot in strength as well as fade resistance. My advice is to find a good finish distributor and tell him what you want to do and have him make the product for you. A good rep will take the time to match what you want and even show you how to spray it correctly. If they don't find another distributor who will. In any case, experiment with some scrap wood to get the amount of dye in the mix correct as well as the spraying technique down. Too little dye and you will have to do a lot of coats, too much dye and it will be difficult to control the color and you will probably get dark steaks, etc. in the finish if youíre not used to spraying this type of finish.

---
From contributor M:
Contributor B's suggestion to make a spray-stain using wipe-stain and acetone can work, but I do not recommend it. I have done this many times and out of those times I have had failures in adhesion. Yes, I may have sprayed too many passes of this mix, but you have no idea how much is too much, especially when a dye-based stain can do the job just fine without fear of adhesion problems. I cannot help you in regards to how much dye to use since they all vary in concentration. If the oak is lacquered or sprayed with CV then you can use precat over a vinyl sealer. Let me suggest you find a Sherwin Williams or ML Campbell dealer and ask them for tinted vinyl sealer. I've used both, and they are good. You wonít' need to buy any dye. Just cut the vinyl sealer with thinner (one part vinyl, three parts thinner) to start with. That will tell you how many passes to make. I personally will scuff sand between each pass gently, you get a very smooth nice surface, plus you get the color, and the bonding ability of vinyl. Set your gun to spray a very gentle fog like an airbrush in your corner spaces. Once the color is there throw on a topcoat of precat.
---
From contributor M:
By the way, I recommend against spraying the solvent based stuff in the house. Take the doors to your shop and spray them. I would try to do the kitchen cabinets (if I had to) using a tinted oil based polyurethane like Polyshades. Yes, it's a pain in the rear. Yes, I would charge quite a lot for doing this. In situations like this, I would be tempted to veneer the face frames (on the inside edges and the face) with an appropriate color laminate, and then do the doors to match.
---
From the original questioner
:
I did ask my Sherwin rep about toning with dyes and he didn't have a clue and suggested I contact the chemical coatings division. Anyway, having them tint the sealer will make it much easier and eliminate the toning step.
---
From contributor M:
Yes, the chemical/industrial coatings guys are the ticket. That's who we buy our CV and associated paraphernalia from. I don't have the product number with me, and I can't remember the actual gimmick/system name but it is a vinyl sealer with colorant already in it. They should be able to match pretty much any color as long as you take them a color sample. Note that this product isn't the easiest product to sand, it really feels like you are sanding a vinyl glove. It does give a very good result and it dries remarkably fast. If you are using under a catalyzed lacquer (precat, CV) then you will need to catalyze it 2% with their catalyst.