Touching Up Scuffed Conversion Varnish on Baseboard in the Field
Tips for a pesky but manageable on-site repair: touching up scratched CV varnish on baseboard in a newly carpeted house. March 13, 2009
Question
I sprayed all trim and doors with MLC post cat CV. The carpet was installed and now the client has noticed all the cross scratches left from the back side of the carpet. I read some earlier posts on in-the-field fixes, using aerosols that leave no halo, and a Preval sprayer. Any advice on how to repair this baseboard? At the moment it sounds like I should scuff sand the scratched area, then use an aerosol by Mohawk or Konig, or the Preval spray gun. I will be repairing four bedrooms. Do you think I could get a good look by scuffing and applying CV with a brush?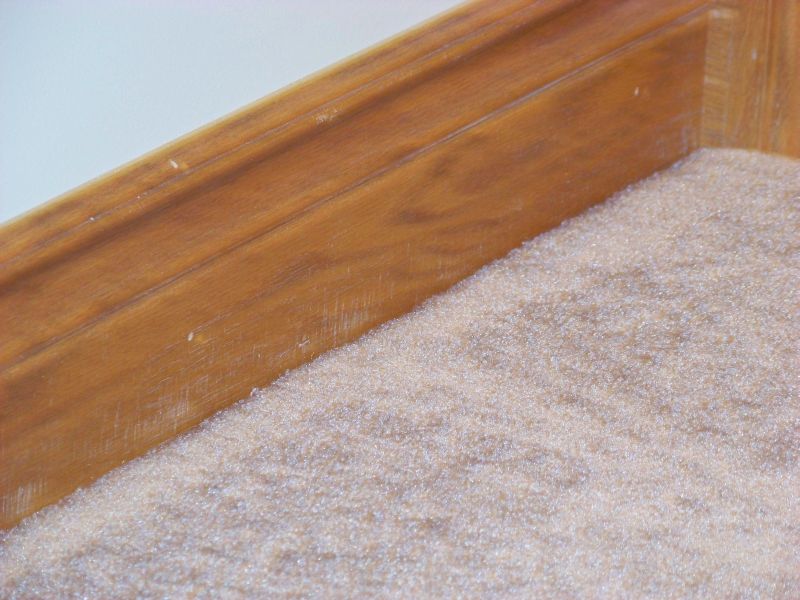 Click here for higher quality, full size image
Forum Responses
(Finishing Forum)
From contributor A:
The scratches seem to go all the way through the finish into the wood. You will first have to replace the color in the scratches with an artist brush and touch up colors, then spray something over all the touched-up panels. You will have to mask off the wall and rug. Assuming you have the color matching skill, you will be spending a lot of time on your hands and knees.
It would be likely easier just to make new molding, finish it in the shop, rip out the old and install the new. This time, spray a thicker coat of finish so that when scratches occur, they don't go all the way through to the bare wood.

---
From the original questioner:
I should have given my schedule. Spray and wiping stain, coating of Krystal sealer post cat, scuff and coating of CV 200, scuff and final coat of CV 200. The picture is bad, but the damage is to the top coat and can be scuffed out.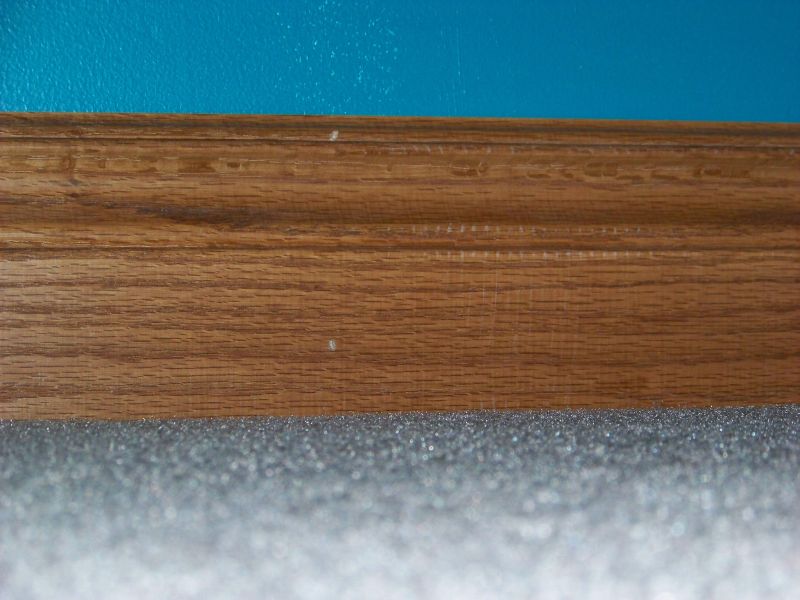 Click here for higher quality, full size image
---
From contributor G:
You can fix those with a Mohawk spray bomb. Charge at least double for hands 'n knees work.
---
From contributor A:
Okay, now it could be much easier. It all depends on how thermoplastic your coating is. Try sanding some of the scratches with #600 wet/dry paper lubricated with soapy water. Wipe off the sanding mud, then rub with a piece of damp cheesecloth and some 3M medium grit compound, wipe off, then rub with 3M Finesse or similar high gloss compound and cheesecloth. You might have to start off with a lower grit of sandpaper depending on how deep the scratches are. All these materials are available at most auto parts stores. If you can't get 3M, try the equivalent Meguiar.
---
From contributor R:
I have to politely disagree with contributor A's plan of attack - way too much work. You will never get a consistent sheen unless you sand everything and rub out everything and then polish everything. A much easier way to tackle this is to lightly scuff with a Scotchbrite type of pad and then mix up some of the same product you used on the whole job. Pour some of that mixed product into a Preval sprayer, do the necessary masking, and then push the trigger on the Preval. If you think that you will have to re-spray everything, bring out your HVLP and have at it.
---
From contributor J:
CV shows the halos from spray touchups because it is so resistant and won't let the solvent melt into the existing finish. This is the flip side of chemically resistant finishes. I have had some success using Behlen Blush Eraser (basically retarder in a spray can), to help flow in the overspray halos on touchups. But over CV, how good it will look will depend on the viewing angle, sheen and background color. The stain you used looks fairly light so it should not be too bad (darker colors show everything).
---
From contributor D:
The Preval is a good idea. Since I do a lot of spot work with Mohawk aerosols, I will also say that I really like their pre-cat aerosols for a situation like this. They seem to adhere and blend in very well (no halo) on cat finishes with the exception of 2k poly. The standard lacquer aerosols from Mohawk will not burn in so well on cat finishes and do tend to leave a halo. The newer line from Mohawk called Ultra Flo - Ultra Bond should perform as well and was formulated for spot work on 2k poly.
---
From contributor A:
To all those who advocate spraying: He will have to carefully mask the carpet and wall. The wall can be done accurately, but getting the carpet right to prevent overspray will be difficult. Even if he finds a spray that will flow out without halo or dry overspray effect, there will be a solvent odor in the home that the owner might find objectionable. He would still be better off rubbing out these apparently superficial scratches. He might be able to get away with a Scotchbrite pad and compound. If rubbing doesn't work, then spraying over should be tried as a last resort.
---
From contributor S:
I'm usually not big on cheating, but sometimes on occasion, less is more. The scratches appear to be very light just in the topcoat, causing them to look white. Would it be possible in this case to just custom mix some hard (carnauba) wax with dry pigments to match and fill the scratches? When completely dry the wax fills will get very hard. It would seem worth a try. Will drastically cut down the time investment and problems involved in respraying.
---
From contributor I:
I've touched up miles of CV. You can use Konig aerosols, or Mohawk now also makes a non-halo aerosol that works like Konig and costs one third the price. I've used these aerosols to touch up conference table tops and large closed grain panels with cross lighting. Works great!
---
From contributor R:
Protecting the carpet from any overspray isn't going to be a big deal. A scrap piece of plastic laminate placed on top of the carpet protects it just fine. This isn't a humongous spray job - just a simple touch up. If the whole install needs to be resprayed, then I'd say, tape off the wall, but use a spray shield on the carpet - store bought ones are 3 feet wide.
As far as the CV leaving a halo goes, just mix it a little thinner than normal and mist a coat on the scuffed coating. Most likely the sheen is a satin and due to the location of the baseboard, I don't see much light being reflected that would show any hint of a touchup.
I'd be sure to back charge the carpet layers for whatever extra costs are allocated to the job.

---
From contributor C:
Next time use a bar top lacquer. If it gets surface scratches, all you need is some retarder to make them disappear.
---
From contributor U:
I agree that this is no big deal. As professionals we should be able to do this job in our sleep. Masking walls and carpeted floor can be achieved with a 3M masking gun and your choice of paper. Tip: Use 2" masking tape (brown) around the edge of the carpet and push into the edge with a putty knife. Then you can run the masking paper from the 3M gun with ease. Also, be sure to warn the customer that masking, even with low tack tape, will most likely pull the paint from some wall areas and you should not be held liable. I also agree that there should be a bill for this service and the client should try to charge it back to the carpet installation company.
---
From contributor G:
What is bar top lacquer? Most posts here recommend 2k urethane, polyester or 2 part pour-on for bar tops, none of which are touched by retarder.
---
From contributor P:
Bar top lacquers are old time finishes, not as durable as modern coatings in the area of scratch resistance hardness, yet every bit as good as most others used for the prime purpose of being water resistant and alcohol resistant with the added feature of not scratching white 30 days after application. They are nitro lacquers with alkyd resins of the non-drying type such as coconut oil alkyds, which give them these properties. Behlen's used to make it till a couple of years ago and it reigned supreme from the 40's through the 80's for an all around bar top lacquer with all the same fast drying and good leveling and gloss features you expect to get from a quick dry lacquer. Delta Labs in Florida still makes an excellent one, as do other companies. Very forgiving product with the same ease of repair as normal nitro types.
I'm old school. My main concerns are ease of application, durability of product, and ease of repair, which ranks highest for me, as well as beauty and appearance of product. Also I have a big problem with acid catalyst, etc.
Drawbacks - high VOCs (which in my opinion is all hype, this talk and regulation of coatings as to VOCs - our industry being guilty of air pollution is bull).

---
From contributor M:
You might try Gemini/Master's Magic Scratch Remover. Available in aerosol or liquid. Dark or Natural. I would suggest trying the Dark based on your stain color. Use it like a furniture polish. Spray it on the wood and wipe clean with a cotton cloth. Contains no silicones, so if it does not solve the problem, you can still apply finish over the area. This product can be a great problem solver.