Trash Bin Pull-Out Drawer Dimensions
Trash-bin drawer show and tell. July 27, 2008
Question
The pullout shown here is a drawer with two bins and a pocket for a box of bin liners (Hefty, etc.). Slides are full-ex Blum Tandem Blumotion soft-close, or equal. Bins are a 36 qt and a 21 qt, both Rubbermaid or equal. If you are making these yourself, please share the L x W of the two bin cutouts, and your source or spec for the bins. We are on a fast track and have no time to bring in the bins before we CNC the parts.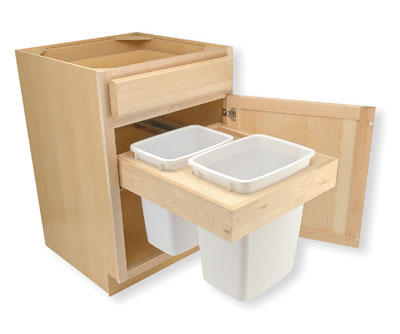 Forum Responses
(Cabinetmaking Forum)
From contributor R:
I build trash pull-outs as a drawer with no cutouts. I find that most locations for P/Os vary in width, making it difficult to standardize for a certain container. Using a simple drawer design gives the customer the ability to buy whatever trash bin(s) will fit. I don't supply the bins. I find it to be somewhat odd that cabinetmakers should supply trash bins.

---
From contributor B:
What if you left out the bin cut-out portion of the pull-out and make it a drop-in to be added later when bins were on hand or custom cut for the client's bins?
---
From contributor D:
How about just using some slats (instead of the solid top with cutouts) that could be screwed in place to accommodate any can? Adjustable is the solution when you don't have definite specifications.
---
From contributor S:
I understand that you may not be able to go get them, but can't you just order them online and pay for overnight shipping? Might cost you $100-180, but you'll be able to cut them and be sure they are perfect. I would hate to take a stranger's measurements from an online forum, cut a bunch of parts, and then have them be wrong. I am assuming that you have a bunch of these to build?
---
From contributor B:
What did you do before CNC? You used a jug saw. Now, you're holding up the whole job to cut out a coupla lousy trash holes?
---
From contributor J:
Spoke with a fellow yesterday that lives in Moose Pass, AK. He is about 50 miles from the nearest town and easily has an hour commute one way whenever he needs to buy stuff. Oh, he has a CNC and is real busy with cabinet work.
---
From contributor N:
A piece of plywood and a hand held router to make the holes. Save the jig and hang it on the wall. I just use the standard KV products. Either it's a floor mount or a floor mount and a door kit.
---
From contributor V:
I haven't made my own, so I can't help you on the measurements, though Rev-a-Shelf sells the bins only in many sizes.
---
From the original questioner:
Got it, and it's done! Part designed, CNC code all written, ready for cutting. Called my contact at my hardware jobber. They stock and sell replacement bins for all the various trash-bin pullout kits. He measured the 35 qt and 20 qt bins I need, per my instructions. The bins sit in rectangular sockets exactly 1" less from the overall L x W dims given in specs, thus a 35, at 18" x 14 5/8", sits on its "stand ribs" in a hole that is 17" x 13 5/8". I verified this 1/2" perimeter inset rule by measuring a 30 qt bin pullout we have in our own kitchen. Looks as if the trash bin makers have standardized. Now I can keep on living my shop-free life.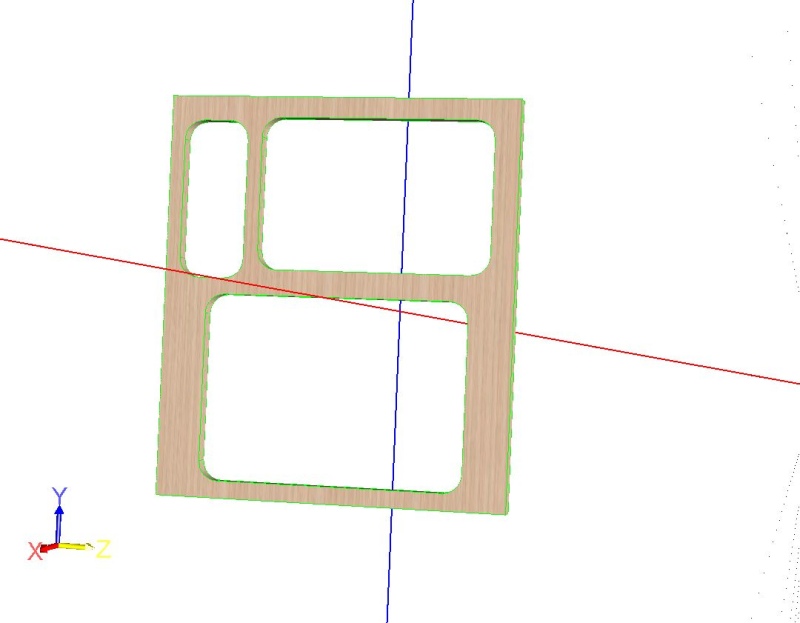 Click here for higher quality, full size image
---
From contributor N:
Are your customers okay with having to open a door before they can pull out the bins? Seems like unnecessary extra motion there. Wouldn't it be better to design it as a drawer, so the bins are accessed in one motion? Like this...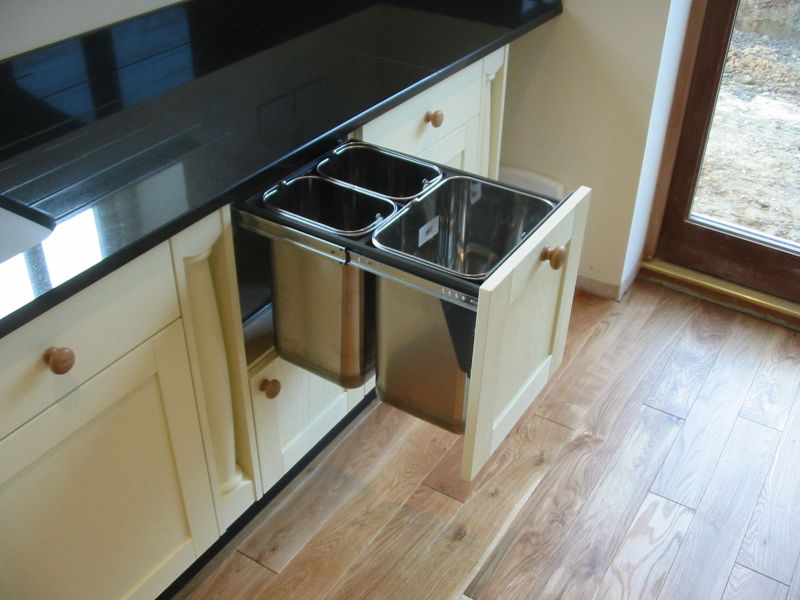 Click here for higher quality, full size image