Troubleshooting Chipping in Service on P-lam Countertop Edges
A discussion of the factors that could have caused the edge of this P-lam top to snag on something and receive an ugly chip. June 12, 2014
Question
Ugh! We don't know what we are doing wrong. This is not the only location where a chip like this has occurred, and we have had similar problems with different laminates. We've been doing plastic laminate work for about 4 years, and this issue arises too often.
Particle board substrate
Pionite horizontal grade laminate
Spray canister glue (double coated at the outside edges)
Rolled in the center
Pinch rolled by hand at the outside edges
Flush trim then bevel trimmed
Filed flush (though it looks like there was a bit of filing left to do)
Is there any other fix other than complete replacement?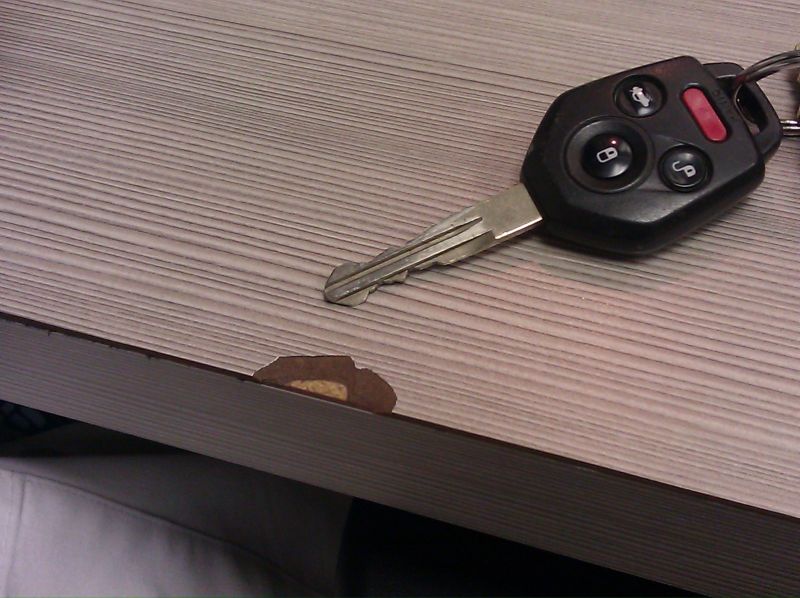 Click here for higher quality, full size image
Forum Responses
(Laminate and Solid Surface Forum)
From contributor B:
Where it's not filed flush, something's catching the lip that's left and lifting/chipping the laminate.
---
From contributor A:
Is this happening in the shop or after installation? If it is after installation and you are using a contact adhesive, I have seen a perfectly filed edge grow past the face or self edge grow and then chairs and such catch the edge. For the above to happen, the site conditions are varying, causing the laminate to grow.
---
From contributor P:
It might be a chair somehow raising in the area, although typically that is on the bottom side. The laminate will grow usually in humid weather. The only solution I know of is to file it again.
---
From contributor K:
It is not trimmed close enough. If you have just a touch of overhang, it is easy to get it chipped like that.
---
From the original questioner:
Thank you - I appreciate the answers. It sounds as if the filing is the issue (or lack thereof).
---
From contributor Q:
This can be the nature of the beast with plam tops. We have gone to 3mm banding on all plam countertops. When the customer requests plam edge we explain and politely decline. The call backs simply are not worth it. We also use a press to lay up all sheet goods. No contact.
---
From contributor G:
Is the laminate growing as suggested or is the substrate shrinking?
---
From contributor J
:
You may want to store your substrate material in a very dry location before the laminating process begins. I have also, when concerned about shrinkage or expansion, sealed the substrate material thoroughly before use.
---
From contributor N
:
Insufficient bond at edges possibly? To the left of the chip there appears to be some fibers in between the top laminate and the edge laminate as if somebody's clothes may have caught some loose laminate. Maybe not full replacement but it'll have to be re-laminated.