Troubleshooting Glue Joint Failure with Radio-Frequency Curing Machine
Is it the adhesive? The equipment? Wood prep? Or, more likely, a wood moisture issue? June 28, 2014
Question (WOODWEB Member) :
We are carrying out joining edge panels with side lip using a high frequency machine. Before the test we did check the moisture content of the panel and side lip, they are in the range 8%-12%. Material for the panel is pine at the core with veneer laying out. Material for the side lip is white ash and alder. The HF field is perpendicular with the glue line. Dimension for the gluing area is 784 x 19.5 mm
Setting up for using the HF machine the heating time is 30 seconds and the cooling time is 15 seconds. Just after joining, the joining surface looks ok (no gap, no defect along the joint by naked eye). After three-seven days leaving in room temperature those specimens continued with environment test (Humidity 90%, Temperature 40degree Celsius for three days, and humidity 30%, temperature 60 degree Celsius for the other three days). After the first three days almost 5% of specimens fail (appear gaps along the joining face at ends) and after three more days up to more than 40% of specimen fail (gaps at ends of the joint appear). The joint at the center is ok. We already tried with some kinds of glue, such as Casco 3390, 3339, Techbond, Titebond original, Apex and etc. The all give the same kind of failure (gaps appear at the ends - see picture below). I wonder if anyone has experienced this kind of problem, and how did you overcome it?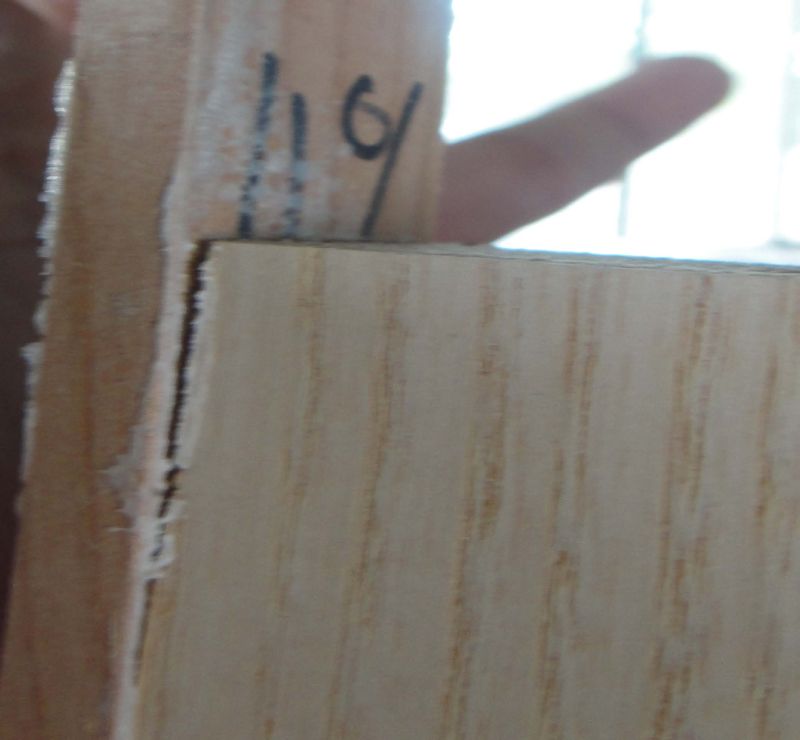 Click here for higher quality, full size image
Forum Responses
(Adhesive Forum)
From contributor G:
You should use type 2 Titebond, or Weldwood powdered resin glue. I'm sure others will mention more, but these are two I know of. It will say on the bottle if it's RF compatible.

---
From Jeff Pitcher, forum technical advisor:
You've described a classic result of using wood with a moisture content that is too high. I would suggest using wood with a moisture content of seven to no more than ten percent MC. Also, using a catalyzed glue such as the ones previously mentioned (urea resin or cross linking PVA) will give you a more fully cured glue line right out of the press. Even a cross linking PVA is still soft until it cools so if you've set up any stresses in the glue line you will likely see failure in that area. Basically, what you're seeing is slight shrinkage of the wood at the ends due to moisture loss combined with a glue line that isn't fully cured (weakest part of the board at this point). The result is always open joints at the ends of the panel.
---
From the original questioner
:
Actually we prefer to use PVAC glue. If it is not suitable for an HF machine we will try with one as mentioned. We'll also consider the wood with lower MC.
---
From Jeff Pitcher, forum technical advisor:
You can use a PVAC glue but be sure it is a "crosslinking" type. This kind of glue cures by chemical reaction which is accelerated with the heat caused by the RF.
---
From contributor D:
Try a drop test on your machined gluing surfaces. Place a drop of water on the machined edge and watch it. It should dissipate within 15 seconds or so. If it doesn't, the surface may have been cut with dull cutters, which very slightly burnish the grain, laying it over slightly instead of shearing it cleanly which can inhibit absorption and thus your glue penetration. Titebond original I don't think is suitable for use in radio frequency gluing without a catalyst. Titebond 2 on the other hand I know is and has good results.
Certain glues also have very finicky properties. Never let them freeze, and be sure they have never been frozen. We have had barrels shipped in the winter in unheated trucks. The glue performed pretty much how you describe - it was all bad. From your photo it's hard to tell if the glue is glossy. Good performing PVA's will harden with a glossy sheen. If it is chalky looking at all something is not right, usually it signals too cold curing temps or previously frozen batch of glue. No info on amps, number of glue lines and sizes loaded into your machine for these heating times to be useful.
You should have an amperage gauge on your machine. There's way too much to get into here but basically you should watch it and stop the cook cycle just as the amperage is getting so low that it's being read in milliamps, and just about as low as it's going to get before stopping, but not any longer than that. Your dwell cycle should have sufficient clamping pressure for the species involved - at least 180psi in your case. Lengthening your dwell cycle can't hurt. The squeeze-out should not be excessive, and at least gummy if not tougher upon removal from the press. Nothing should be wet or burned if you got the RF cycle right. I also agree with Jeff that your stock is not dry enough to start with.

---
From the original questioner
:
Specimens we took were successful for cold welding, so I think the gluing surface is no problem. The pressure we applied for our case is about 12.8KG. There are two kind of currents: ANODE current - in the range from 1-1.3 A (range from 1-1.5 is safe range as suggested by machine seller) and GRID current - about 0.3 A. We did gluing only for two parallel sides of the panel each time two panels were carried out for gluing. Below are pictures for the failure surface. The first one for only partial delamination failure and the second one for full delamination failure. It seems pressure applied at the ends is not uniform. We are thinking to try with Titebond II and modify the pressing method at ends of specimens.


Click here for higher quality, full size image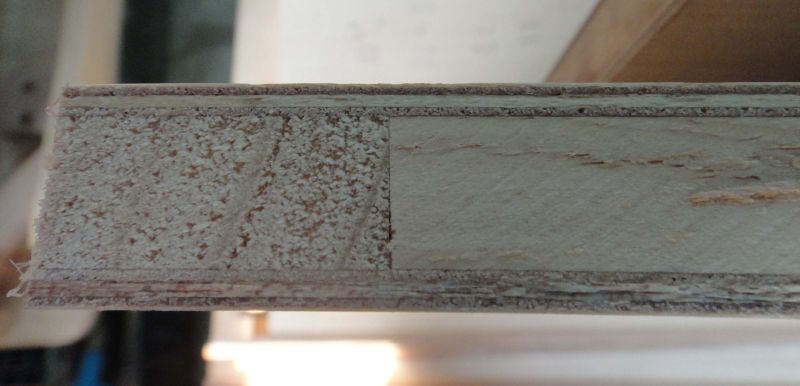 Click here for higher quality, full size image
---
From Contributor L
:
Are you RFing the entire joint? Have you tried to tack weld the pieccs? Just do the RF at spots along the joint. These will dry quickly and act like clamps. Then the rest of the glue will dry normally. Six-eight percent is the norm for wood that is kiln dried. Twelve percent is too high.
---
From the original questioner
:
Yes, we did gluing for entire the joint as indicated by the picture in my first message. As stated in my first message, the joint seems normal after pressing. However it fails after environment test (gaps or delamination at ends appears).
---
From Contributor L
:
Have you done the simple test of clamping up the same wood in a normal fashion with screw clamps, letting it dry and then doing the same tests again? This should help you along with a control PC.
---
From the original questioner
:
We did not do the same samples for normal pressing so far, however we did for a larger panel with the same glue in normal pressing and it is ok (now it is in mass production).
---
From contributor D:
If you are using the same glue in RF that you cold clamped with and are getting failures in the glue line, I would experiment with your RF cycle times. Even slightly overcooking can cause crystalizing and significantly reduce bond strength. A proper bond should behave exactly like the cold clamped version, and even shrinking stock should crack in the wood before the glue line. Remember that times will vary with how much glue overall is actually loaded into the press and being cooked at any given time.
---
From the original questioner
:
As our calculation for the sample, the heating time is around 14 seconds, however with that setting time the cooling time is haft of the heating time (7 seconds). It is not long enough (as suggested by the seller). Additionaly the glue is still wet. We have tried to increase the heating time, and it is acceptable with heating time at 30 seconds.
---
From Gene Wengert, forum technical advisor:
As Jeff mentioned, you have wood that is a bit too wet when it is ripped into strips. In the dry environment, before you glue, the ends of the pieces shrink a bit, so that at the ends of the panel, there are small gaps (over 0.006" is too big). You cannot get a strong joint with such a large gap. (Note that if the lumber wiggles while ripping, you will also create uneven surfaces that will have gaps.) You can prove that this is the issue by taking some ripped strips immediately from the rip saw to the gluing operation and glue them within ten minutes of ripping. You will have perfect panels. One operation that did this went from 42% rejects to 1%. I have provided consulting services to companies with this problem for years and when they improve MC of their lumber, they improve the panel quality dramatically every time. So, you need incoming lumber that is no wetter than 7.5% MC in the wintertime (heating season). Avoid lumber under 6.0% MC however, as it is too dry and brittle. This problem will go away in the summertime.
---
From the original questioner
:
We finished testing using Titebond II (TII) and the result is acceptable. There is one thing we are not satisfied and that is its viscosity, which is quite low. Most of the gluing surfaces we use for the HF machine are perpendicular to the pressing table. The waste of glue will be increased if using TII.