Two-Flute Versus Four-Flute Bits
Are two flutes or four flutes better in a dowel-boring bit? September 25, 2014
Question (WOODWEB Member) :
Iíve been looking at CMT brad point boring bits for my doweling machine. CMT has two options - two fluted and four fluted bits. I'm confused as to the application for one over the other. I called CMT and they didn't know either and is currently waiting on headquarters in Italy for an answer. Whatís the difference in application?
Forum Responses
(Cabinetmaking Forum)
From contributor L:
Just by coincidence, the night shift operator just came to me with a broken 5mm boring bit. It has two main flutes and two smaller flutes. I checked the rest of the bits we have and found mostly two flute. I can't say that I think the two secondary flutes do much other than weaken the bit a little. All of our boring is done on three CNC machines at fairly high speeds. Itís really rare to break a bit.

---
From contributor C:
Go with two-flute and don't forget to buy enough to have on hand. Our volume is such that we have to change out every 60 days for good alignment and fast drilling.
---
From the original questioner
:
So two flute for dowels Ė why is that? Whatís the four flute used for?
---
Larry
From contributor L:
I should have noted that the "4" flute bits still only have two cutting edges and two spurs.
---
From Contributor E
:
I would go with two flute Dimar or Amana.
---
From contributor D:
Like Contributor L said, the only "4" flutes I have are two flute with two extra shallow flutes. The interesting thing is that they are more like a standard drill bit in that there is a thin edge of unpainted metal that's close to the diameter of the carbide. With my two flute bits, the flutes are noticeably smaller in diameter than the carbide and completely covered with paint. If that is a standard difference, the four flute might be for manual drilling. The unpainted edge of the flute would keep the bit from wandering.
---
From the original questioner
:
It just seems odd to have two options without a description. If one performs better then why even manufacture the other.
---
From Contributor H
:
The solid carbide bits do seem to work better because the carbide is usually a different grade (harder). But, the price is higher due to being mostly solid carbide.
---
From the original questioner
:
So the verdict is no one knows. Tool companies don't know and neither do we. My guess at this point is a marketing ploy to fill a catalog. Thatís the best I can come up with.
---
From Contributor E
:
I was hoping a tooling supplier would answer the question definitively, but it doesn't look like that's going to happen. I'm going to take a stab at it. After I looked at the different bits, the only advantage I see in the four flute bit is better evacuation of the chips in those two additional flutes.
---
From Contributor H
:
That is pretty much it. I hate to comment on another suppliersí bits. But, the flute is so shallow that the jury is still out as to if it really does anything with evacuation of chips. We usually let the people find out on their own that way they know the story and have tried them.
---
From the original questioner
:
If a four flute ejects chips better then I find it odd to manufacture a two flute as well. It seems like a gimmick to add more stuff to a catalog. I thought there might be a specific purpose for one over the other but I guess not.
---
From contributor L:
The second flute is so small that I can't see it doing any good for chip removal. Powder, maybe, but it may actually reduce chip removal by taking up space that would be better put in a larger chip chute. Until proven otherwise I think it is probably a marketing game.
---
From Contributor H
:
I think Contributor L is correct. Also, the more flutes the more it adds to the cost of the bit. Itís not much, but every little bit counts. Two flutes were the norm for many years and really still are.
---
From the original questioner
:
The only other consideration I can make is with heat and friction. The four flute has less contact on the side walls of the cut which in my mind means less chance for overheating and burning. Of course this is a guess since there's no official response.
---
From contributor D:
As I said earlier, the two flute bits I have are noticeably smaller (no sidewall friction) in diameter (after the carbide) than the four flute bits, but who knows how much that varies between manufacturers. Unfortunately that spec isn't provided (at least at the CMT site).
---
From contributor V:
The only reason for the extra flutes would be for reducing friction on bits that have a flute diameter that is the same as (or very close to) the cutting diameter. The image includes a standard brad point bit (not the standard drill bits ground without so called spurs). It and the carbide bit above it have the same four flute design. You can see the step down in diameter on the left hand bit. The maximum flute measurement I got was 8.86 on the two flute and 9.98 on the four flute (both are 10mm bits). At least on small diameter bits, my preference would be four flute bits (if the flute diameter is the same as the bit diameter, the all painted flutes on the CMT's might indicate otherwise). With PB it wouldn't matter, but knots in plywood can defect bits and proper four flute bits might help to mitigate it.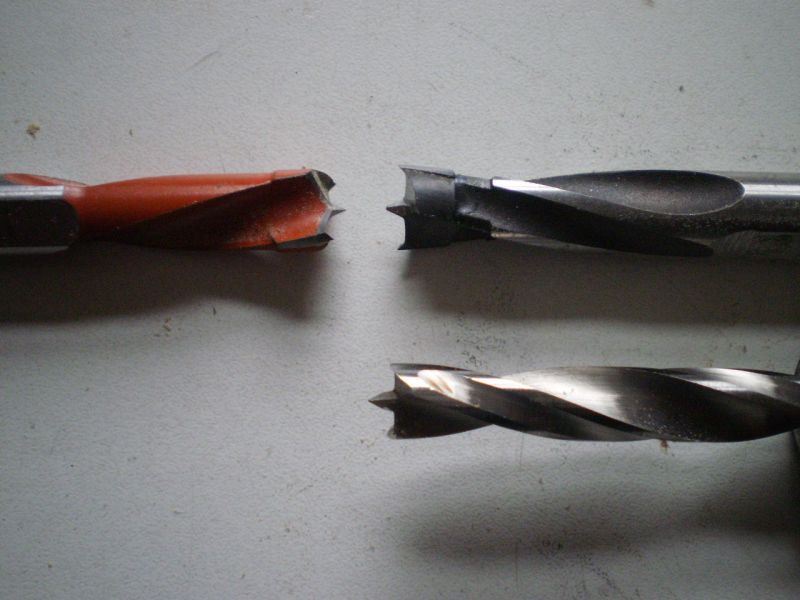 Click here for higher quality, full size image