Upper Cabinets Adjacent to a Microwave
A 14-inch deep microwave stands a little proud of the nearby 12-inch upper cabs. Here are some design suggestions for deeper cabinets to bring the faces flush. April 18, 2006
Question
I have a customer that does not like how his microwave/hood combo will stick out past standard 12" deep uppers, so I am contemplating making uppers 14.5" deep to accommodate the microwave/hood. What do you think?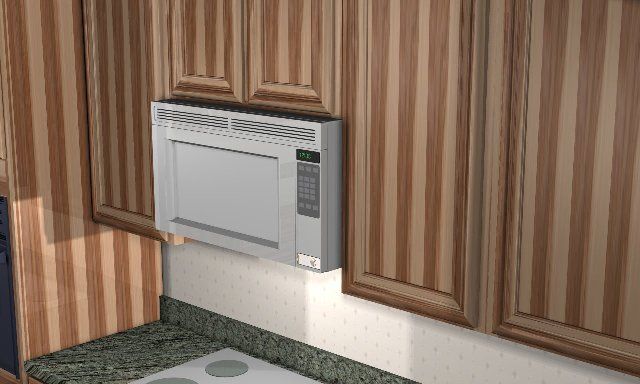 Click here for full size image
Forum Responses
(Cabinetmaking Forum)
From contributor W:
I have run into this on an installation before. Be careful with changing the depth, because the swing of the microwave door will contact the adjacent wood door. I would mock this up so you can see for yourself. The door on the microwave does not act like a concealed hinge and requires some swing.

---
From the original questioner:
Thanks. I already measured for the door to make sure it will clear with the adjacent face frame. I'm planning on leaving the microwave out about 1/2" from the front of the face frame. The microwave he purchased has a stainless front, but the stainless only wraps the sides by about an inch, then the rest of the sides are black. This is what makes it an eyesore.
---
From contributor D:
Just make your uppers 15" deep. It gives it a nice flush look. Only my economy cabinets get 12" deep uppers, unless the customer specifies otherwise.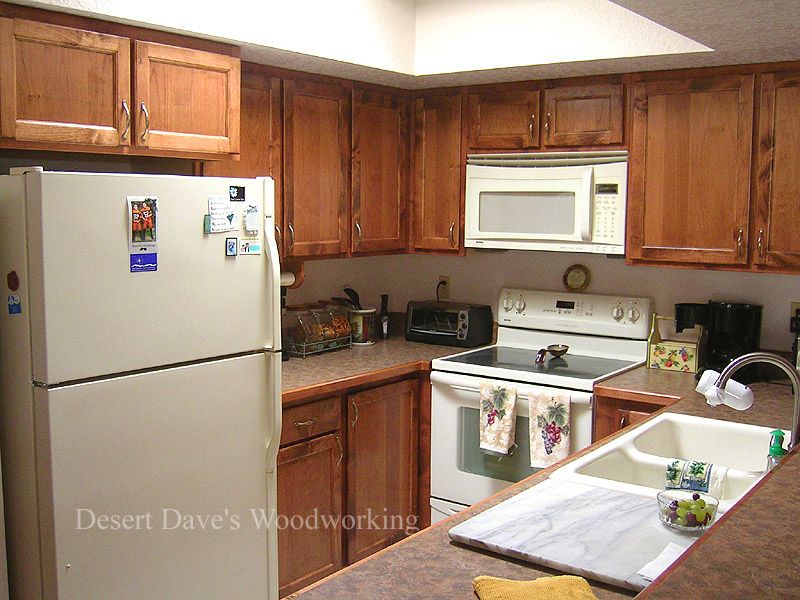 Click here for full size image
---
From contributor E:
I would check the microwave specs to make sure that it is okay. A customer wanted me to do this until we found that the micro would not allow per the specs.
---
From contributor T:
You want to be careful about flammability around cook tops. The issue is not so acute with electric stoves, but most gas cook tops (high BTU output) have very clear specifications advising against deep upper cabinets. For a Viking type cook top, the maximum depth for an adjacent wall cabinet (within six inches either side of stove) is 13 inches.
---
From contributor B:
My standard uppers are 12 1/2" D. Micro cabs are 14 1/2". If it's one of those "cheap but nice" jobs, they're all 12 1/2", including over fridge and built in continuous runs. I like the look of deep uppers, but with arm's reach being an issue, I don't push it.
---
From contributor A:
This is how I usually do it. 15" deep for the micro cabinet. Most of the kitchens I have done in the last couple of years in this area want different depth cabinets and staggered heights to help break up the straight lines.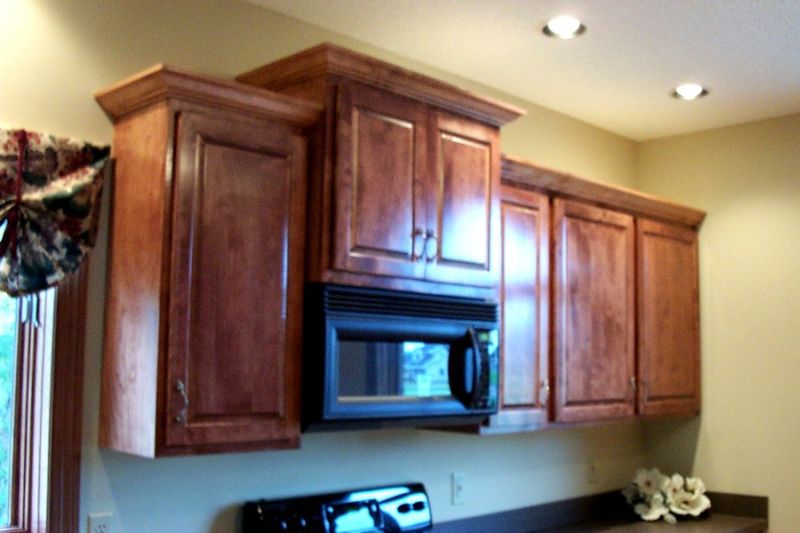 Click here for full size image
---
From contributor K:
There are numerous ways to handle the design. The specs to the microwave will tell you how deep the maximum and minimum cabinet can be. Sometimes there is space to make the cabinets deeper, sometimes not. I typically add 3" columns to the left and right side of the microwave and have them be 14" deep. The cabinet above would be 13" deep. I also put 3" columns next to the stove that are 25" and are pull out spice racks (Rev-A-Shelf).