Value Engineering in Custom Cabinets?
Cabinetmakers discuss ways to shave costs to make and install custom cabinets in a competitive economy. December 24, 2012
Question
These days my bids are inevitably scrutinized for cost-savings which is fine. I would rather make a sale at a fair price than lose one though. Many clients may not notice the difference of soft-close hardware and dovetailed drawer boxes. So they shouldn't be paying for them. What ways have you found to meet your clients' budgets while producing a quality product?
Forum Responses
(Business and Management Forum)
From contributor D:
Last week I bid a job using scribe molding instead of scribing the actual pieces. This will be the first time I will have ever used scribe molding in over 20 years of business, but it saved them 10%.

---
From contributor L:
Offer a few choices with the pricing and let them choose. For many people functional and less expensive is just fine. I own a 1967 apartment building that has all the kitchen drawers that are 1/2" pine, rebated, glued, and stapled and not one failure. Would dovetailed maple have been better?
---
From contributor F:
It's important to remember who your target customers are. There are customers who wouldn't mind the stapled together drawer boxes with low cost slides. Generally speaking if they're looking for cabinets in that price range they're also looking at Ikea or a box store, so guys competing in this market have to shave money wherever possible.
Instead of competing in the "who can make the least expensive cabinet" competition, I try to sell on quality. I try to push their focus on why my cabinets are a better quality than the other guys. It doesn't always work, but it works enough to keep me busy. It also works well enough that over time my projects have gradually gotten more elaborate and of course more expensive vs. the opposite. I've done work in some fairly expensive apartments in high rise buildings in the city. The stock kitchens were provided by Poggenpohl. If I took one of their cabinets and put an Ikea tag on it you would be hard pressed to look at the basic materials and construction and find much difference. They're not selling a better quality product as much as they're marketing a name to a clientele with a little more disposable income. Those are the people I'm going after.
My focus over the last couple years has been on increasing my efficiency more so than cutting options. I upgraded my shaper and tooling which results in less sanding. I purchased a very inexpensive edgebander which cut down my banding time significantly. I replaced my drum sander with a wide belt which cut down sanding time dramatically. I also acquired a CNC boring machine which helped with assembly time quite a bit.
With the economy being so poor there's been a lot of attractive deals on used equipment, so that's where I've put my attention. My next step is to start putting more effort into marketing. That's the one area I have completely neglected. Hopefully it will pay off over the next couple years.

---
From contributor T:
I agree that a no-scribe install can shorten install time and thereby allow for a lower price point. I don't do kitchens, but on wall units and home library type projects I recently tried this approach in order to get the job - I call it a modified built-in. Not only did I eliminate scribing end panels to the wall, I nixed my usual approach to leveling a separate base structure. I assembled the crown in the shop so there was no cutting at all on the install. In short: get it in place, screw it together, throw an L-bracket or two on top to hold it to the wall, and get paid. (No scribe strips either.) On the one linked here, I also subbed my standard raised-panel door with an edgebanded MDF panel and applied picture molding.
It's unpleasant dumbing down standards but many times of late, when I present price X, I receive a reply "we were thinking more like price Y." So I need to decide if I can dumb it down enough to get from X to Y. It depends on a number of factors, especially my cash flow and when the rent and mortgage are due.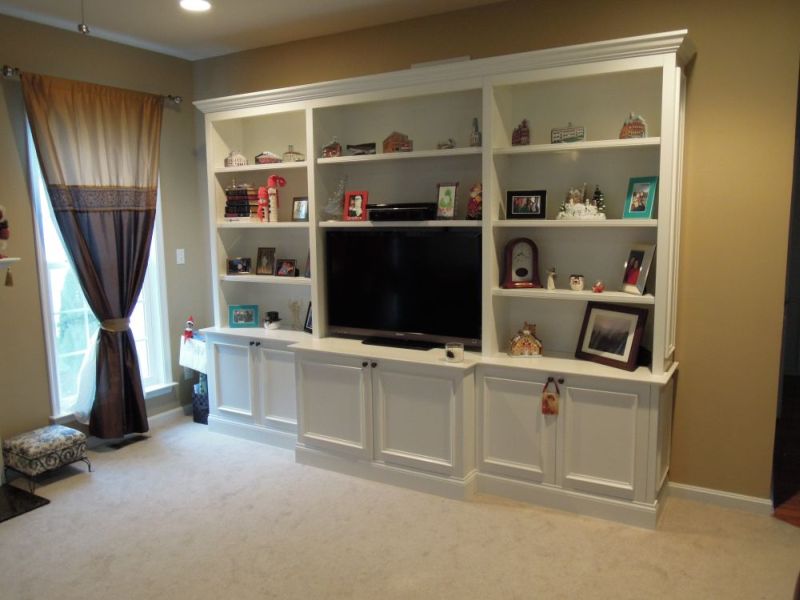 Click here for higher quality, full size image
---
From contributor K:
When we find ourselves competing in the low-end cabinet market (you never know who you are going to be referred to), we don't even go the cabinet route. We offer a certain level of cabinetry, and we are not going to charge less than we need to operate a business at a profit. We go in offering this product, and after offering this product, what we have found is that is that they aren't interested in "dumbing down" what we have to offer. They just want to dumb-down the price.
We recognize that in that market that they are not necessarily our customer, and not who we market to. Instead, we have found a sweet spot in our marketing and pricing which allows us to provide them a high-end kitchen through refacing. We use these as schedule fillers and have found that our price for refacing with "high-end" materials, including the bells and whistles is just a hair higher than what they would have paid for box store product on the low end, even after taking into consideration demo and remodeling costs, which they don't pay with the refacing. Being that we offer the tops, backsplashes, flooring, etc. anyway, and we will also get that business if we can't convert them to our primary cabinetry, this is our fall-back, and the customer doesn't have to give anything up in the process. A win-win.
If they don't go for that they are not our customers and it's on to the next. The question I always ask customers when they try to bring down the price by using lesser materials (usually in the drawers) is - "I understand price sensitivity; after all, I buy things too, but will a few hundred dollars in materials really make all that much a difference in the long run? It usually works out to a few bucks a month over the life of the kitchen, and most people spend between $40-$60 per month on coffee and/or soda each day. When you put it into perspective, do you really want to give up the better quality product when you could have it for much less than you spend on coffee?" Then be quiet, and let them decide.