Veneer Jointing/Shooting Jig
Illustration of a jig for creating a straight edge on veneer sheets. October 12, 2007
(Veneer Forum)
From contributor J:
The question of how to joint a straight edge on veneer (the old-timers called it "shooting") seems to pop up regularly on this forum, so I thought that I'd post some pictures of jigs that we have used over the years for this purpose.
Although we mostly use an automatic veneer saw with a pneumatic pressure beam now, this first one is still hauled out on occasion for burls, etc. The clamp screws are attached to an "O" shaped piece of plywood (aluminum would be better) that fits around the whole rig. The screws press on hardwood levers that are let into the fence so that the router can pass over unobstructed. This is a solution to the problem of how to get a lot of pressure on the veneer close to the cut line.
These are just mock-ups for the photo, so please use your judgment on safety, etc.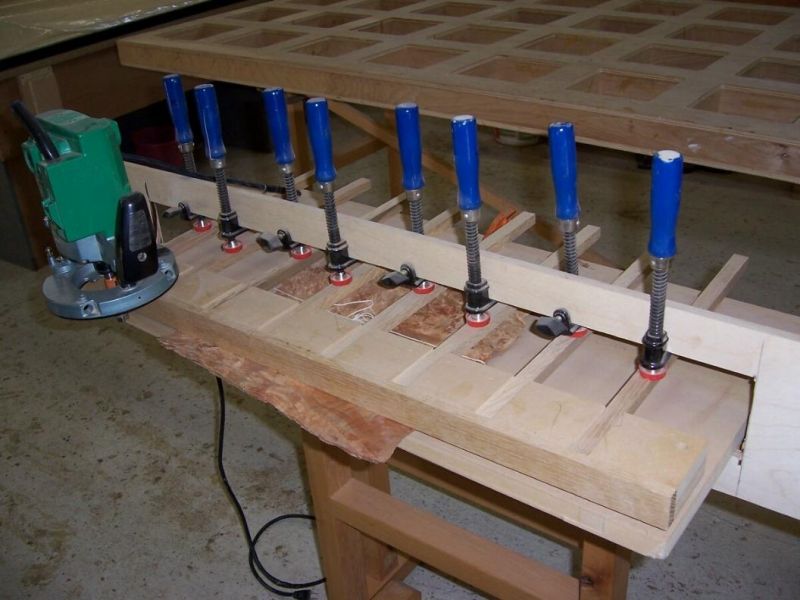 Click here for higher quality, full size image
---
From contributor R:
Thank you. It's very informative. I don't believe I have seen those blue handled clamps before; are they available or custom?
---
From contributor J:
Most of the big clamp makers make some variation of these - they're intended to be attached to a bigger clamp for clamping down in the middle of a piece. These are the cheapest of the cheap from Harbor Freight.
---
From contributor J:
Here is another jig that can be used for wide veneer leaves that are nice and flat. Unfortunately, it doesn't get a lot of controllable pressure on the veneer right at the cutline.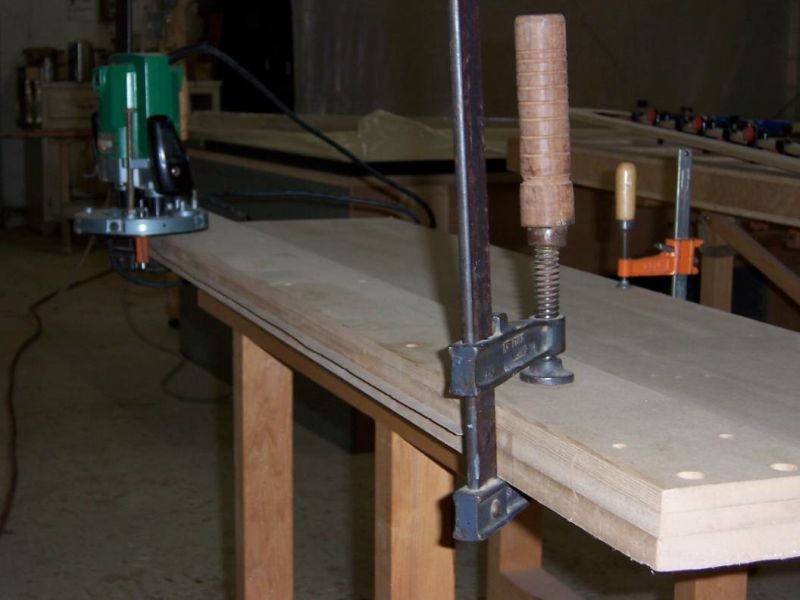 Click here for higher quality, full size image
---
From contributor J:
This jig solves the problem of good pressure at the cutline but is only useful for relatively narrow leaves. The holes are stopped about 3/4" from the front of the plank to leave a good straight bearing surface for the router and enough material to allow for re-jointing.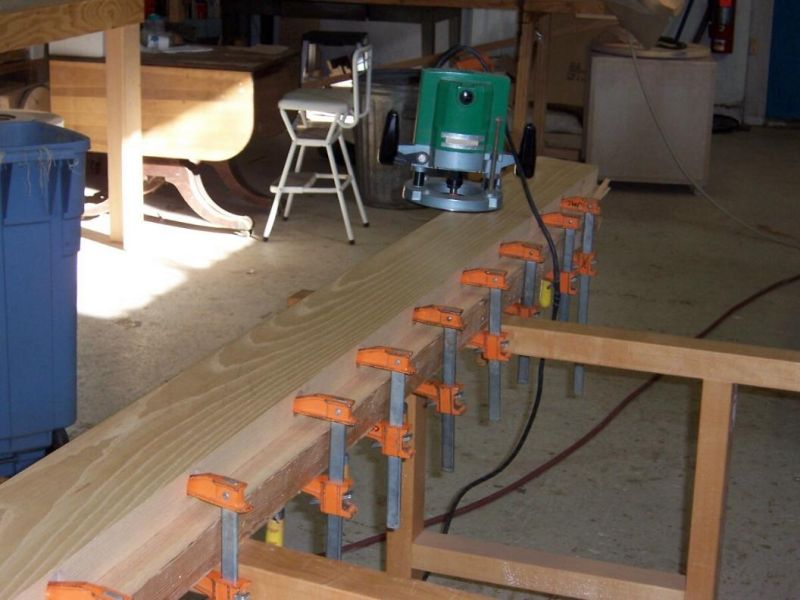 Click here for higher quality, full size image