Veneering a Half Cone
A woodworker gets help with the problem of constructing and applying veneer to a architectural cone shape. February 12, 2010
Question
I am trying to make a half cone shape with bendy ply (1/4") held together by ribs. I made half circles beveled at desired angle (getting progressively smaller) then screwed to a piece of 3/4" ply. The problem is that the bend isn't at 90 degrees to the grain of the bendy ply. What is the solution? I do not have a vacuum press. The radius of the cone on one end is 9 3/4", the small end has a radius of 5 1/2". The length of this contraption is 28". The approximate angle is 12 degrees (from what I can recall). Any suggestions?
Forum Responses
(Cabinetmaking Forum)
From contributor J:
I think you need to look at other materials. I haven't used bendy ply very much, but the stuff I have played with (thicker) wouldn't have done what you want it to do. Since you're using ribs, I'm assuming the interior of this thing doesn't matter. Why not make the conical surface from solid wood staves?

---
From contributor V:
Conical surfaces are the most demanding branch of wood bending. I suggest reading a copy of "Circular Work In Carpentry And Joinery" by George Collins. It is a slightly arcane text with modern footnotes and good illustrations.
---
From contributor R:
This sounds like a fairly straight-forward project for a lathe. You could either make this as a solid glue-up and turn to your profile, or glue strips across your ribs and then turn down the outside corners where the strips are butted together. There are a couple of other ways to do it, depending on how you need it to look.
---
From contributor A:
I believe you might find the math youíre looking for from a book on sheet metal work. I remember reading about just the problem you describe in an older trade instructional book.
---
From the original questioner:
I successfully bent a piece of 1/4" bendy ply around the form with extreme difficulty. 1/8" bending ply would have worked better. The inside will not be seen. I thought about solid staves but there will be much hand sanding to get a smooth surface.
---
Jon
From contributor J:
Hand sanding? You need to learn to use a nice handheld jointer plane. Sanding would be minimal.
---
From contributor V:
The original text does use some arcane English woodworking jargon but if you read enough old English woodworking books such as those by Hayward you get used to it. This book however has a modern sidebar written recently and also good illustrations. There is a whole section devoted to building and "skinning' conical surfaces (or work of double curvature). You have to spend reading time enough to understand the concepts and you should be able to apply the principals to your own project.
---
From contributor G:
The "true" veneer guys are going to love this, but here's what I did. I made almost exactly what you are describing. First I made my cone with bending birch. Then to veneer, I took the circumference of the top and divided by the max width I wanted the veneer strips to be (example 48" circum. X 2" wide strips = 24 strips of veneer). Take the bottom circumference and divide by 24 (example 12" circum. divided by 24= .5). Now I know my veneer strips have to be a V shape 2" down to .5" X however long. Once I figured that out I made a template. Here's the bad part, I used self-stick veneer. I had to press and roll the heck out of it, but it worked and looks great."
---
From the original questioner:
To contributor G: I love it as long as it works right? What I ended up doing is using HPL backed veneer from Chemtel - walnut burl prefinished. Looks "FAB". Contact, wrap and go. The trick was flush routing on curved parts. Didn't work of course so I had to smooth the last 1/16" of some edges with a file. Is there a source for prefab cones for next time?
---
From the original questioner:
Here's the completed half cone with prefin burl on phenolic backer just in case anyone was wondering. Thanks for all the input.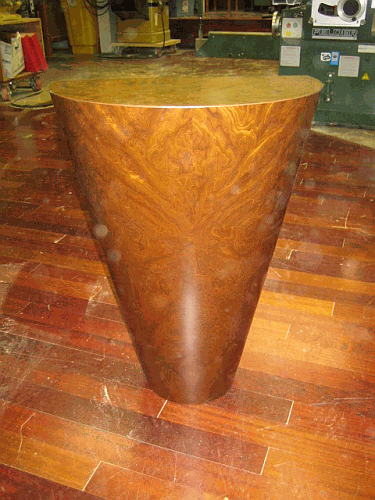 Click here for higher quality, full size image
---
From contributor G:
Glad it worked out for you. Is it actually half of a frustum? The back of it looks flat in your picture. How many more do you need?
---
From the original questioner:
No, it is a little more than a half section of a cone. The top diameter is 19 1/2". I drew a line down the middle of this diameter and then an 1 1/2" past this line (parallel). Thatís the shape. This is a prototype for a table base, so for now this is the only one I need until I peg the details down and put in a gallery or designer consignment shop.