Wax Finish for a Walnut Slab Table Top
Furnituremakers discuss wax finishes. December 2, 2009
Question
I have a client who wants a table with a top made of a walnut slab. The table will go in a big room that's open to the outdoors but has a roof, so it won't be rained on but will be exposed to moisture from the elements. If I do this, what kind of finish should I use, and how is walnut for semi-outdoor use? (They don't want teak or ipe - yes, I tried.)
Forum Responses
(Furniture Making Forum)
From contributor W:
I would see if they would accept white oak. If they want darker color use a classic iron/vinegar stain and finish with a marine varnish or urethane.

---
From contributor K:
The walnut heartwood should do fine for this. But since you mentioned "slab" I suspect that you plan to leave the sapwood on. If you use the sapwood, there is a greater risk of insects finding their way into that part.
---
From the original questioner:
You suspect right. They want the sapwood. They've seen it at a gallery and that's where they got the idea. I've tried steering them towards teak or mahogany but no go. They want the contrasting colors of the sap and heartwood. Any suggestions of another species? I was thinking of using a spar varnish.
---
From contributor J:
I have several large walnut slab projects going at present. If you protect the surface (all four sides) you shouldn't have any problems. My advice with high end clients is to point out the potential problems, have the client sign off in your contract, make a finish sample, and give them what they want. In most cases, they are better educated than most woodworkers.
---
From the original questioner:
You say to protect all 4 sides - what do you use? I saw your website, and on the homepage on the bottom left you have a bench. How is that bench kept from racking? I didn't see any type of stretcher. On the really big slabs, how are you attaching the slabs to the sides?
---
From contributor J:
That particular image is from the store Blanc de Chine across from Rockefeller Center where I was involved in walnut shelving throughout the store. The walnut is endmatched, has steel cleats underneath the slabs, and is anchored through the wall with bolts that attach to the metal studs. The wood was dried from a green log and fabricated in six months from start to finish to make the client's opening on Christmas three years ago. To date there has been no checking, cupping, or deterioration of the wood. A natural finish of linseed oil, satin-poly, and paint thinner was recommended to the client. The project was reviewed in Interior Design.
---
From Professor Gene Wengert, Sawing and Drying Forum technical advisor:
In order for wood to decay, it must get liquid water or extremely high RH. Because this table will be protected from the rain, it will equilibrate to the outside RH which is about 65% RH or 12% MC, which is way too low for any decay to take place. Insects are a small risk after the wood is finished. The best finish would be wax. The next best would be one that provides liquid water repellency. I suggest finishing on all 6 sides.
---
From the original questioner:
Just wax? I was told that wax alone won't do much for a table. I'm surprised you said that's the best finish. I was thinking more of a polyurethane or poly oil/varnish.
---
From contributor G:
I was given a maple table and am experimenting with it. After staining, I melted 1 part beeswax and 1 part paraffin wax in 3 parts mineral spirits and added 5 parts tung oil, applied it warm and rubbed it in. Two days later I applied another coat. After it had all dried, I gave it a paste waxing. It will be spending the winter outside on the deck. Right now, there's a skiff of snow on it. Seems waterproof so far.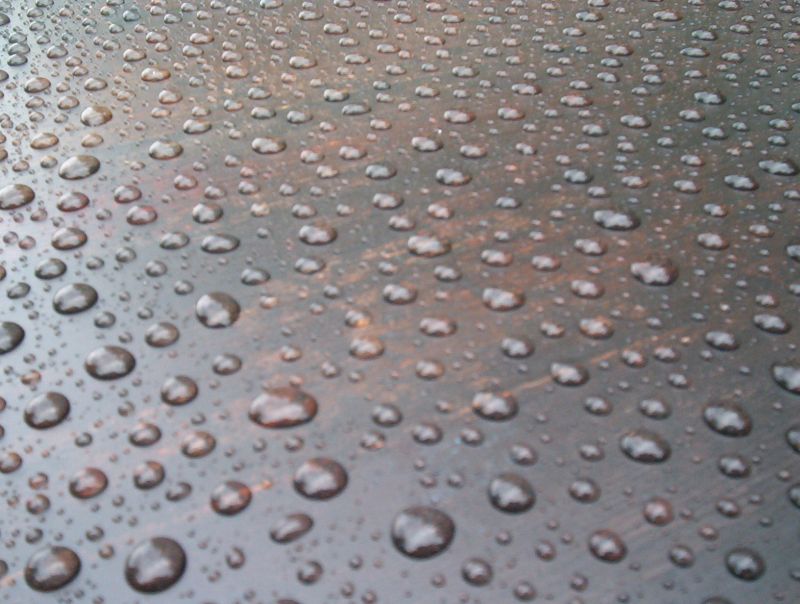 Click here for higher quality, full size image
---
From Professor Gene Wengert, Sawing and Drying Forum technical advisor:
It depends what properties you want from a finish when one says what is "best." I was figuring above that you wanted moisture protection. I use Brie wax, incidentally, which contains beeswax. If you need hardness, then polyurethane would be best. In some cases, an acrylic might be best. I have a kitchen cart that uses mineral oil, basically.
---
From the original questioner:
I want hardness only because it will see a lot of use. It needs moisture protection too. Mostly it needs beauty. What product or finish do you recommend?
---
From contributor J:
Whatever the Doc says is the correct science. The bottom line is that whatever the finish you use will have to be part of a maintenance program for your client over time. Nothing will last forever. Wood grows on trees... It's organic. It's not plastic. In the gallery I posted a Redwood Bench last month that was sealed with spar varnish. The agreement with the customer was that I would come back and maintain the piece over time with a service contract.
---
From Professor Gene Wengert, Sawing and Drying Forum technical advisor:
For hardness, marine spar varnish is tops and offers great moisture protection too. Three coats.
---
From contributor K:
I won't agree or disagree with the Doctor's idea of using wax as a finish except to say that if you are in a warm to hot climate, that wax - even a hard wax - will get soft and maybe sticky when mixed with high humidity. I once used Brie wax for a customer on a table they supplied that was indoors all the time. The wax never stopped being sticky. I ended up washing it all off with solvent and a scraper, sanding and finishing the table with pre-cat lacquer. What a nightmare it was.
---
From contributor L:
Wax is actually the most waterproof of common finishes, and certainly one of the easiest. Its downfall is that, while it sticks well to other things, it does not stick to itself. A thick wax finish will wear off relatively quickly and often not feel so pleasant to the touch.
Hard finishes will stay a long time. If exposed to liquid water, or lots of movement due to extremes of moisture, some finishes will break down due to lack of flexibility. If your table stays protected, this should not be an issue.
Many folks use wax over a hard finish, which gives the basic durability along with extra protection in a wear layer (wax), which gets reapplied regularly.
As stated above, decay won't happen if the MC is below about 20%. Insects, which get their water from eating wet wood, won't be too interested either.
The project that contributor J describes sounds interesting. What thickness did you work with? How old was the wood (time since the tree was cut)? Did the finish allow moisture to escape easily, and did it accommodate the initial shrinkage? Was the wood braced to prevent cupping?
I've done some projects with thick green wood, mostly aromatic red cedar (which has a very low shrinkage rate). I haven't done enough to really be sure of techniques, as problems in a 3" green plank could easily take 3-4 years to show up. Moreover, since wood doesn't change size until the free water is gone and the cells themselves start to dry (roughly 20% MC), you wouldn't expect shrinkage for the first two years or more.

---
From contributor W:
To chime in on waxes being used as a top/wear layer on pieces that get lots of use, the arms of my chairs get lots of wear due to being shown 5-7 times a year... At my local hardware (a Do-It-Best affiliate) I found Lundmark Clear Paste Wax. It is 100% carnauba that is softened with turpentine. They advertise it for floors but I swear by it. It is more of a satin sheen.
Be sure to work on small areas at a time as soon as the sheen goes (the turpentine evaporating) buff. If you wait too long the buffing gets harder. A live and learn thing. If needed, you can apply a second coat that will dissolve the first a bit and buff out.
The one flaw is if you have a very open pore wood (red oak), too much wax will create some white flecks in the pores.
As far as I can tell over the last 10 years, I only need to apply a coat at the beginning of the show season and it is good until next year. Also it is kind of nice to only have wax and turpentine and it is made in the USA.

---
From contributor J:
Here's a picture of a glued up walnut top. Finish 1/3 boiled linseed oil, 1/3 turpentine, 1/3 satin poly from our friends at HD. Coated five times. Sanded to 600 grit. Looks like oil finish. Architect happy - looks natural. Client happy - they can clean with commercial disinfectant and water after use.

Click here for higher quality, full size image
---
From contributor L:
Beautiful table! Interesting base.
In my shop, we refer to that finish as "making your own oil" finish. I've heard it attributed to Wendell Castle, George Nakashima, and Sam Maloof.

---
From contributor J:
I didn't design the table. We only followed the drawings as they "became a work in progress." Thanks.