Weather-Stripping for Exterior Doors
Expert advice on keeping the weather from finding its way around an exterior door. March 22, 2013
Question
I've built a few exterior doors and have always stressed over sealing the bottom. I use the kerf-in type for the head and side stops which I think works good. For the bottom I've made new wood thresholds and applied a vinyl sweep to the inside. I've used aluminum sills and I've also tried an auto bottom sealing to a new wood threshold. I'm wondering what others are doing for weather sealing the door bottom. Am I doing the best job I can or am I using the wrong materials/techniques? Photos or drawings would be helpful if you have them to post.
Question
(Architectural Woodworking Forum)
From contributor O:
We do one of three different perimeter methods: compressible foam, spring bronze, or silicone bulb. Compressible foam is for lower end work and is what most people think of as common, spring bronze for historic or better work, and silicone bulb for better work. Each has its drawbacks and positives. I have spring bronze on my doors at home. When the wind blows just right, it sounds like a kazoo. I tell my wife that is the sound of premium weatherstripping.
We do the bronzed aluminum sills on some doors, and they get a vinyl bulb on the door bottom. The majority of our work gets a canted oak sill and those frames get a narrow bronze interlock, with a J-hook on the door. Some work gets a flat sill with a wide architectural bronze threshold on top, with an interlock built in. The J-hook goes on the door.
We have done auto door bottoms for theater rooms and offices, but mostly for soundproofing. I have seen them bind in cold weather in exterior situations. Paired doors with flush bolts of any kind will complicate the door bottom choices.

---
From Carl Hagstrom, Systems Administrator at WOODWEB
Many years ago, I used the type shown below, and it appears it's still available. I had very good luck with their products, and they have held up well.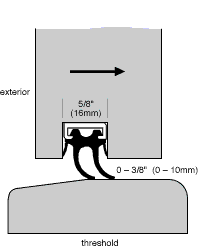 ---
From contributor D:
We build several hundred doors a year, and have weatherstripped them as you describe. I've seen a lot of entry units and haven't seen any other method, really, except on boats with dogged hatches. I have no preference on brands. I use what I'm told or what I'm given to use by the contractor. It is my opinion that the value added in spring bronze may be aesthetic only. I would be curious if it actually offers any advantage performance wise. There are tricks you'll pick up along the way, if you're just getting started in this. A big one is using vertical grain for any wooden sill.
---
From contributor E:
To contributor D: Why use vertical grain for the sill?
---
From contributor D:
The threshold, or sill, gets lots of moisture change. A "flat" sawn sill will cup one way or the other with changes, a VG sawn sill will expand and contract in width only, staying truly flat.
---
From the original questioner:
I use Pemko products when I need hardware. Do you have a supplier that you like?
---
From Gary Katz, forum technical advisor:
We've found that when it comes to effectiveness and cost, kerf-in weatherstripping like Q-lon type products are the best. They are the easiest to install and they stop air and water penetration very well. Yes, interlock is better, but it's expensive to install and if the door swells or shrinks a lot interlock is problematic. We use spring bronze mostly on historic homes, and in situations like hillside homes where additional weatherstripping is needed to stop wind.
On the sills we try to use metal thresholds, though some clients insist on simple oak sills. They do so at their own peril. With a metal threshold we can install a water-return design with an interlock top. We rabbet the bottom of the door so nothing shows, install a J-hook, and insert a slim piece of silicone bubble inside the hook setting it into a bead of silicone. That's the most effective way we've found to keep outdoor weather outdoors.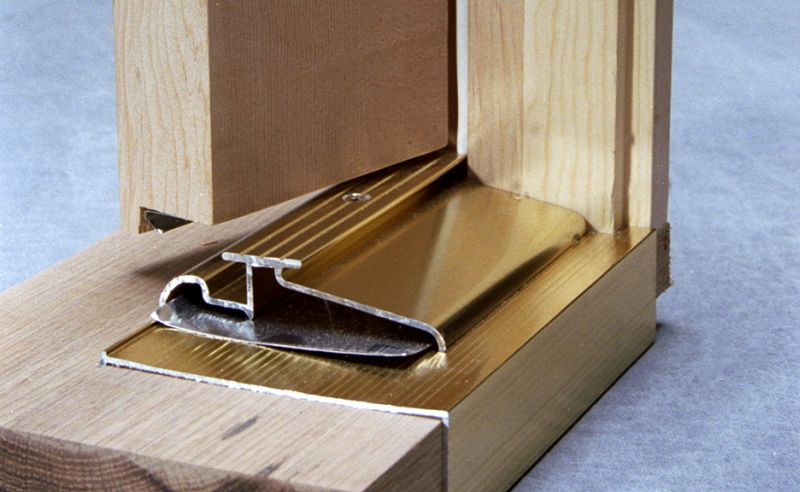 Click here for higher quality, full size image
---
From contributor J:
Gary, I'm curious about the total height of that extrusion above the finished floor. Looks like it could be a trip hazard.
---
From Gary Katz, forum technical advisor:
Not at all. The oak sill usually flushes out with the hardwood or tile or stone flooring. The interlock thresholds are made as low as 5/8". The one in the photograph is taller.
---
From contributor O:
I agree with Gary's observations and practices. We use mostly Pemko products. The little 1/8" silicone bead/tube in the j-hook is the best tip I have seen in 30 years. It will usually seal in the worst cases. It is important that the installer know to push the interlock back in to crush the silicone tube.
As for the sill height, we recommend a 7/8" clearance from door bottom to finish floor, to allow for a walk off rug. When we ask what the customer likes, they often balk at the height, thinking itís too much - a trip point - but then realize they prefer having a rug there. I have never had a complaint that the clearance is too high, but have had lots of positive feedback that the clearance is nice, so they can place a rug there. All this changes if there is a wheel chair in use, or commercial use, of course.

---
From contributor M:
Gary I like the setup in the photograph but in most parts of the country that doesn't meet code as itís too tall. Most everything we do it's still an aluminum threshold with the elevating adjustment and a sweep on the bottom. It allows pre-hung units to be a little more universal and the way things are these days not too many carpenters can even hang a door. The few calls we have for full interlock the door goes out without the sill or threshold and it gets field scribed on site.
---
From contributor B:
How do you deal with an existing brick opening and a brick soldier course for the sill? The photos below show an opening that's covered by a two foot overhang and it still gets splashed from a heavy rain bouncing off the walkway.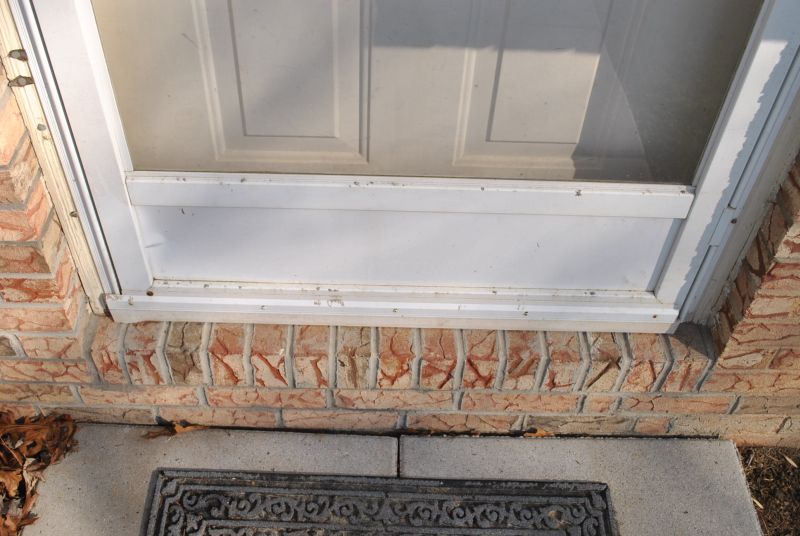 Click here for higher quality, full size image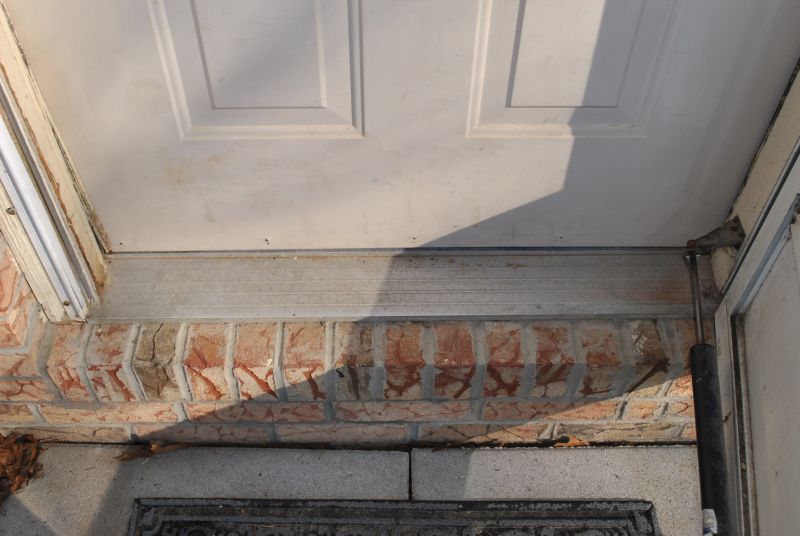 Click here for higher quality, full size image
---
From Gary Katz, forum technical advisor:
I know, code requirements for ADA, like other codes, sometimes make it impossible to build in a practical and pragmatic way. Threshold height is a good example. The code limits the height to half inch and quarter inch vertical rise. That's almost impossible to achieve if your customer wants to use a throw rug or if the home is on a hillside and must be protected from wind-driven rain. That's probably one reason, in residential construction, why I see so many installations that don't meet code. The lowest Pemko water-return interlock threshold is 5/8" tall and 1/8" taller than the code allows. Except in commercial buildings, we don't have a problem installing those thresholds.
Residential saddles with door sweeps, as you're describing, aren't nearly as effective at keeping at wind-driven rain. At the same time, this isn't a full-interlock system. It's just the threshold, not the jamb weatherstripping. Maybe I mistook the question, but I thought it was about doing the best you can, and I didn't realize it was about Prefit doors.

---
From contributor M:
Gary I hear you. However that has been a pet peeve of inspectors our contractors have dealt with, and we had a run on that 25 years ago in California where our high dollar fancy stone patios where coming in too low. Not so much commercial/ADA but residential where you are only allowed max 1-1/2" height from interior or exterior surface. I agree it makes it real difficult to waterproof, the best setups I have seen are a sheetmetal pan counterflashed down the face of the building before decks or masonry have been put in place. The threshold is then sealed with caulking to the pan.
As far as the picture goes, it appears water is running underneath the brick and leaching up the jamb leg - water needs to run down and away. If the brick is flat or sloped back you need to change that or go over the top of it with a slopped something.