Whether to Continue Baseboard onto a Bathroom Vanity
Should baseboard be installed on the sides of a bath vanity? Here are suggested bathroom trim details for that situation.
Question
I am installing a 5 1/2 baseboard in the bathroom. The vanity is tucked in the left hand corner of the bath. Do people generally wrap the base board around one face (right side of cabinet) or do they just butt into the back of the cabinet? How do people handle installing base coming from the left wall dying into the front of the cabinet (I have a 4" kick plate/foot cutout).
Forum Responses
(Cabinet and Millwork Installation Forum)
From contributor M:
I would not run base along the side of the cabinet - shoe only. On the front, cope the base to fit under the toe kick.

---
From contributor D:
I agree with contributor M.
---
From contributor A:
Do you have full overlay doors? If so, you may have to pull the cabinet off the wall so that the baseboard will not be in the way of the door that is against the wall. If not, then do what contributor M said.
---
From contributor J:
Or if these are face frame cabs and you work out the flat of the base right, here is another option. Don't do overlay doors - don't know how it would look in that application.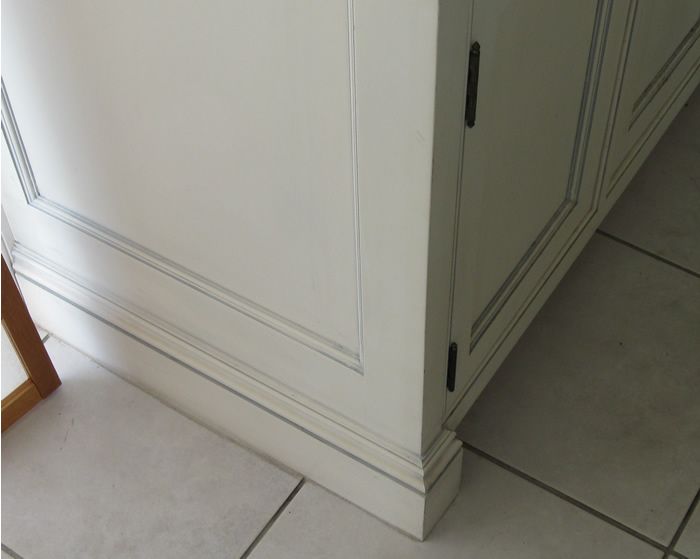 Click here for higher quality, full size image
---
from contributor I:
No. You will cover the toe kick area. Then what's the point of having the toe kick area? Its purpose is to let you come closer to the sink. But some designers do it or homeowners want it - just ask them.