Whether to Keep the Slider
Does a sliding table saw earn its keep when there's also a CNC in the shop?February 1, 2011
Question
My current sliding table/cabinet saw setup is becoming a pain to keep smooth and square, and I'm trying to decide what to replace it with. I'm also waiting for a CNC router to arrive, so I won't be using the new one for primary panel processing, mostly just solid wood processing. Still, there are times when you just need a slider, and I'd have it in case the router goes down. Space is a big issue in my shop and I can't afford the floor space for anything more than a 4' slider.
I've never owned or used the euro style machines like the Hammer K3 winner (the most expensive machine I'm considering), and am wondering if these are made for panel processing, with solid wood ripping taking the back seat. I could also get an industrial SawStop and add a 4' sliding attachment to it (that's similar to my current setup, so I understand the limitations and not sure I want to go that route). Another saw I'm considering is the Laguna Pro 4'. It looks solid but I wonder how it would compare to the Hammer, which costs 20% more. Any thoughts?
Forum Responses
(Cabinetmaking Forum)
From contributor M:
I run a euro shop, so all we use is sliders. Sliders take up a lot of space. More than a CNC. There is no way around that. They also suck for ripping. It is not possible to stand in the right place to rip naturally. A 4 foot slider may not have the long base like a 10 footer - I don't know. If you need versatility, forget about a vertical panel saw. They are limited to sizing large square panel parts. Don't worry about the CNC breaking down. You can not manage efficient production and have fail safes for every process.
Nothing beats a good cabinet saw for versatility. If a real sliding table is necessary, you will likely still want to have a cabinet saw for ripping and other odd stuff like tenons and grooving.

---
From contributor T:
We have a Holz-her vertical panel saw and a cabinet saw - best combo for panel work, in my opinion. Every time I use the panel saw I am amazed at how great it is. The sliding table saw seems to me the worst design and footprint for panels. If you do get the CNC, you will always need the cabinet saw and there are great deals on used right now.
---
From contributor D:
While I agree that a cabinet saw is the best solution for the questioner and a slider is more versatile than a vertical, I have to say the statement that verticals are limited to sizing large square panel parts is inaccurate. There are many shops straight line ripping lumber, trimming doors, cutting 2" buildup strips, V-grooving, etc, on our Striebig saws, so verticals are much more versatile than many people think.
They also serve as backups to CNC machines in many shops because they rarely break down, take up little space, and with only an on and off button on most of them, they can be run safely by anyone in the shop.
Sorry for the digression. We rarely chime in but felt this was an important clarification to make for folks. We do agree with the cabinet saw recommendations.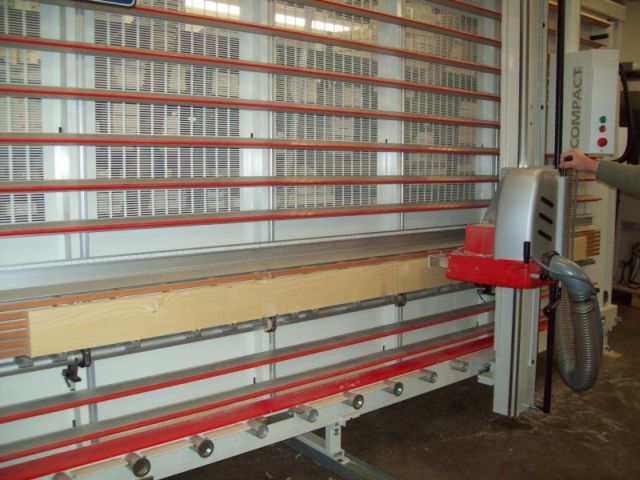 Click here for higher quality, full size image
---

From contributor N:
I had a Minimax cu300 Smart (combo machine) for a while, and the slider was the only part I never really used. Anything under an 8-ft slider will be of little use as a panel saw. I've gotten used to the slightly awkward ripping position on my Martin T72, which is one of the best all around sliders available. No one mentioned the straight-line ripping function, which is another reason a 10 foot slider is so versatile. I found a blade that rips great and also cuts veneered ply with no chip-out top or bottom! So I can do most of my work without even changing blades. You should be able to find a good used 10 foot slider (Altendorf, SCMI) for well under 10k. My circa 2000 Martin T72 with the digital parallelogram cross-cut fence was $15k five years ago. Best purchase I've made.

---

From contributor L:
We've got a nesting CNC setup, a big panel saw, a 10' SCMI slider, a SawStop cabinet saw and several others. The slider is used for all sorts of odd cutting that can be jigged as well as miscellaneous panel cutting needing scoring, bevels, etc. I'd hate to be without it.