Wood Distressing Tips and Tricks
Making wood rough ain't easy. Here are some techniques that work. January 26, 2009
Question
I recently did a kitchen that called for some 6"x6" island legs/posts that were to mimic some reclaimed timbers that were in the house. I accomplished this by chucking a wire wheel in a drill motor and following the grain plus some other distressing techniques. The end results were great and led to some other jobs using the same techniques, which has now led to a 20' wide by 9' high entertainment center. Needless to say, the wire wheel and drill motor will not be efficient for this large of a project. Any ideas on how to accomplish this inexpensively? I'm considering converting my Delta 16" drum sander to do the job, but I'm not sure if it is possible. Also, if anyone has a source for plywood that has a barn wood texture in white oak, that would be great.
Forum Responses
(Cabinetmaking Forum)
From contributor M:
Why not use reclaimed wood? There are numerous companies selling reclaimed barn board. I would think it would be more cost effective.

---
From contributor D:
Buy an inexpensive sandblaster, or have someone else do this for you.
---
From the original questioner:
Thanks for the replies. I need straight, solid, and consistent boards that can be joined properly. My experiences with reclaimed wood have been anything but. Also, this customer is very picky about color. I've tried the sandblaster with poor and inconsistent results, especially on hardwoods. It also wasn't much faster than the wire wheel. Perhaps my small sandblaster lacks the power or my technique is off.
I've seen picture frame stock and cedar paneling that I'm certain has been wire wheeled. I'm assuming both were done with an industrial machine similar to a drum sander.
---
From contributor L:
The trick to the sandblaster is to use the correct wood. You need to use something that has an alternating hard and soft grain. Something like yellow pine or cypress would work well. If it has to be a specific species, you may need to do it with the wire brush.
---
From contributor T:
I would suggest a large sandblaster using walnut shells as the blasting material. Or send your sub-assemblies out to a third party for wire-brushing on an inline setup, quite a few of the custom flooring guys can do this and would probably consider contract work given the slow state of that industry.
---
From contributor R:
I think Performax makes a drum sander that has brushes in it for distressing wood. I saw it at a supplier a while ago.
---
From contributor W:
Performax makes a wire brush head for their sanders. Many large machine shops use wide belt type sanders with wire brushes on them for cleaning steel plate. Maybe you could call Performax and get a list of owners that own a machine with a wire brush head.
---
From contributor K:
I think this is one of those things where there isn't an easy solution. Running lumber through something like the Performax with a stiff brush is going to produce too uniform a scratch pattern. Creating heavily distressed lumber is time consuming and you have to charge accordingly. I start with a 7" angle grinder with a stiff twisted wire cup brush to rough out the lumber then smooth and finish with a 4" angle grinder using a softer wire cup brush. Add some chain, worm holes and a little rasp and you have it. This gives you the irregular wear pattern of wood that has been in an old barn or corral worn by the wind for many years.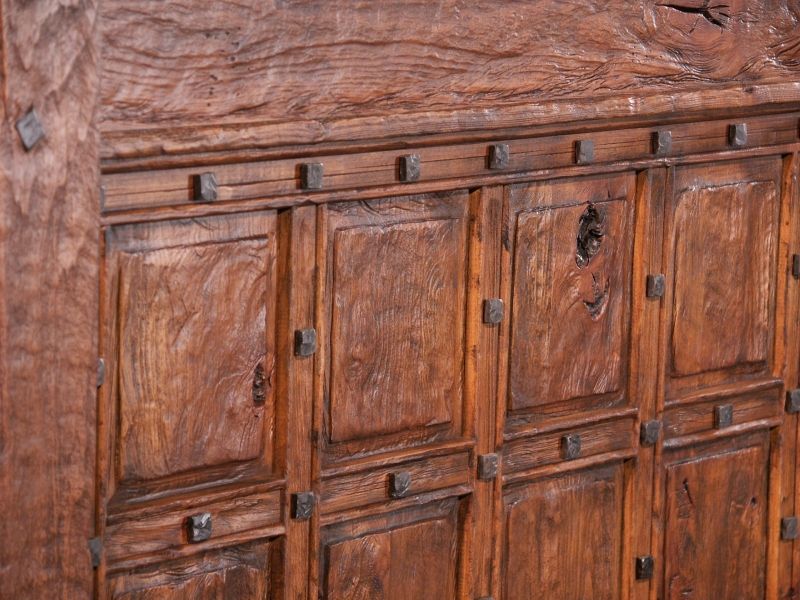 Click here for higher quality, full size image
---
From the original questioner:
Thanks again for the various responses. I'll check into the Performex.
Contributor K, I just did a walnut vanity top 32" x 22" x 2" that looks just like your picture. I also used the coarse twisted wheel then a medium wheel. Did you wire wheel the raised panels prior to assembly?
I was thinking that going through a wide machine would still produce the same effect, as the wire would remove the soft wood and leave the hard wood behind. What do you think?

---
From contributor K:
Yes, the panels were distressed before assembly and then I hit them again after assembly to blend everything together. I don't think that the machine would do as good a job, just because it would make everything even. When I find a soft spot in the wood I really work it to show grain and I also distress heavily around knots to raise them. If you try the machine, post some pictures. It would be nice if this weren't so much work. Sandblasting might work if you finished it off with the wire brushes.
---
From contributor M:
I saw a show years ago where a guy took his boards to a grain facility and as the trucks were unloading, he would stick his boards under the flow of grain and it ate away the softwood. Pretty neat.
---
From contributor S:
I made some samples for a rustic mantle where I took a torch to the surface of the wood (cypress) to burn off some of the soft grain. Then I lightly wire wheeled the entire surface to remove the burnt wood, which revealed a nicely raised grain texture. This process leaves the wood two-toned because of the charred wood, but if the client likes it or you can finish the wood a dark color, it will look fine.