Choosing Dust Collection for a New Building
A somewhat rambling conversation about what's involved in designing a new dust collection system. June 15, 2014
Question
I am moving my operations to a new facility. I have our current dust collector that is older (Wheelabrator) and has 20 HP motor on it. I have added onto the business and have a 5 bag Extrema 20HP collector connected to a widebelt sander, Straightline Rip, and a SCMI Super Set Moulder. As you can imagine the moulder fills the bags quickly (but it is a short-term solution).
I have a large Pneumafil with a 100HP blower from another business I bought out. It has always been my intention to use this collector when I move. However, I am finding how much it is going to cost to install as well as run. I am moving into an 18,000 square foot space and have a lot of shapers, tenoners, and one moulder with approximately thirty-five 8" ports. My electrician says the collector will cost approximately $1,500.00 a month with a soft start and frequency drive. I have five-seven employees in the shop and have at the most three machines running at the same time. I don't feel I need that big motor running all the time. Any advice on what I should do for collecting dust in my new location to keep my operating costs down?
1. Different Collector
2. Smaller Motor on the Pneumafil but will it be as effective?
3. Put up both dust collectors (my current old dust collector for the shapers and the Pneumafil for the Moulder).
Forum Responses
(Dust Collection and Safety Equipment Forum)
From contributor F:
A hundred HP seems like an awful lot of machine if only three or four machines are running at once. The molder is likely going to be your biggest draw, so maybe use on of the 20's dedicated to that machine. Then the other 20 should be able to handle the rest of the shop. A good quality 20 should be pulling well over 4000 cfm's, assuming your runs are not overly long and well designed, (big assumption right), you should be able to run several machines easily. If your molder is seeing a good amount of use I suggest looking into getting a trailer for the sawdust. No more emptying bags just make a phone call and have it taken away.

---
From contributor G:
The Pneumafil will be effective with a smaller motor. The important part is to have the ductwork sized properly for the cfm and static pressure needed.
---
From contributor T:
It sounds like the Pneumafil is overkill for your situation. There is an abundance of good used systems out there. I would suggest buying a system that is sized for your facility and selling the remaining collectors. You will not get the efficiency out of the Pneumafil running it at lower horsepower. Cleaning will be a real problem.
---
From contributor G:
I am in much the same situation. I have a 12' diam. Torrit RJ with 10' long bags waiting to be set up. A local dust collector company figured out my needs when I moved into a larger building - they recommended 18,000 cfm. They checked the fan curve and recommended I stay with the 60hp motor that came with the DC. It is about 10hp oversized but allows some room for extra equipment. This DC is capable of a lot more capacity. I was told it would work fine with any size motor as long as it achieves the needed cfm. How will the efficiency suffer running a small motor on a big collector? Why will cleaning be a problem?
---
From the original questioner:
I have spoken to a Sales Rep for Dantherm. They had me fill out a form stating how much we use each piece of equipment. They came to the conclusion of several small dust collectors and then somehow have each of them blow the dust into a trailer. I guess this can be done with a rotary air lock. I am still interested in using the large bag house for the moulder, planer and other large chip load machines. I would be interested in how a smaller motor affects the dust collector. I have a call in to Pneumafil.
---
From contributor G:
One thing that is important to me is to have the baghouse in the same can as the rest of the DC. That way the big chips as well as the fines go through the same airlock. My current DCS have an airlock under the cyclone and barrels under the baghouse. I am so sick of emptying those barrels that it isn't an option for the next system. Just something to keep in mind.
---
From Contributor J
:
Generally speaking, you need to start at the machines and figure your usage, then decide your dust collector, not the other way around. There are also systems out there that will slow down your fan and optimize it, as per your current need. Something you may look into.
---
From contributor G:
All advice is sound and gives you the minimum size of DC needed. How can a DC be too big if the ducting motor and fan are sized correctly? Can it have too many square feet of filter area? Can the inlet or outlet be too big even if it reduced down to the duct work size? Can the total cubic feet of volume inside the dc be too much? Why will it be harder to clean? If someone owns a DC that has more capacity than we currently need, why won't it work if set up correctly?
---
From contributor F:
I believe the point is if you only need say 10 hp, why would you want to pay for 100 hp to run? Electricity is not getting any less expensive and it doesn't make financial sense to run more collector than you need. I don't know the answers to your technical questions, but I run a larger collector than I need and it works fine. I did have the ductwork designed by professionals though, and the motor is only 7.5 hp so it's not a concern in regards to power consumption. I think that changes when you get into 60 and 100hp motors.
Rotary air locks are generally used under cyclones. The way a cyclone works it needs to be a sealed system, the RAL accomplishes this. From there you would use blowers to push the chips into a trailer or whatever storage you come up with. I think there's a lot to be said for multiple units, especially for small to medium sized shops. If you have a slow day and just have one guy running a shaper, you don't really need to have a 100hp fan going. With multiple units you can more effectively control your collection needs. If you take it the next step and install blowers to send all the dust to a central location, well that's just the best of both worlds right there.

---
From the original questioner:
To contributor F: What you said is what I needed to hear. In my situation I have lots of dedicated equipment that gets used, but not by a high percentage. Even though I have a large dust collector to hook up it does not make sense to run a 100 hp blower for a shaper run. I have been calling several saw dust collecting companies to get specifications on their units. I am trying to find the best solution of a small dust collector as well as a Rotory Air Lock to blow the dust outside into a trailer. I have looked at Murphy Rogers and a S-750 Dantherm. The sales reps are informing me that new NFPA regulations coming in another month. From what I understand we will no longer be able to have a dust collector larger than 5000 cfm inside a building and I can't collect dust from a sander or planer inside a building. This is going to make it tough.
---
From contributor G:
I agree with you about it being wasteful to run more motor than needed. I still don't understand how a dust collector can be physically too big if the fan, motor and duct work are properly sized.
---
From contributor F:
Oh it may get worse than that! When I hooked up my system I was told cyclones were no longer going to be allowed inside buildings. Not sure of the size requirements, but mine may have just fit - not quite sure of that. Not only that but bigger systems like what you're talking about would need spark detection and something like a blowout port (forget the proper terminology) in case of an explosion.
I'm not sure of the exact rules, but luckily as a very small shop I fly under the radar. If I ever start hiring multiple employees it will be a different story. I think your best bet is to put the cyclone outside the building and just have the filters on the inside. Not sure how the rules affect this so you'll have to do a little more homework.

---
From contributor Z:
Rotary Air Locks are used on more than just cyclones. We use them on bag houses and cartridge collectors when required as isolation devices for explosive applications. You need to consider NFPA 664 when purchasing and locating equipment. Explosion Venting, Backflow Dampers, Explosion Suppression, etc. all need to be taken into consideration when dealing with a combustible dust. The Torit Power Cores are great compact dust collectors that you should look into.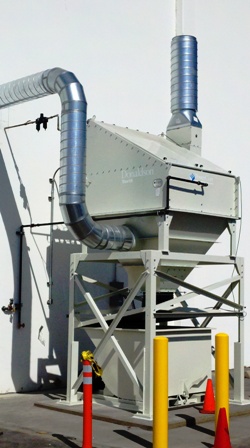 Click here for higher quality, full size image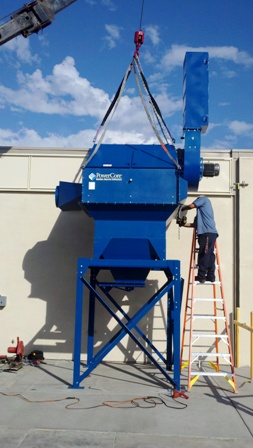 Click here for higher quality, full size image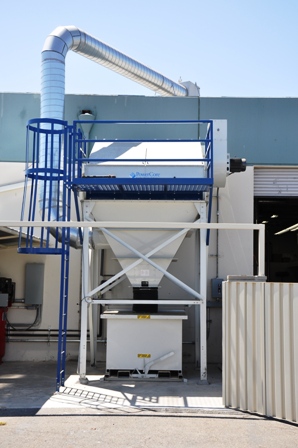 Click here for higher quality, full size image
---
From contributor Z:
Here are a few pics you don't ever want to see...Make sure your compliant with the NFPA.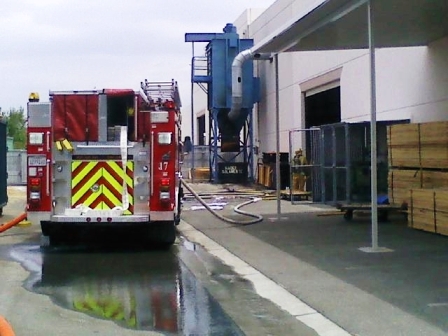 Click here for higher quality, full size image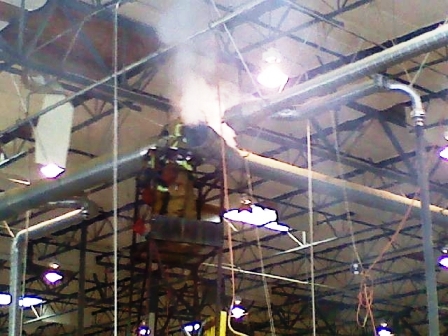 Click here for higher quality, full size image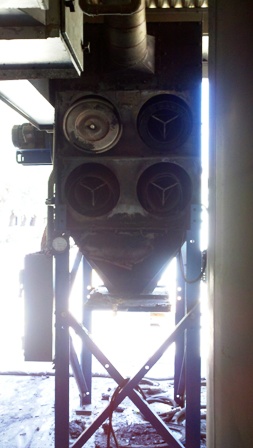 Click here for higher quality, full size image