You are not logged in. Consider these WOODWEB Member advantages:

A personal "member history" that displays your posts at WOODWEB
Your forms at WOODWEB will be filled in automatically
Create your personal "My Favorites" page
Numerous automatic notification options
What would you call a big gig?
8/11/15

What qualifies as a "big contract" in this industry?
Cabinet vs millwork or other? Anyone know what top fetching gigs can be worth? Any famous gargantuan works I can look up?
Curious...
---
8/14/15 #2: What would you call a big gig? ...

I'd guess it's all relative.
For my shop, in my market, anything approaching 30K is getting pretty big for an individual job.
---
8/15/15 #3: What would you call a big gig? ...

A million dollars in revenue could be from 1 million $1parts sold, or from 2 large jobs.
Relative scale is something worth thinking about. Quickbooks will easily do reports based upon a product mix that show average cost of a group of jobs and average revenue.
In our product mix, I like to see individual jobs run from 3% to 15% of annual sales. That is a sort of 'sweet spot' where resources are well allocated, and flow is maximized. However, we currently are involved in one job that will be 33% of our year, and regularly do $250 'favors' for real customers. The large job is broken into 5-6 parts for easy digestion, and is spread out over 5 months, with payments along the way.
It also depends on how payments are structured so cash flow is not a problem.
By the way, right or wrong, I have signed contracts only twice in 25 years. I have lost no more than $8,000 total in the same amount of time to deadbeats or bankruptcies, and contracts would have made no difference. I do not offer contracts, but I do make a point of knowing who I am dealing with, and documenting and repeating details. This obviously will not work for everyone and would be judged inadvisable by most.
---
8/16/15 #4: What would you call a big gig? ...

I was thinking about this contract stuff. A family member worked for a claims resolution team for the build of a skytrain line--aka evil team of diligent lawyers monitoring contracts and inforcing penalities.
I've been wondering if this particular project was hardcore or if it's always like that with anything construction?
Ccrawford-- what does your shop produce? Is it residential cabinets?
David-- what have you been building lately?
---
8/16/15 #5: What would you call a big gig? ...

A big job for us would be anything more than 1 1/2 times bigger than our previous biggest. In our case that would be $330K for residential.
We're working on a project proposal right now that everybody knows is north of $100K. At $100K the customer will need to make some compromises.
I am going to ask whether or not $300K is a viable budget to consider. This is three times 100K and if you only look at it like that it is a considerable number.
The question I am going to pose is whether or not $300K is a significant portion of the overall budget, i.e., if they could get exactly what they wanted how would they feel about that budget?
Good work sneaks up on you and makes you feel good about being in the space. Some rooms just smile at you every time you walk in. They pet you and calm you down. This kind of work takes a big commitment of contemplation. Mental capital invested in this kind of thinking is bandwidth that is not available for anything else.
There is also the scarcity factor. As I get older I find that I get stupider. If they buy me right now they're getting me at my peak and should consequently pay more.
We'll turn it into a great job no matter what the budget. It will probably be more profitable with lower budget and lower expectations.
I like all sizes of jobs. I really like all of my customers and work very hard to be their advocate. About 95% of our work is direct to the end user who is going to live in the space. This is a completely different customer than a general contractor. This guys get on your team if you treat them right.
Like David we do all of this without contracts. We design the job and write the specifications. I've never lost a nickel with homeowners but can't say the same for contractors.
---
8/16/15 #6: What would you call a big gig? ...

300k for residential! I'll be honnest that just totally blew my mind. What goes into 300k of residential woodwork? How fancy are we talkin' here?
I'm thinking homes I never set my foot into or knew existed!
---
8/16/15 #7: What would you call a big gig? ...

Mel,
These customers don't put off their trip to Africa just because they have to save for the refrigerator. The handmade rug under the dining table will cost $160K. The monogrammed hand towels in the powder room will cost $1500.
There is a whole world of people out there who have money like this. These are the people who can build a weekend ranch with a half dozen cabins for their friends to stay at.
Nobody in this gang likes to get cold so the cabins are connected with an underground sports court. You can't feel like a rancher without cattle so there's a few of them around for ambience. The grazing isn't so good for the cattle and they tend to get a little skinny but that's what the ranch 100 miles north is for. Whenever you have a picnic scheduled you just have the crew truck in some fat beef and taken the skinny ones back north for R & R.
---
8/16/15 #8: What would you call a big gig? ...

Forgot to mention:
The $330K job also had another cabinetmaker. His end was around $240K. This was for uninstalled, unfinished, come pick them up yourself & drill your own handle holes.
The condo was sold a couple years later and stripped back to studs.
But I agree with everybody that we need to protect "the job creators".
---
8/16/15 #9: What would you call a big gig? ...

Man alive! I forget that that is out there all the time. Probably a bit more in your country (USA, right?) then mine--we have a bit of vast fortune here but I can't say I've stumbled on "cows for ambience" yet!
So what sort of woodworking do these people want? Exotics, grain matches, epicness? Place for everything? What is usually the bulk of the bill on a mega home?
---
8/16/15 #10: What would you call a big gig? ...

wait--what!! 330k on a condo?? Trouble grasping how and what. Did you get angels to individually kiss all the boxes? ;)
Holy hawk eye on the crazy market. Hats off :)
---
8/16/15 #11: What would you call a big gig? ...

If it's any consolation the ranch where they bred the fat cows was in Canada.
This would be considered trickle down economics (which is different somehow than trickle on economics).

---
8/16/15 #12: What would you call a big gig? ...

Pat G. can explain the difference.
---
8/16/15 #13: What would you call a big gig? ...

haha! We can fatten your cows for you for sure :)
They are making a BC equivalent of Kobe beef--involves feeding them wine. It's good to be a cow here.
Pat G--where is that guy? I'd love me a good trickle down effect layman term explanation.
---
8/16/15 #14: What would you call a big gig? ...

"This was for uninstalled, unfinished, come pick them up yourself & drill your own handle holes."
Was that Tim Schultz?
"Trickle Down" never existed it is BS created by the Democrats. They portrayed it in photo below. But there never was any such "economic theory", but everybody remembered it so it was effective, but pure BS.
As Economics 101 learned us a while back ALL new jobs are created by small business. When an environment is created that is conducive to creating small business, new jobs are created.
New jobs are the ones that did not exist before like Uber drivers, Cnc programmers, Google advertising consultants, etc. The problem is that those are not being created fast enough and workers are not learning the new skills required for these new jobs. The low skilled jobs are the ones that go to China the highly skilled jobs stay here. So we get a graph that looks like the one below.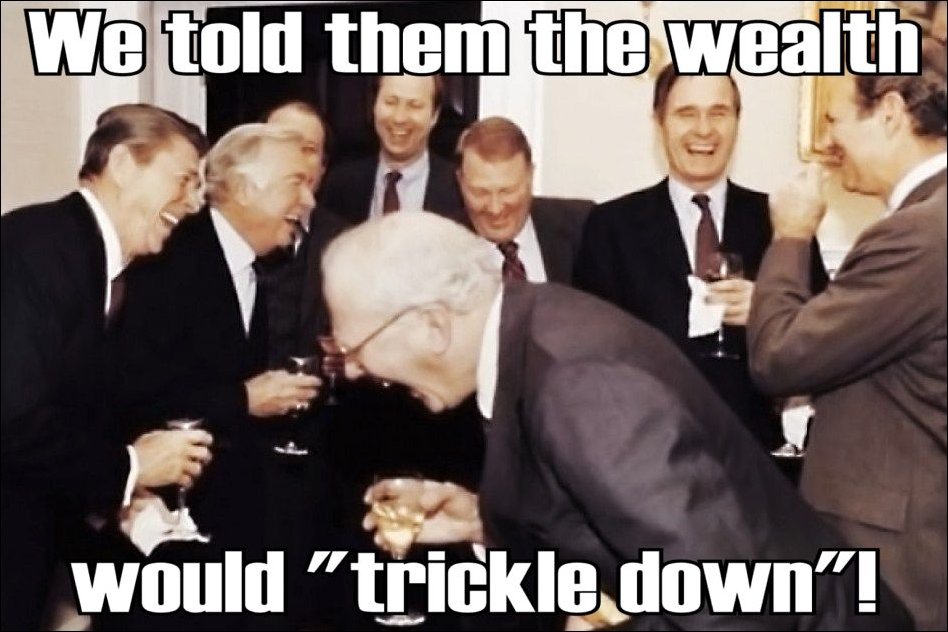 View higher quality, full size image (948 X 632)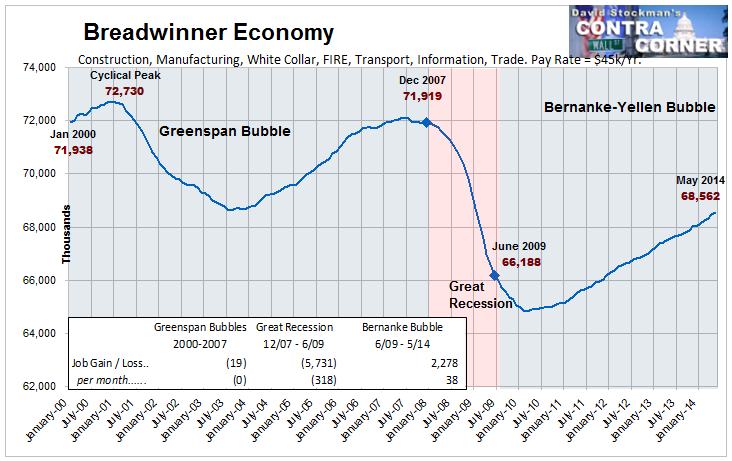 View higher quality, full size image (732 X 461)

---
8/16/15 #15: What would you call a big gig? ...

Uber drivers have always existed....they were just required to have vehicle inspections, insurance, background checks etc. Something about picking up people where they live made the background checks make sense.
Same with AirBNB. Used to be the hotels had to be inspected to make sure they were free of fire hazards etc......
Would this be another example of externalizing the risks but internalizing the profits? This sounds like the banking industry model...........
---
8/16/15 #16: What would you call a big gig? ...

The main driver behind Uber and AirBNB is technology to communicate i.e. the internet and smart phones.
So no they did not exist before because the technology did not exist before.
The licensing is a government scam. A license to drive a taxi can be auctioned off as high as $500,000 in NYC. The taxi companies love this because it eliminates competition since they already have a license they don't care how much they cost.
As to the AirBNB I suppose the cities may cut down on the spread of bedbugs but since it is a major problem I'm very skeptical of their effectiveness. What they do get is a room tax which is quite a bit of revenue for the city. What they do for that tax is highly questionable.
Anyway I would be suspicious of anyone who espouses the virtues of taxi companies or hotels verses the outstanding benefits of Uber or AirBNB
---
8/16/15 #17: What would you call a big gig? ...

Pat,
Not sure who this Tim Schultz guy is but that is not germane to Mel's question anyway.
Interesting business model, don't you think?
Must be creating value some other way.
Have you read Blue Ocean Strategy?
---
8/16/15 #18: What would you call a big gig? ...

"Interesting business model, don't you think?"
Yes it is some smart thinking.
"Must be creating value some other way."
Don't understand.
"Have you read Blue Ocean Strategy?"
Yes, they are describing every business that has been started to one degree or another.
Admittedly if you say I'm just going to emulate a successful business, there is not much too much blue ocean strategy to it, but it greatly increases your chances of success.
The point is that a business has to be allowed to pursue opportunity as that is what grows the economy and raises the standard of living for all.
Both Uber and AirBNB are examples of Blue Ocean Strategy wouldn't you say?
---
8/16/15 #19: What would you call a big gig? ...

Pat Gilbert:
I suppose that Uber and AirBnB are great, in your estimation, because they don't take revenue away from you.
Would you feel the same about an unlicensed, non-taxpaying garage shop that undercuts your price and gets the work that might have otherwise been yours, utilizing the advantage of not paying taxes, governmental fees, etc.?
---
8/16/15 #20: What would you call a big gig? ...

Especially when they are subsidized by the state to boot. As in healthcare, welfare, section 8 housing, WIC, etc.
It really doesn't matter what I think, the customer makes the decisions. If I were such a business I would compete where they are not.
---
8/17/15 #21: What would you call a big gig? ...

Hey Pat!
You've touched on govt intervention in business before. Wanted to ask-- do you have a zero intervention is good point of view?
If so, what makes you say so?
---
8/17/15 #22: What would you call a big gig? ...

Website: http://crawfordcabinetry.com
Mel asked,
Ccrawford-- what does your shop produce? Is it residential cabinets?
Yes, residential cabinetry and countertops in a semi rural area in eastern Oklahoma.
There are probably a handful of millionaires around here but I don't think I'll be putting $300 K worth of cabinets in a condo anytime soon.
---
8/17/15 #23: What would you call a big gig? ...

Website: http://www.acornwoodworks.com
Mel - Your naivete is refreshing regarding the very top few % of the customer pyramid. I learned early on that by climbing to the top of heap, you were not at the top of the heap, but could see all the other heaps out there that are much higher.
I have built a 200k wine cellar and a bar in the next room for 175K, with a 110K master bath in the house. I could do these all day long, but they take a lot of logistical planning. By the way, I never talked to the owner of the projects above until after they were complete and he called to say how nice everything was.
One thing about the costs for these larger projects: They usually have a bit lower management time and shop 'engineering time'. That is, we can build 40 prehung interior doors of various sizes, but one similar design, and only have to figure out how to build it once. That is much easier than doing 8 - 5 door jobs, each with different species, design, etc, as well as 5 different customers, sets of drawings, and contacts.
More hair pulling time, but less real management time.
Photos are of the Wine Cellar - 30' diameter with domed ceiling, 3 temp zones in the wine/liquor storage areas, all Cherry. Built in the shop, dissembled, finished, and put into the room thru the 6' x 8' doorway.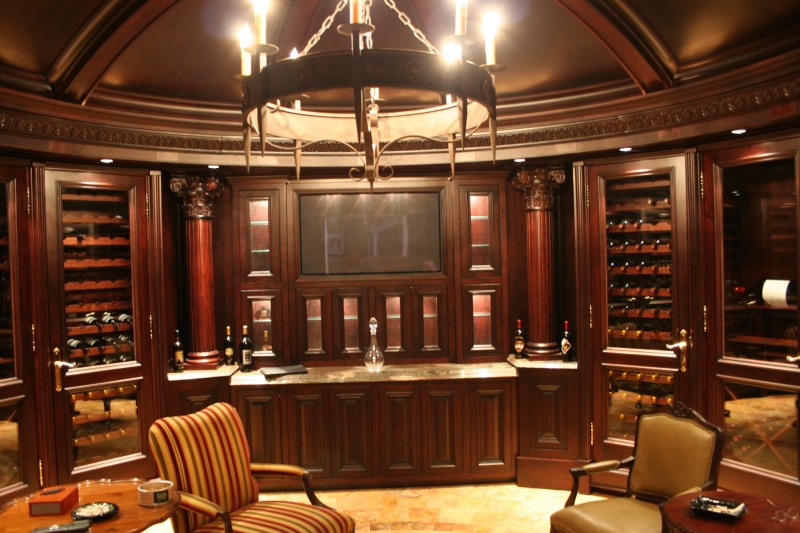 View higher quality, full size image (800 X 533)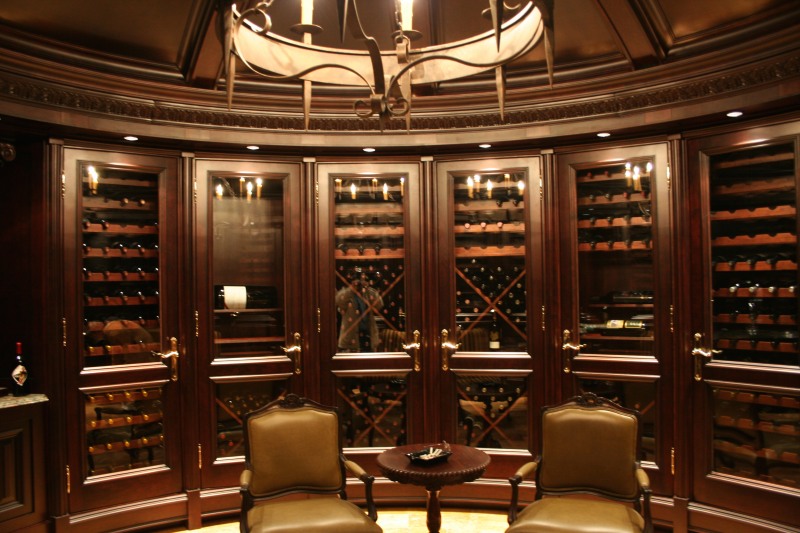 View higher quality, full size image (800 X 533)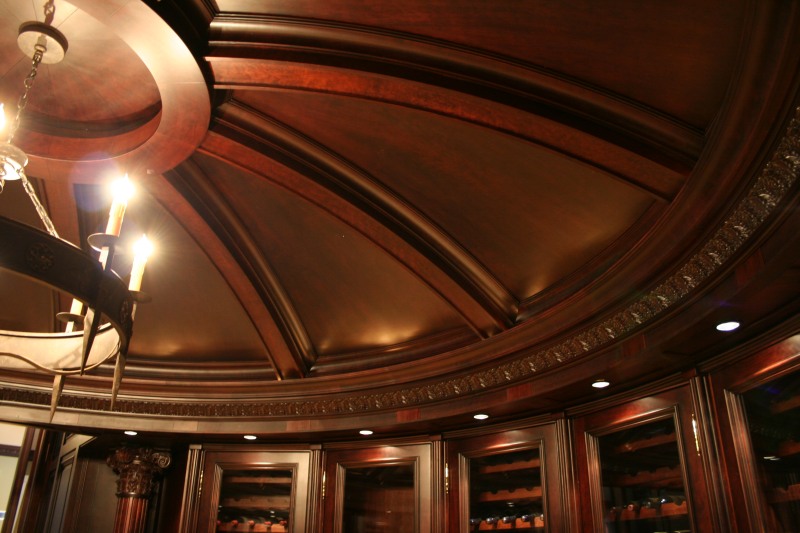 View higher quality, full size image (800 X 533)

---
8/18/15 #24: What would you call a big gig? ...

Dave
You do damn nice work.
---
8/18/15 #25: What would you call a big gig? ...

Jeeeeeebus David.... shezzam!
I'll sell you a nice shiny soul if you move to BC to make this stuff ;)
Beautiful. Hats off.
---
8/18/15 #26: What would you call a big gig? ...

waaait a sec Pat G--still waiting. What's so big and bad about govt involvement in biz?
Here's the part where Dave chuckles more at my naivety but my extent of debate hearing is the role of govt in wheat and dairy. Quotas.... hawt hawt stuff in igloo land!
Inquiring minds need to know. Plus I'm wondering if you are a die hard libertarian ;)
---
8/19/15 #27: What would you call a big gig? ...

I recommend this book:
http://www.amazon.com/Economics-One-Lesson-Shortest-Understand/dp/0517548
232
---
8/19/15 #28: What would you call a big gig? ...

**cough cough-- lazy way out-- cough cough** :P
---
8/19/15 #29: What would you call a big gig? ...

Back at ya, There is something to know and it is worth knowing.
---
8/19/15 #30: What would you call a big gig? ...

Cryptic alert!!!
---
8/20/15 #31: What would you call a big gig? ...

Website: http://www.sogncabinets.com
Holy crap, that wine cellar is crazy. The price tag is even more impressive. Bravo!
A big job for me is about $40k with no finishing or install costs. My average job is probably around $30k for a complete house of cabinets. The largest job I've ever done was a hair over $60k, it just about killed me. Mine is a small two man shop, desperately in need of more space and another person on the shop floor.
---
8/20/15 #32: What would you call a big gig? ...

Was on a job once in Pebble Beach. The backsplash tile was $50k; the rest of the tile for the kitchen and a couple baths was $250k.
I'm sure the cabinetry was north of $500k.
I wish........
---
8/21/15 #33: What would you call a big gig? ...

$500,000-$800,000 for residential the later being are largest ever. Outliers are fun, interesting places and interesting unique people. One job was in Sochi Russia on the Black Sea, it was private home where Putin and the Olympic Committee met. Most of the individuals are from oil money are largest job being of all places Alberta Edmonton Canada.
---
8/21/15 #34: What would you call a big gig? ...

Website: http://www.sogncabinets.com
Holy crap. There'd be four months in the office for me just to draw and bid out that much work. At least four months. lol
---
8/21/15 #35: What would you call a big gig? ...

Alberta is oil land up here. Kids go work on the rigs and come back home to buy their first house, new truck, boat, etc, in their early twenties. Others use the 2 weeks on 1 week off, fly you anywhere plan to travel the world. Though I here some come back with nothing except a handful of new nasty habits... ;)
Working in Mordor pays well!
---
8/21/15 #36: What would you call a big gig? ...

Big Gigs that are more than 20% of your annual gross put you in a position of have too many eggs in too few baskets and make it harder to service "regular, repeat customers" at the service level they require.
A big gig also has a higher exposure to risk. If something goes wrong on a job that is a few weeks shop time you should be able to cover the loss/miss/repair/warranty.
If you do a job that is half a years sales and it goes south the risk is higher.
Although there can be great economies of scale on large volume the potential for a large screw up or failure is higher and the risk is higher.
I think the assessment of risk on a bid is probably the largest "miss" by a lot of companies, it should be part of the "bid or not to bid" process. I think if you evaluate a large job, determine the risk areas, mitigate them at time of bid or allow for them then the potential for higher income is a goo thing that can allow you to manage your other customers by subbing work out to other shops.
10 years ago we did about a years sales in 10 weeks for one customer, we shipped 240 tractor trailers of fixtures, and over 50 miles of primed trim. We had about 30 temps working here.
We were consuming so much material we depleted the supply chain and that caused our price to go up and we were bringing in material from vendors over 500 miles away.
The customer was concerned about their cash flow and didn't want to get hit with a big invoice at the end so they sent me a check every two weeks like clock work without me even asking so that made it very easy for us to perform from a financial position and I didn't have to bring up the payment question because they brought it up based on a prior job where we waited to the end and sent them a large invoice.
A-
---
8/24/15 #37: What would you call a big gig? ...

20% was the number used by the sports apparel company I used to work for for their biggest retailer, REI.
They could have sold a lot more of our stuff, but they would not allot more then 20% in order to keep the eggs in more then one basket. Increasing overall sales meant increasing product for REI.
---
9/23/15 #38: What would you call a big gig? ...

I'm with Alan on this one. Really don't like big jobs or too much to one customer. I've got a small shop, average sales $2.5m so using Alan's #'s I shouldn't take on more than $500K jobs. Only did that once, too scary! I actually try to limit it to 1/2 that. Comfy range is $50 to 100K, less than 2 weeks work. I rarely do residential and my biggest loss has come from that. Made about $70K worth of moldings for a house. $38K still owed. The guy got caught in illegal housing financials, committed suicide. Some things are hard to predict. Liens had been filed, got nothing.
---
10/25/15 #39: What would you call a big gig? ...

In the interest of accuracy, Trickle Down Economics was the buzzword of George Schultz and Ronald Reagan. It never seemed to work the way they described it.
My biggest was a bit north of $500K, and it was a problem in all the predictable ways. It was more than a year in the making, and I turned away regulars while it warped my sense of perspective.
---
10/25/15 #40: What would you call a big gig? ...

Sorry, I meant David Stockman, not George Schultz.
---

---
Buy & Sell Exchanges | Forums | Galleries | Other Resources | Site Map
---



Buy and Sell Exchanges



Job Opportunities and Services Exchange
Employment opportunities and services within the woodworking industry

Lumber Exchange
A worldwide buy/sell exchange for lumber and wood products

Machinery Exchange
A worldwide buyer and seller exchange for woodworking machinery and equipment.

Classified Ad Exchange
Classified advertising for the woodworking industry (for advertisements that do not include machinery, lumber products and employment listings)


---



Forums



Adhesives Forum
Discussing topics related to adhesives within the woodworking industry

Architectural Woodworking Forum
Discussing quality standards and production of architectural wood products

Business and Management Forum
A forum for the discussion of business topics: from sales and marketing to dealing with difficult customers.

Cabinet and Millwork Installation Forum
Discussing all aspects of installation issues encountered by cabinet and millwork installers.

Cabinetmaking Forum
Discussing 32mm and face frame cabinet construction including fabrication, casegoods design, and installation.

CAD Forum
Shedding light on the all-too-often shadowy world of CAD.

CNC Forum
Discussing CNC (computer numerically controlled) woodworking equipment, software, and automated product manufacturing.

Dust Collection, Safety and Plant Operation Forum
Discussing topics related to maintaining a safe and productive working environment.

Professional Finishing Forum
Finishing issues for the production environment

Forestry Forum
The science and art of forest cultivation and timber management, planting, surveying, tree diseases, silviculture and timber harvesting

Professional Furniture Making Forum
Helping professional furniture makers improve quality, save time, and increase profits

Laminating and Solid Surfacing Forum
Issues related to laminating and solid surface materials and processes

Commercial Kiln Drying Forum
Discussions covering issues faced be commercial drying operations that process at least 750,000 bd. ft. of lumber per year

Sawing and Drying Forum
Discussing topics related to primary processing and drying of lumber

Solid Wood Machining Forum
Discussing topics related to the machining of solid wood

Value Added Wood Products Forum
Learn how to improve your output, find new markets, and boost sales of your lumber products

Veneer Forum
Discussing topics related to veneer processing, manufacturing, and fabrication

WOODnetWORK
An electronic discussion group for woodworkers throughout the world


---



Galleries



Project Gallery
Where professional woodworkers can post examples of their work

Sawmill Gallery
Professional primary processing companies display and describe their sawmill facilities

Shop Gallery
Professional woodworkers display and describe their shop facilities, products and equipment

Shopbuilt Equipment Gallery
Professional woodworker's jigs, rigs, and shopbuilt equipment


---



Other Resources



Industry News
Late-breaking news from all sectors of the wood industry

Video Library
Index of industrial woodworking related digital videos on the web

Auctions, Sales and Special Offers
Advertisers offering woodworkers discounted prices on good and services, and announcements of upcoming auctions


FORUM GUIDELINES: Please review the guidelines below before posting at WOODWEB's Interactive Message Boards
(return to top)
WOODWEB is a professional industrial woodworking site. Hobbyist and homeowner woodworking questions are inappropriate.
Messages should be kept reasonably short and on topic, relating to the focus of the forum. Responses should relate to the original question.
A valid email return address must be included with each message.
Advertising is inappropriate. The only exceptions are the Classified Ads Exchange, Machinery Exchange, Lumber Exchange, and Job Opportunities and Services Exchange. When posting listings in these areas, review the posting instructions carefully.
Subject lines may be edited for length and clarity.
"Cross posting" is not permitted. Choose the best forum for your question, and post your question at one forum only.
Messages requesting private responses will be removed - Forums are designed to provide information and assistance for all of our visitors. Private response requests are appropriate at WOODWEB's Exchanges and Job Opportunities and Services.
Messages that accuse businesses or individuals of alleged negative actions or behavior are inappropriate since WOODWEB is unable to verify or substantiate the claims.
Posts with the intent of soliciting answers to surveys are not appropriate. Contact WOODWEB for more information on initiating a survey.
Excessive forum participation by an individual upsets the balance of a healthy forum atmosphere. Individuals who excessively post responses containing marginal content will be considered repeat forum abusers.
Responses that initiate or support inappropriate and off-topic discussion of general politics detract from the professional woodworking focus of WOODWEB, and will be removed.
Participants are encouraged to use their real name when posting. Intentionally using another persons name is prohibited, and posts of this nature will be removed at WOODWEB's discretion.
Comments, questions, or criticisms regarding Forum policies should be directed to WOODWEB's Systems Administrator
(return to top).

Carefully review your message before clicking on the "Send Message" button - you will not be able to revise the message once it has been sent.

You will be notified of responses to the message(s) you posted via email. Be sure to enter your email address correctly.

WOODWEB's forums are a highly regarded resource for professional woodworkers. Messages and responses that are crafted in a professional and civil manner strengthen this resource. Messages that do not reflect a professional tone reduce the value of our forums.

Messages are inappropriate when their content: is deemed libelous in nature or is based on rumor, fails to meet basic standards of decorum, contains blatant advertising or inappropriate emphasis on self promotion (return to top).

Libel: Posts which defame an individual or organization, or employ a tone which can be viewed as malicious in nature. Words, pictures, or cartoons which expose a person or organization to public hatred, shame, disgrace, or ridicule, or induce an ill opinion of a person or organization, are libelous.

Improper Decorum: Posts which are profane, inciting, disrespectful or uncivil in tone, or maliciously worded. This also includes the venting of unsubstantiated opinions. Such messages do little to illuminate a given topic, and often have the opposite effect. Constructive criticism is acceptable (return to top).

Advertising: The purpose of WOODWEB Forums is to provide answers, not an advertising venue. Companies participating in a Forum discussion should provide specific answers to posted questions. WOODWEB suggests that businesses include an appropriately crafted signature in order to identify their company. A well meaning post that seems to be on-topic but contains a product reference may do your business more harm than good in the Forum environment. Forum users may perceive your references to specific products as unsolicited advertising (spam) and consciously avoid your web site or services. A well-crafted signature is an appropriate way to advertise your services that will not offend potential customers. Signatures should be limited to 4-6 lines, and may contain information that identifies the type of business you're in, your URL and email address (return to top).

Repeated Forum Abuse: Forum participants who repeatedly fail to follow WOODWEB's Forum Guidelines may encounter difficulty when attempting to post messages.

There are often situations when the original message asks for opinions: "What is the best widget for my type of shop?". To a certain extent, the person posting the message is responsible for including specific questions within the message. An open ended question (like the one above) invites responses that may read as sales pitches. WOODWEB suggests that companies responding to such a question provide detailed and substantive replies rather than responses that read as a one-sided product promotion. It has been WOODWEB's experience that substantive responses are held in higher regard by our readers (return to top).

The staff of WOODWEB assume no responsibility for the accuracy, content, or outcome of any posting transmitted at WOODWEB's Message Boards. Participants should undertake the use of machinery, materials and methods discussed at WOODWEB's Message Boards after considerate evaluation, and at their own risk. WOODWEB reserves the right to delete any messages it deems inappropriate. (return to top)



Forum Posting Form Guidelines

Your Name
The name you enter in this field will be the name that appears with your post or response (return to form).
Your Website
Personal or business website links must point to the author's website. Inappropriate links will be removed without notice, and at WOODWEB's sole discretion. WOODWEB reserves the right to delete any messages with links it deems inappropriate. (return to form)
E-Mail Address
Your e-mail address will not be publicly viewable. Forum participants will be able to contact you using a contact link (included with your post) that is substituted for your actual address. You must include a valid email address in this field. (return to form)
Subject
Subject may be edited for length and clarity. Subject lines should provide an indication of the content of your post. (return to form)
Thread Related Link and Image Guidelines
Thread Related Links posted at WOODWEB's Forums and Exchanges should point to locations that provide supporting information for the topic being discussed in the current message thread. The purpose of WOODWEB Forums is to provide answers, not to serve as an advertising venue. A Thread Related Link that directs visitors to an area with inappropriate content will be removed. WOODWEB reserves the right to delete any messages with links or images it deems inappropriate. (return to form)
Thread Related File Uploads
Thread Related Files posted at WOODWEB's Forums and Exchanges should provide supporting information for the topic being discussed in the current message thread. Video Files: acceptable video formats are: .MOV .AVI .WMV .MPEG .MPG .MP4 (Image Upload Tips) If you encounter any difficulty when uploading video files, E-mail WOODWEB for assistance. The purpose of WOODWEB Forums is to provide answers, not to serve as an advertising venue. A Thread Related File that contains inappropriate content will be removed, and uploaded files that are not directly related to the message thread will be removed. WOODWEB reserves the right to delete any messages with links, files, or images it deems inappropriate. (return to form)