You are not logged in. Consider these WOODWEB Member advantages:

A personal "member history" that displays your posts at WOODWEB
Your forms at WOODWEB will be filled in automatically
Create your personal "My Favorites" page
Numerous automatic notification options
Taming Chatoyance???
9/28/17

My company produces Table Tops predominantly for the Restaurant Industry. We've more recently been producing Veneer Tables for a Contract Furniture Manufacturer, using more Cherry and Maple. Our problem is trying to reduce the color shift or Chatoyance of these two species. Many of these Tables are linked together in various configurations. When an end user shifts a table 90 degrees to the others, they think the stain color match with the others is wrong. I've seen both Cherry and Maple Veneer Contract Furniture built by others, where this is limited or nearly eliminated. I would appreciate any recommendations for this challenge. We are using ML Campbell wipe stains and their Catalyzed Polyurethane with a Satin Finish. (I understand I'm asking to mask a normally desirable quality of these woods, but, although this is quality furniture, it is not "fine" furniture. Consistency from piece to piece is expected in this industry.) Thanks in advance!
---
9/28/17 #2: Taming Chatoyance??? ...

Are you staining the wood, or are you doing it with the woods natural color?
---
9/28/17 #3: Taming Chatoyance??? ...

Hi, Tyler. We have the issue with both Natural and Light Stain Colors. Darker Stains, as maybe expected, are less of an issue. We've discussed developing a "Natural" Toner of sorts, but really don't have a starting point on this strategy. Thanks.
---
9/28/17 #4: Taming Chatoyance??? ...

have you looked into getting sequenced veneer?
its veneer all from the same cut, it should be very consistent in tone
---
9/28/17 #5: Taming Chatoyance??? ...

Add just a little stain to your clearcoat. This small amount of "toning" will greatly improve this. Not that I would recommend it for table tops as it won't be as durable, but a dull coat would help also.
---
9/28/17 #6: Taming Chatoyance??? ...

If you are coloring, switch species. Use something like beech.
---
9/29/17 #7: Taming Chatoyance??? ...

Sounds to me like you are using plain sliced veneers, I would recommend using Whole piece face veneers also called rotary cut and the directional color change will be eliminated, best of luck .
---
9/29/17 #8: Taming Chatoyance??? ...

We have the same problem with Sequenced Veneer. The issue is the customer may position these tables in a conference room in a rectangular loop or double them up and then cap off the end with a table turned 90 degrees. They are part of a modular system, with locking hardware. When the user shifts a table 90 degrees in relationship to the others, that's when they perceive a problem. I know other manufacturers are masking this affect some how.
We have tried a colorant in the clearcoat on other projects and that has reduced, but not minimized the affect. We'll try that strategy a little more.
Changing Species will be a hard sell since other manufacturers are able to deal with the concerns somehow. Alder would probably be what I would try in place of Cherry and we have used Beech in place of Maple specifications in the past. Both seem to have minimal Chatoyance. But, at this price point, I don't believe I'll be successful with switching the spec.
The sheen may be the trick. Most contract furniture has a duller finish than we are using.
We'll try some colorant "toner" in the clear at some point and try bringing down the sheen.
Still open to any other tricks. Thanks everyone.
---
9/29/17 #9: Taming Chatoyance??? ...

D. Brown. You are correct. We only use Plain Slice Veneers, but you've got a good point. Maybe we can get by with Rotary on Cherry and Maple. I'll try to determine if that's what others are doing. Thanks.
---
9/29/17 #10: Taming Chatoyance??? ...

Chatoyance or Barber Polling?
Chatoyance is a color shift caused by grain variation as light enters the surface. It can occur within a leaf of veneer. An example is Curly Maple - the grain causes the color shift as does the viewer's position.
Barber Polling is a color shift from leaf to leaf when bookmatched. The light reflects differently off one sheet - the 'tight' side, than it does off the other side - the 'loose' side. See the photo.
At one time, chatoyance was prized, enhanced and desired. I still never miss a chance to point it out on our work. However, it is mostly misunderstood, even amongst woodworkers.
I believe barber polling is overcome by heavy coloration.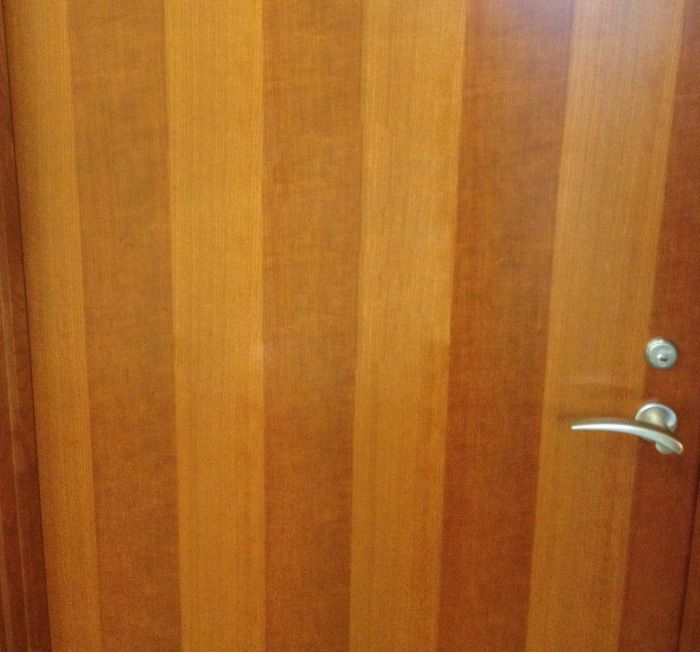 View higher quality, full size image (700 X 652)

---
9/29/17 #11: Taming Chatoyance??? ...

Hi, David. This isn't Barber Polling... and I've seen what you are referring to. But, the the shift isn't between the veneer slices on each piece, it's from table to table. In some instances of complaints we advise the end user to rotate the odd table 180 degrees and it usually resolves. The problem here is when the veneer is shifted 90 degrees. It's the same issue with a Cope and Stick Cabinet Door... but people are used to seeing that variation or it's usually consistent among many doors. These Table Surfaces are another thing. We would have the same challenge if we built an L-Shaped Desk Top. In Cherry or Maple there's a strong chance that the color is perceived to be different from leg to leg, depending on the angle of the viewer to the joined pieces. I pretty much know what is going on optically and I know it's an attribute that can be very desirable. But, in this particular market, I need to find a way to tame it. This has been much less of an issue in the Restaurant market, very much a problem with Contract Furniture.
Thanks!
---
9/29/17 #12: Taming Chatoyance??? ...

Website: http://www.acornwoodworks.com
That is a tough one. I think it is a characteristic of wood that you might try 'celebrating' to your customer instead of furrowing your brow when it is presented as a problem. No need to be defensive.
The color shift proves it is real wood as no plastic or foil or print process has imitated it. Maybe adding the part about how the light enters the wood, reflects back to our eye, so each viewer sees it differently than another. Unique. Special.
If you must eliminate the effect, then heavy stain is all I have to contribute. This could be why Contract work is so muddy and dead. The life of the wood is finished right out of it. My opinion.
---
9/29/17 #13: Taming Chatoyance??? ...

I agree with you David. We do try to educate customers, but then there are very large players who mask the attribute and I'm expected to produce a similar consistency. The really tough one is when the customer requests "Natural" and then question why there is a variance in appearance. Insane. So, we will likely have to develop a "Toner" for Natural. The real challenge though is Taming the Chatoyance without making it muddy. Some companies are doing a fair job of that. That said, I was doing a fair amount of work for a national restaurant chain using Maple and the Chatoyance was "celebrated". We actually had to work to make sure we didn't subdue it with our staining. Had to go to a Waterbase Spray formulation (no wiping) to accomplish maximum color shift. It was beautiful in my opinion. It was interesting as Center Veneer and Outside Solid Wood Perimeter were shifting independently. Thanks for your comments.
---
9/29/17 #14: Taming Chatoyance??? ...

I hate to say this but your solution may be a combination of three of your variables. Color boards are your friend when trying to solve these multi variable problems.
First, observe how the different lighting affects your current tables. In the shop, in front of a window, under low ceiling fluro, in a darkly lite room.
MLC wiping stains are excellent. Unfortunately, they may be too good. They can highlight David's curly maple example. Not even it out. Another brand or type of stain may even out the grain.
Using a toner coat will definitely help to hide the wood if you add enough pigment. However, we typically use toner coats to slowly change the color without losing the wood grain.
One of the most extreme examples of heavy toner coats would be the classic cherry wood. Maple is painted with a very high colorant toner coat to not resemble cherry in any way shape or form.
The sheen you are using could be the biggest help. MLC makes gloss, satin, dull, flat. Simply switching to a dull may help you.
We are a small shop. I would make up a bunch of special color boards. 3/4" ply each made of two pieces edge fastened together. Maybe 8" x 8" or 12" x 12" edge glued together. This will simulate your 90 degree table turning problem.
This is science. You need a pile of boards. Mark what you do to each board on the back. Not the front. This will eliminate bias. Also get other people to look at them. You've got 3 variables to mix and match.
Don't worry about which wood you could potentially use. Try to solve the current problem with the finishes.
---
9/29/17 #15: Taming Chatoyance??? ...

Adam makes a good point, I remember Sherwin Williams oil stains doing a good job of blending different tone woods together.
---
10/2/17 #16: Taming Chatoyance??? ...

Agreed with some of the above. Using a lower sheen helps.
Also, I've noticed chatoyance is greatly reduced if you wipe the wood surface down with a damp rag, let the grain fuzz up and then air dry. Stain immediately after.
The stain will come out a lot darker, for sure, which may force you to tweak your stain colors and showroom stain samples.
The first coat of sealer will also be more trouble to sand. But, I must admit, doing this "water torture" has helped us produce some incredibly even stain with maple, and I rarely see any chatoyance with it.
But. We usually spray dull sheen (#15), so there's that too lol
---
10/3/17 #17: Taming Chatoyance??? ...

It's really no different then getting 40 cherry cabinet doors to be in harmony with all the other doors.
And that can not be achieved through wipping stains alone.
Each top must be toned, using whatever you feel comfortable.
I find using three cup guns of, a light ,med and dark walnut each usually is enough.
Bare in mind this should be very easy for a finisher.
---
10/4/17 #18: Taming Chatoyance??? ...

My thought is you would need to make the color almost opaque to not see the chatoyance .
---
10/4/17 #19: Taming Chatoyance??? ...

Adam - I like the glued up color board idea for testing. Good idea!
Everyone - I appreciate your input on the subject. There are some very good points and tips to try.
D.Brown - That is the concern... not getting so opaque that it looks nearly painted or like laminate.
Last observation, and I'm not a finisher, as you may have noticed, but the mystery to me on the contract furniture that I've seen is, that a) Chatoyance is nearly eliminated, b) there is still very good grain definition and c) there is still a kind of brilliance. It is still a high quality look, just very uniform. The exact issue where this is seen is with a modular desk system in cherry. My customer has one in their office that I keep referring to mentally. It has a quality look with no Chatoyance between the main desk section and the peninsula leg at 90 degrees.
That's my goal. Hopefully, with the help mentioned here, I can get there.
So last question (maybe), could the color be in the top coat with just enough pigment to minimize the Chatoyance? If so, how are they not affecting the stability of the finish (adhesion, impact and abrasion resistance) for a piece like a desk or table top?
---
10/5/17 #20: Taming Chatoyance??? ...

Just to clarify my colorboard. take 2 pieces of 12" x 12" maple plywood. Turn one 90 degrees. glue them edge to edge.
My first attempt would be to finish them like you already do. Then change sheen. Then change sheen & add pigment to the topcoat. Add 5% and shoot it. Add another 5% and shoot it again.
If none of this works. Find some lower quality stain that is muddy and try it again. I still believe the MLC stain is too good.
---
10/5/17 #21: Taming Chatoyance??? ...

Doyle,
I had a feeling that you weren't a finisher. I like most finishers would not know how to pronounce, spell or know the definition of chatoyance. Thanks for educating us.
---
10/5/17 #22: Taming Chatoyance??? ...

Yes, I too had no idea what that word was!
Mismatched wood, I understand. But chatoyance, nope thought it was someone talking nonsence.
Bottom line is, if you don't have a finisher, you need excellent board selection.
---
10/5/17 #23: Taming Chatoyance??? ...

Is this chatoyance? In the cabinet makers defense, the client asked for all natural walnut doors and drawers. However after it was installed,. The client could not live with this door.
All though i did not apply the original finish, the fix was very easy, and less than an hour.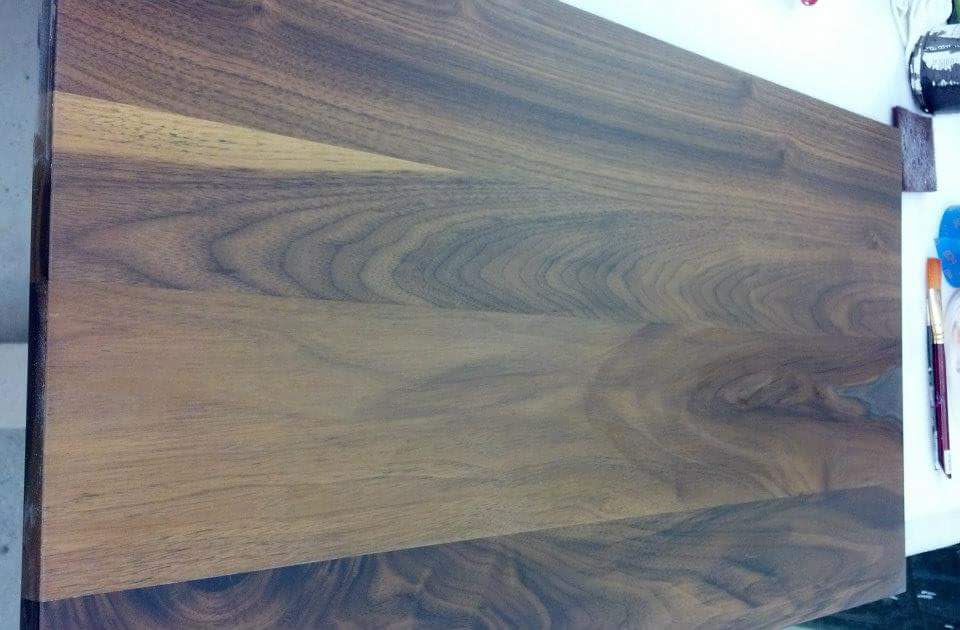 View higher quality, full size image (960 X 630)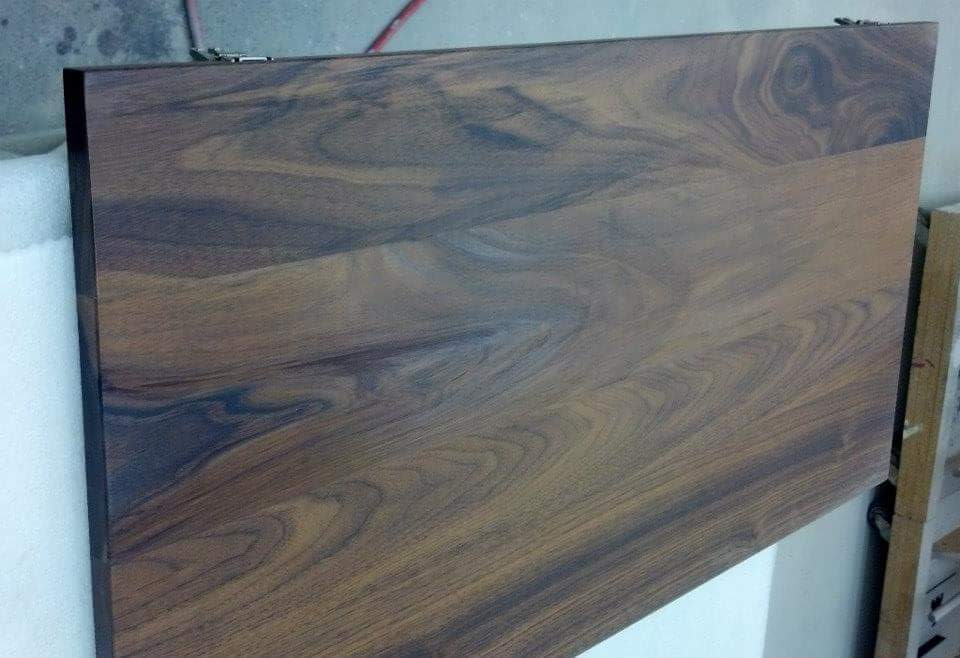 View higher quality, full size image (960 X 658)

---
10/5/17 #24: Taming Chatoyance??? ...

The trick is to add a little color with the stain and small amounts of color in each coat of finish (lighter coats are a must when toning), except for the last. The first two steps keep it from hiding the grain, the last keeps finish any surface finish damage from damaging color. Combine that with a dull coat and you should get what you are after. Good luck-
---
10/5/17 #25: Taming Chatoyance??? ...

Michael Foscone, could you explain the process and materials you used to fix that in such a timely manner. It looks great!
---
10/5/17 #26: Taming Chatoyance??? ...

Adam, I didn't introduce the term... some other brainiac on Wood Web did. I utilized my trusty Google to find out what it meant. However, I didn't look at the pronunciation and have been spouting off this term around the finish room incorrectly. It's "shuh TOY unts" if you need to brandish it about. Comes from way over there in France, where they were describing the "cat's eye" phenomenon in some gems. But since then, it's been used to describe optical shift in other highly desirable materials like silk, wood and velvet. Now you know why all those velvet Kneeling Elvis paintings are so engaging. It's the Chatoyance of the velvet that sets the stage for the King. :0)
---
10/5/17 #27: Taming Chatoyance??? ...

John
It was just a clear conversion varnish that was applied originaly. I sanded the whole door down with 320. Then with fine brushes, used dye stains of different browns to darken the sap wood. Then used a med brown walnut dye stain toner with the same CV top coat, to blend everything together.
After that, I just top coated it and it was done.
---
11/28/17 #28: Taming Chatoyance??? ...

I use a few types of toner, all for the most part are post seal coat.
p63 vinyl base coat systems allow you to tone wood to custom colors. I use em a lot to finish butcher block style tables.
thing is they can be reduced to increase transparancy or thicked to mud out a color.
good system to have and its mixed with a post cat sealer and can be stained over.
sw sell this
---

---
Buy & Sell Exchanges | Forums | Galleries | Other Resources | Site Map
---



Buy and Sell Exchanges



Job Opportunities and Services Exchange
Employment opportunities and services within the woodworking industry

Lumber Exchange
A worldwide buy/sell exchange for lumber and wood products

Machinery Exchange
A worldwide buyer and seller exchange for woodworking machinery and equipment.

Classified Ad Exchange
Classified advertising for the woodworking industry (for advertisements that do not include machinery, lumber products and employment listings)


---



Forums



Adhesives Forum
Discussing topics related to adhesives within the woodworking industry

Architectural Woodworking Forum
Discussing quality standards and production of architectural wood products

Business and Management Forum
A forum for the discussion of business topics: from sales and marketing to dealing with difficult customers.

Cabinet and Millwork Installation Forum
Discussing all aspects of installation issues encountered by cabinet and millwork installers.

Cabinetmaking Forum
Discussing 32mm and face frame cabinet construction including fabrication, casegoods design, and installation.

CAD Forum
Shedding light on the all-too-often shadowy world of CAD.

CNC Forum
Discussing CNC (computer numerically controlled) woodworking equipment, software, and automated product manufacturing.

Dust Collection, Safety and Plant Operation Forum
Discussing topics related to maintaining a safe and productive working environment.

Professional Finishing Forum
Finishing issues for the production environment

Forestry Forum
The science and art of forest cultivation and timber management, planting, surveying, tree diseases, silviculture and timber harvesting

Professional Furniture Making Forum
Helping professional furniture makers improve quality, save time, and increase profits

Laminating and Solid Surfacing Forum
Issues related to laminating and solid surface materials and processes

Commercial Kiln Drying Forum
Discussions covering issues faced be commercial drying operations that process at least 750,000 bd. ft. of lumber per year

Sawing and Drying Forum
Discussing topics related to primary processing and drying of lumber

Solid Wood Machining Forum
Discussing topics related to the machining of solid wood

Value Added Wood Products Forum
Learn how to improve your output, find new markets, and boost sales of your lumber products

Veneer Forum
Discussing topics related to veneer processing, manufacturing, and fabrication

WOODnetWORK
An electronic discussion group for woodworkers throughout the world


---



Galleries



Project Gallery
Where professional woodworkers can post examples of their work

Sawmill Gallery
Professional primary processing companies display and describe their sawmill facilities

Shop Gallery
Professional woodworkers display and describe their shop facilities, products and equipment

Shopbuilt Equipment Gallery
Professional woodworker's jigs, rigs, and shopbuilt equipment


---



Other Resources



Industry News
Late-breaking news from all sectors of the wood industry

Video Library
Index of industrial woodworking related digital videos on the web

Auctions, Sales and Special Offers
Advertisers offering woodworkers discounted prices on good and services, and announcements of upcoming auctions


FORUM GUIDELINES: Please review the guidelines below before posting at WOODWEB's Interactive Message Boards
(return to top)
WOODWEB is a professional industrial woodworking site. Hobbyist and homeowner woodworking questions are inappropriate.
Messages should be kept reasonably short and on topic, relating to the focus of the forum. Responses should relate to the original question.
A valid email return address must be included with each message.
Advertising is inappropriate. The only exceptions are the Classified Ads Exchange, Machinery Exchange, Lumber Exchange, and Job Opportunities and Services Exchange. When posting listings in these areas, review the posting instructions carefully.
Subject lines may be edited for length and clarity.
"Cross posting" is not permitted. Choose the best forum for your question, and post your question at one forum only.
Messages requesting private responses will be removed - Forums are designed to provide information and assistance for all of our visitors. Private response requests are appropriate at WOODWEB's Exchanges and Job Opportunities and Services.
Messages that accuse businesses or individuals of alleged negative actions or behavior are inappropriate since WOODWEB is unable to verify or substantiate the claims.
Posts with the intent of soliciting answers to surveys are not appropriate. Contact WOODWEB for more information on initiating a survey.
Excessive forum participation by an individual upsets the balance of a healthy forum atmosphere. Individuals who excessively post responses containing marginal content will be considered repeat forum abusers.
Responses that initiate or support inappropriate and off-topic discussion of general politics detract from the professional woodworking focus of WOODWEB, and will be removed.
Participants are encouraged to use their real name when posting. Intentionally using another persons name is prohibited, and posts of this nature will be removed at WOODWEB's discretion.
Comments, questions, or criticisms regarding Forum policies should be directed to WOODWEB's Systems Administrator
(return to top).

Carefully review your message before clicking on the "Send Message" button - you will not be able to revise the message once it has been sent.

You will be notified of responses to the message(s) you posted via email. Be sure to enter your email address correctly.

WOODWEB's forums are a highly regarded resource for professional woodworkers. Messages and responses that are crafted in a professional and civil manner strengthen this resource. Messages that do not reflect a professional tone reduce the value of our forums.

Messages are inappropriate when their content: is deemed libelous in nature or is based on rumor, fails to meet basic standards of decorum, contains blatant advertising or inappropriate emphasis on self promotion (return to top).

Libel: Posts which defame an individual or organization, or employ a tone which can be viewed as malicious in nature. Words, pictures, or cartoons which expose a person or organization to public hatred, shame, disgrace, or ridicule, or induce an ill opinion of a person or organization, are libelous.

Improper Decorum: Posts which are profane, inciting, disrespectful or uncivil in tone, or maliciously worded. This also includes the venting of unsubstantiated opinions. Such messages do little to illuminate a given topic, and often have the opposite effect. Constructive criticism is acceptable (return to top).

Advertising: The purpose of WOODWEB Forums is to provide answers, not an advertising venue. Companies participating in a Forum discussion should provide specific answers to posted questions. WOODWEB suggests that businesses include an appropriately crafted signature in order to identify their company. A well meaning post that seems to be on-topic but contains a product reference may do your business more harm than good in the Forum environment. Forum users may perceive your references to specific products as unsolicited advertising (spam) and consciously avoid your web site or services. A well-crafted signature is an appropriate way to advertise your services that will not offend potential customers. Signatures should be limited to 4-6 lines, and may contain information that identifies the type of business you're in, your URL and email address (return to top).

Repeated Forum Abuse: Forum participants who repeatedly fail to follow WOODWEB's Forum Guidelines may encounter difficulty when attempting to post messages.

There are often situations when the original message asks for opinions: "What is the best widget for my type of shop?". To a certain extent, the person posting the message is responsible for including specific questions within the message. An open ended question (like the one above) invites responses that may read as sales pitches. WOODWEB suggests that companies responding to such a question provide detailed and substantive replies rather than responses that read as a one-sided product promotion. It has been WOODWEB's experience that substantive responses are held in higher regard by our readers (return to top).

The staff of WOODWEB assume no responsibility for the accuracy, content, or outcome of any posting transmitted at WOODWEB's Message Boards. Participants should undertake the use of machinery, materials and methods discussed at WOODWEB's Message Boards after considerate evaluation, and at their own risk. WOODWEB reserves the right to delete any messages it deems inappropriate. (return to top)



Forum Posting Form Guidelines

Your Name
The name you enter in this field will be the name that appears with your post or response (return to form).
Your Website
Personal or business website links must point to the author's website. Inappropriate links will be removed without notice, and at WOODWEB's sole discretion. WOODWEB reserves the right to delete any messages with links it deems inappropriate. (return to form)
E-Mail Address
Your e-mail address will not be publicly viewable. Forum participants will be able to contact you using a contact link (included with your post) that is substituted for your actual address. You must include a valid email address in this field. (return to form)
Subject
Subject may be edited for length and clarity. Subject lines should provide an indication of the content of your post. (return to form)
Thread Related Link and Image Guidelines
Thread Related Links posted at WOODWEB's Forums and Exchanges should point to locations that provide supporting information for the topic being discussed in the current message thread. The purpose of WOODWEB Forums is to provide answers, not to serve as an advertising venue. A Thread Related Link that directs visitors to an area with inappropriate content will be removed. WOODWEB reserves the right to delete any messages with links or images it deems inappropriate. (return to form)
Thread Related File Uploads
Thread Related Files posted at WOODWEB's Forums and Exchanges should provide supporting information for the topic being discussed in the current message thread. Video Files: acceptable video formats are: .MOV .AVI .WMV .MPEG .MPG .MP4 (Image Upload Tips) If you encounter any difficulty when uploading video files, E-mail WOODWEB for assistance. The purpose of WOODWEB Forums is to provide answers, not to serve as an advertising venue. A Thread Related File that contains inappropriate content will be removed, and uploaded files that are not directly related to the message thread will be removed. WOODWEB reserves the right to delete any messages with links, files, or images it deems inappropriate. (return to form)