Gorilla PUR adhesive MSDS
---
5/19/13 #23: Gorilla glue, just curious ...


Actually Marc, I would love to hear more about living and working in Central America. I've heard similar stories or comments about having to work with rough, native lumber and under less than ideal conditions etc. I'd really like to know what it's like to work and live Central America? I've also heard that some areas may be good retirement destinations for North Americans?
As you may be aware, our cozy little North American world has become (in some respects) not all that cozy. The cost of health insurance and medical care for example, has literally gone through the roof! (At this point, I'd consider moving to Albania... wherever that is). I'm self-employed and my monthly insurance premiums (for two adults) now exceeds my home mortgage payment!
Anyway, perhaps I might persuade you to comment or start a new thread on the subject? I solemnly swear to STFU about GG .
---
5/19/13 #24: Gorilla glue, just curious ...


The PUR adhesives were developed and used in Europe 35 years ago as a response to "no formaldehyde" adhesives. They were and are indeed available in much of the world (although they cost more than the adhesives used in the USA with the F word) for many years under various company trade names. The cold setting PUR work very well in humid environments.
Using a PUR requires a bit of a learning curve, and I suspect that often this is why one person has problems with them. Sometimes, they use a cheap PUR and then they wonder why they do not get good results. (I wonder if the PUR sold under one label in a foreign country is the same formulation that we have in the USA.) Like I also said, "Gorilla Glue" has different types, so Gorilla Wood Glue is a PVA and not a PUR.
Bottom line is that PUR has a lot going for it, when used properly. But it is more expensive.Oftentimes we do not need all the extra strength or whatever it offers, so why spend the extra money?
---
5/20/13 #25: Gorilla glue, just curious ...


Website: http://www.acornwoodworks.com
Marco - I also am curious as to how woodworking is different in a humid/tropical climate. Around here (Midwest US), if wood isn't around 6-8% MC (interior work, hardwoods) it is liable to move as it gets down to the local EMC.
As we all (should ) know, one glue is not the answer for every use. Different woods, uses and joinery require different characteristics. Viva la difference!
So if your wood is less dry, then the local EMC must be higher. The items on your website (nice work, by the way) are not rustic, slapped together things but show a refinement of design and method that requires excellent joints. You really do show a lot of faith in the glue - as you say, your livelihood depends upon it.
I always liked the way the GG worked - good sanding, easy clean up, once cured, and long open time. I was put off by strength tests that showed a lower strength in various joints than other glues.
---
5/20/13 #26: Gorilla glue, just curious ...


David,
I have to confess I did not go to Marco's website when I responded to this issue. Sometimes I take a minute and look at a poster's business site and sometimes I just push on to the next task at hand. I should have spent a few minutes with Marco.
Marco,
Really great design and construction. We all see a lot of photos of other peoples work here on Woodweb. Much of it is worthy of a longer and more studied look. In my opinion yours is right up there with the nicest of what I've seen over the years and definitely worthy of an extended visit to your website for some really great eye candy.
Thanks for sharing.
BH Davis
---
5/20/13 #27: Gorilla glue, just curious ...


Marco, Very nice work and the perfect application for PUR.
---
5/20/13 #28: Gorilla glue, just curious ...


Website: Bogazzi.com
Woodworking in Panama is like this:
Amazing variety of lumber - all of it is cut into manageable blocks (unfortunately, due to lack of large chainsaws, large diameter trees are cut up into smaller blocks) and dried as blocks.
So when I go to the sawmill, I am choosing amongst blocks, 90% of which are checked to varying degrees on the ends. You try to select the driest BLOCKS - they usually mix them up (dry blocks doesnīt get stacked to the top).
They cut your blocks to whatever thickness you want - worst thing is not only does every boards share the checks, every board has a different humidity - Iīve seen the first boards come off dry, bowing like frying bacon, and as they approach the middle of the block it stays flatter but is darker (wetter). Alot of times sun is on the blocks, which causes hugely uneven stresses.
After a few years of this you learn to select blocks of certain species which are not necessarily dry, but straight grained and whose movement is predictable. Then you design each piece and allow for movement in only one plane. It sounds horrific (and at times it was!) but it worked, if you respected wood movement and planned for it (the same way green wood chairmakers work).
After a few more years of dealing with this, the main problem to avoid was not wood movement, but ensuring that fungi didnīt develop.
At the end of the day when I would close the shop, I would have to sandwich the wood panels that I glued up earlier in the day between plywood, because if I didnīt the boards would be cupped the next day (they would dry a little on the exposed face). It was not the humidity in the air that affects the glue, its the humidity in the wood. That why I depended on GG.
I BECAME OBSESSED WITH FLATNESS!!! That was my greatest challenge, and had to learn how to deal with cupping, it was like a moving target.
I just moved to Atlanta and bought lumber and find myself employing habits that I developed in Panama for working humid lumber, and am SO relieved at the stability of the lumber here.
Yes, some say, "you shouldīve built a kiln", that is true, but drying my own lumber was not a luxury I could afford - isnīt drying lumber a business in and of itself?
---
5/20/13 #29: Gorilla glue, just curious ...


Interior woodwork SHALL be built from lumber that has been properly dried to an appropriate EMC suitable for the climate in which it will be installed.
Anything less only serves to lower the bar. You cannot simply build woodwork any way you desire from whatever material happens to be readily available. If you can't afford the necessary material, you cannot build and sell woodwork to the public.
As a professional you have a duty to uphold certain standards of quality. Such standards have been derived through science, and practical experience of many skilled tradesmen.
Anything short would be a disservice to the general public whom places trust in the professionals whom they deal with.
Suggesting the use of wet lumber for quality interior woodwork is uncalled for, and unprofessional, and deviates from what would be expected of someone with a basic understanding of woodworking.
It is one thing to use whatever is convenient for low quality rustic work and even that is questionable. However there are countless professionals who go to great lengths to do things the right way.
---
5/20/13 #30: Gorilla glue, just curious ...


Dry kilns are a little over 100 years old. Prior to that time, kiln drying was not used even for fine furniture. In fact, kiln drying only became important when central heating was used.
When one is rich, one can define quality differently than when one has less money.
---
5/20/13 #31: Gorilla glue, just curious ...


In the past 100 years we have seen forced air heating systems and mechanical air-conditiong, and dehumidification systems. Furthermore standards of living have changed resulting in dehumidification in humid climates to reduced/prevent mold growth.
People who admit to using wet wood that has not even been properly air dried and seasoned, and then suggest band aid fixes for the resulting problems are not an asset to the trade.
---
5/21/13 #32: Gorilla glue, just curious ...


Website: Bogazzi.com
I was only an asset to my clients, who to this day are enjoying their furniture.
---
5/21/13 #33: Gorilla glue, just curious ...


Well now I just have to post on here again... Thanks again for mentioning gorilla glue on this site Peter, it's almost as bad as talking about melamine and joints other than dovetails.
There is a time and a place for everything. I don't use gorilla glue often, but it's not to be disregarded.
To you Marco, the furniture looks amazing, if they're your designs, I'll hold you in even higher regard.
To everyone else who may have lost their marbles over the subject, maybe take a trip down to panama and take a look at the material firsthand. Call me crazy, but I don't think he was using birch or maple down there.
In my experience, the exotic (to us) woods tend to grow a little differently. Generally taller as they're competing in more of a rainforest environment with very few limbs growing anywhere but near the top. Think more like the old growth fir we used here generations ago. Nice stuff, wasn't kiln dried, never really shrank.
In fact I still have lots of it in my home that's over 100 years old, and even with my a/c running in the humid summers, it refuses to shrink. Where as the mdf that I've put in the top floor, which was primed all 4 sides, glued at every joint, nailed into every stud moves around more than the dog.
---
5/21/13 #34: Gorilla glue, just curious ...


I took a couple of pics of the adhesive I was talking about in my previous post.
I had hoped to find a link on the companies web site but had a hard time in Danish...lol
Its a good glue in certain applications, It doesn't foam too much and hardens within a few minutes and cures in 24 hours.
I would not use this in every circumstance but like I said for fitting door and door frames together this works great!
Chaim


View higher quality, full size image (786 X 2437)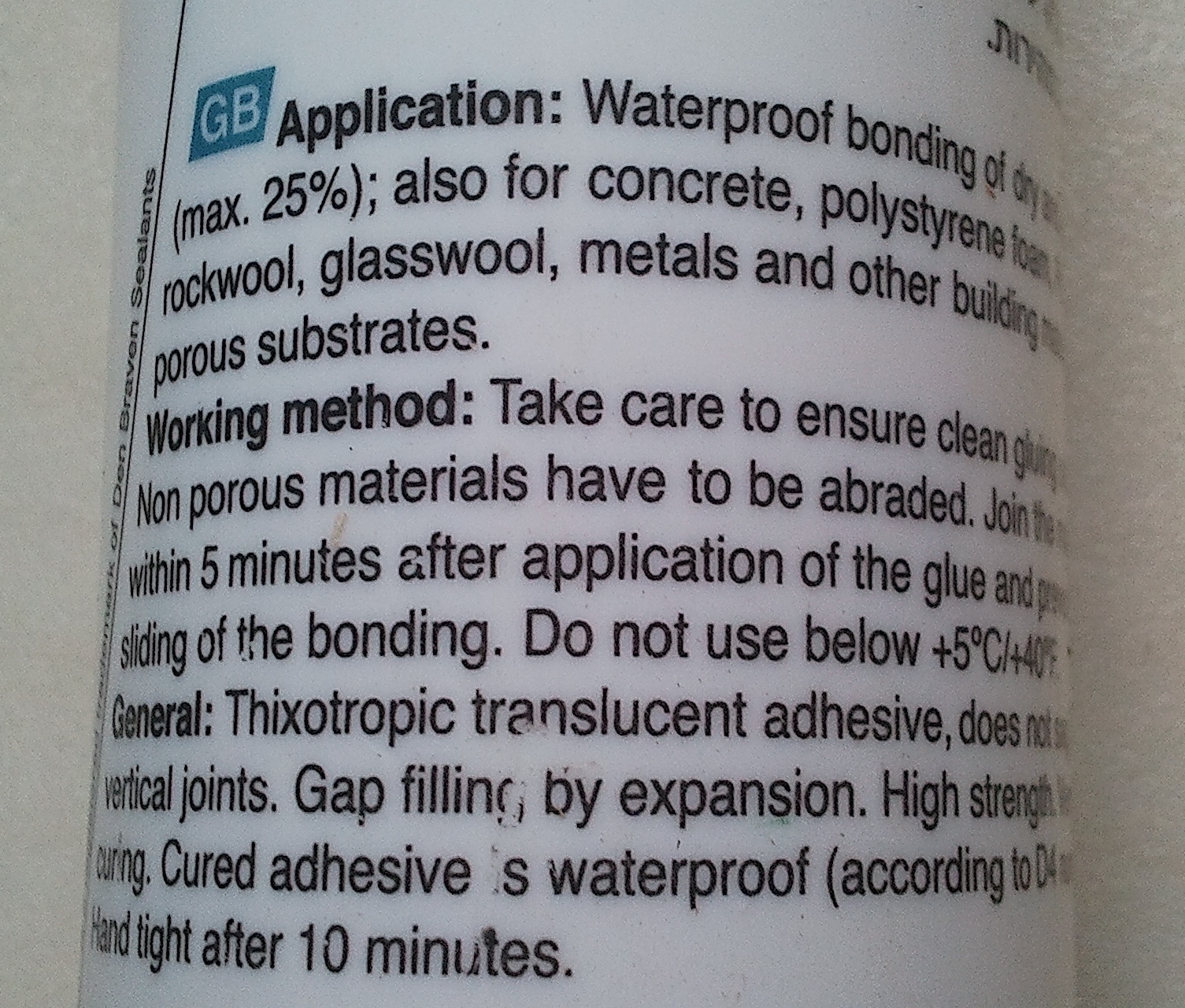 View higher quality, full size image (1505 X 1280)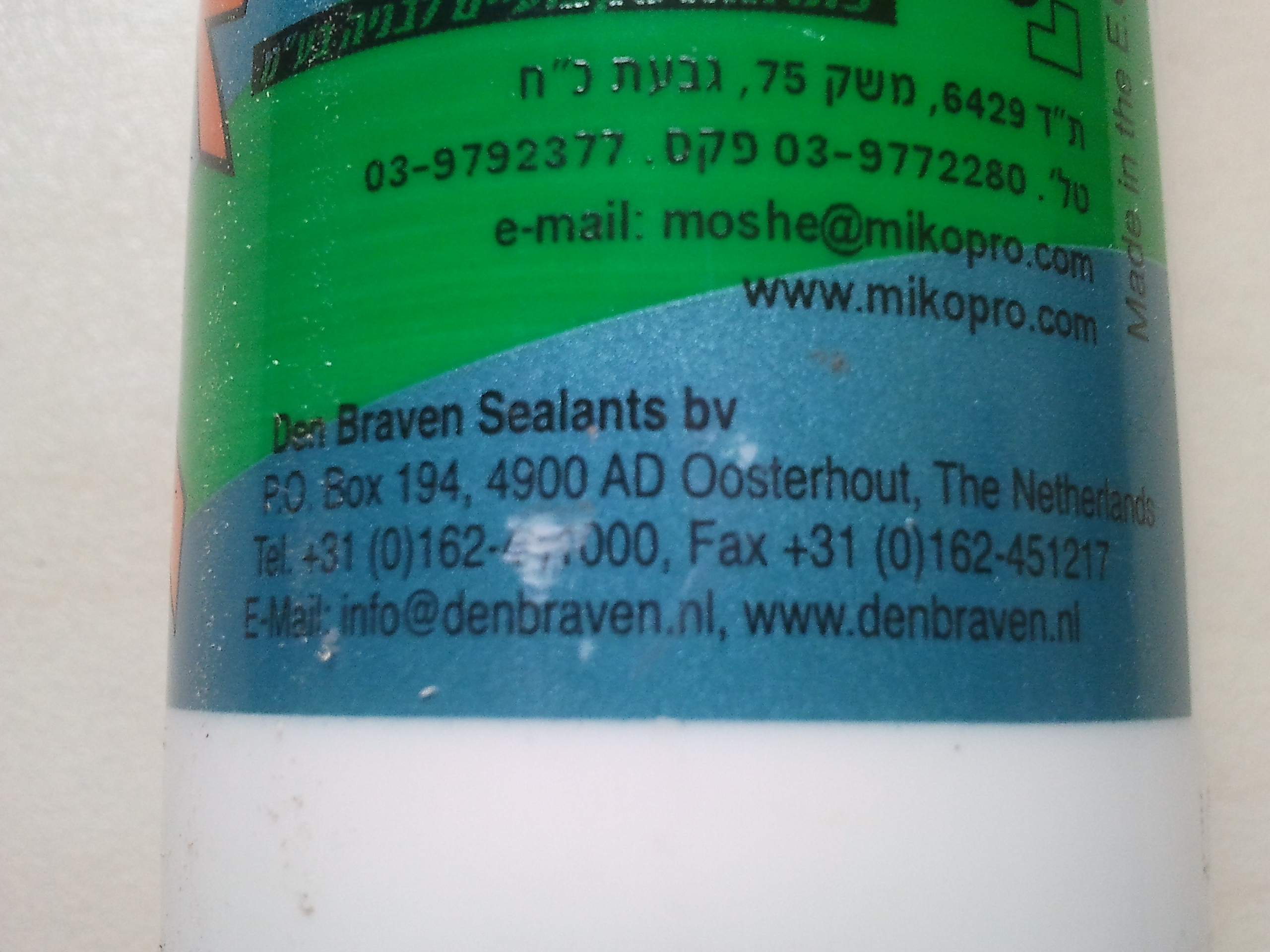 View higher quality, full size image (2560 X 1920)

---
5/21/13 #35: Gorilla glue, just curious ...


Dave, here is an example - there are many US doctors who have very successful practices, all proceures are followed, they have all the latest tools and supplies. Those same doctors on ocassion will do volunteer trips abroad to areas that need medical attention - areas where they donīt have half the materials, supplies, and setup that they would here in the US and yet they save lives or make them better. Would you tell them that they are lowering the standards of their profession because they are doing this without the optimal setup they had in the US?
---
5/21/13 #36: Gorilla glue, just curious ...


The last time I checked Panama was not on the same level as Haiti or Somalia.
Drying wood is a basic skill that does not require sophisticated technology. A moisture meter should not be impossible to get unless your in North Korea.

---
5/21/13 #37: Gorilla glue, just curious ...


Dave, have you looked at his website? Have you seen his work? I think making assumptions that everyone should work the way YOU think is correct is a bit closed minded. There are countless shops in this country working with properly kiln dried woods that are making garbage.
Either you make quality work out of the materials at hand, or you don't. To imply that his work is any less quality based on such assumptions is unwise at best.
JeffD
---
5/21/13 #38: Gorilla glue, just curious ...


You must use quality materials.

---
5/21/13 #39: Gorilla glue, just curious ...


Anything less is not professional.

---
5/21/13 #40: Gorilla glue, just curious ...


Sorry Dave, but I think your still making a lot of assumptions. How would you establish the quality of the materials based on the method of drying? FWIW if you have a local museum with antique furniture on display....it was not kiln dried;>)
Now I could be wrong on this, but I'm thinking there's probably not a lot of central heating in Panama? So that point is probably moot?
Having been lucky enough to have done some traveling in different countries I've seen a lot of high quality work done with what was at hand. The fact that it's still there in some cases hundreds of years later, is a testament to that quality. No kilns, no CNC's or other expensive equipment, and no Gorilla glue....I'd still say it was done by professionals:>)
Anyway we can disagree I suppose, but you may want to at least consider the possibility that the whole world doesn't do things the way we do in our little corner of it;>)
good luck,
JeffD
---
5/21/13 #41: Gorilla glue, just curious ...


I was logging in to say exactly what JeffD has just expressed. Thank you Jeff.
I don't mean to be rude but the criticism being directed at a genuinely gifted craftsman producing projects that are obviously of the highest quality level in design and workmanship is totally misguided. Unless Marco is a complete fraud in his online portfolio..........which I doubt to be the case........his work is to be commended, not criticized.
One works with what one has at hand. To study and learn how to turn those less than ideal conditions into well built and long lasting products is the ideal we should ALL be striving towards. What impresses me the most about Marco's work is that he has studied and learned how to accomplish this goal with material that starts at such a less than ideal condition.
Kiln dried wood is not always the best answer in every situation. Ask any steam bender or turner what they want to start with for many projects. And as Dr. Wengert so accurately pointed out it is modern living conditions that dictate the need for the moisture content levels achieved by the kiln. If Marco has figured out a way to take the air drying process (which is giving him the needed moisture content level for Central America) from pre-construction to post-construction there is nothing at all wrong with that. Not many are willing to study a situation to the extent required to bring about a successful result under those conditons.
BH Davis
---
5/21/13 #42: Gorilla glue, just curious ...


Website: http://www.acornwoodworks.com
Strident pronouncements and a commanded adherence to one person's world view do not a professional make.
In fact, we have all been humbled often by this material we profess to admire - even love. That humility has taught us all to open up, loosen up and find a way. This broadens our skills and knowledge in such a way that not only makes us better woodworkers, but enables a wider, more accepting view of the world around us.
Marco found a way to adapt to his tropical environment and still have the satisfaction of making fine objects, satisfying his clients and supporting his family - all very worthy achievements. He has not demanded my respect, but he certainly has it, and I can confidently call him a professional.
In short, I would invite anyone with such a different/radical view to post some photos to see if others would view that body of work as Marco's is viewed - and accepted. It certainly would be a better way to make one's point than to just lecture on fundamentals.
---
5/22/13 #43: Gorilla glue, just curious ...


Dave,
First, let me say I have been involved in the woodworking profession for 40 years, building custom kitchen cabinetry and custom furniture for most of that time, along with a period of custom homebuilding and design. I have always strived to utilize the best materials available for the project on hand. That being said, most of the time I worked with air dried woods, harvested myself. A large percentage of those woods were not clear, select grade hardwoods but closer to a character grade as that was the look my customers loved. By your definition of only the best, I guess this was not very "proffesional" of me.
I wonder what some of the masters of our time, Sam Maloof, Tage Frid, George Nakashima, etc. would think of your rigid "rules"? I think it is much more important to understand the materials and know how to work with it's movements (All wood continues to move, even kiln dried wood) based on the enviroment it will be in. Marco seems to have accomplished this quite well. It's no different than someone building high end chairs from green wood as many highly skilled craftsman have for hundreds of years.
Second, while you have your right to your opinion, your comments were rude, vulgar, condescending, and have no place on this forum. There are ways to word your opinion that would have been more polite, you chose not to. Thankfully, most posters on this forum do not behave in this way. As to the original posted question, again, Gorilla Glue PUR is not my glue of choice but it does have it's place on my shelf.
---
5/22/13 #44: Gorilla glue, just curious ...


Certainly, one can try to post their opinion without specifically attacking or degrading the opinion of another.
So, regarding PUR adhesives, let's look specifically at hot-melts.
I do think we could use PUR hot-melt adhesives much more often that we presently do. We often think that hot melts are weak, for hobbyists, etc. Here is a bit of info about PUR hot melts. They do more than just cool and get solid...like other PUR adhesives, they also react with moisture to form an awesome bond.
Hot-melt PURs are solid at room temperature, but when heated to 250 F, flow very well. These hot adhesives, when applied to the wood, then cool and begin to provide good joint strength within 15 seconds to 3 minutes, depending on the formulation. The fast curing and good initial strength can often eliminate the need for nails and screws.
But here is what is different. PUR hot-melts involve two different curing mechanisms: First, as the adhesive cools, it solidifies and provides good bonding (as in the past and stated above). But then, the adhesive cures further (over the next 24 to 72 hours) by reacting with moisture in the wood and air, thereby providing cross-linking of wood and adhesive molecules and the high strength of a PUR adhesive.
PURs are noteworthy in that they do not contain moisture themselves, so the wood-moisture interaction (like sunken joints or warped veneer) are not an issue. And of course, clean-up is so easy.
---
5/22/13 #45: Gorilla glue, just curious ...


We gave hot melt PUR adhesive a test trial on our segmented construction curved mouldings a few years back. I thought it might be an alternative to the WorkRite wood welder for speeding up the curing of the joints. Plus I wondered if it might hold butt joints tightly enough not to require additional joinery. As most we typically would not send something out that has no joinery in butt joints but the PUR looked like it might hold some promise in this area.
The PUR worked well enough in terms of ease of use and strength of the butt joint. However it would not form nearly as thin a glue line as anything else we use.
Also even with very tightly pressed joints we found a raised lip at all joints when profiled. It appeared the PUR compressed slightly as moulder knives passed over the joint and then expanded back upwards on the order of 128th of an inch (or even less).........just enough so you could feel a rubber like ridge at every joint. Sanding did not help.
That along with the inconvenience of having to bring the glue and applicator up to temperature with each intermittent use ruled it out as a reasonable option for us.
BH Davis
---
5/22/13 #46: Gorilla glue, just curious ...


Well the hot melt PUR's are a different animal than the foaming liquid goo like Gorilla glue. My problem with the PUR's was even using the ones with a longer open time there was so little time to assemble that it became too difficult to get pieces together quickly enough. For many of the things I glue up several minutes are need from start to tightening the last clamp.
I bought one of the hobby systems for something like $125 or so some years and I don't think I had it more than a year before I gave it away. It was handy for certain things, but many were things I could have done with a basic hot melt glue gun for much less $$$. I'm sure the pro systems would give much better results, but for the work I do plain old yellow glue proved to be the better solution for most things.
JeffD
---
5/22/13 #47: Gorilla glue, just curious ...


When PVAs were first invented and marketed, they were white in color. When they were improved, the glue color changed to yellow. Not to be undone, some white glues added a yellow color too. So, today, the color does not indicate the type of PVA. So, when describing a PVA, it is possibly more helpful to add terms like "cross-linking" or even a trade name and number to indicate that it is a different adhesive than the old fashioned white PVA. Example: Consider the difference between TB, TB2 and TB3...all the same color and all PVAs, but properties are quite a bit different.
---
5/22/13 #48: Gorilla glue, just curious ...


Good point, and I'll just mention that I personally wouldn't mind if TB1 went back to white. There are certain applications where the clear glue line would be advantageous over the current yellow flavor;>)
JeffD
---
5/22/13 #49: Gorilla glue, just curious ...


We've got the 3M PUR hot system. It holds well and works to hold other materials to wood but does produce thick, by comparison, glue line. The working time even with the longest formulation is short compared to PVA. The longer it is left unclamped, if you are using it where it can be clamped, the thicker the glue line even if it is still with in the allowed time. So best used where you have "non-flush" joining. The gun, about $700+, the 4 tube preheater? can't remember the price, and the $70+/ 10oz. tube of glue, in case lots, certainly discourages much use.
---
5/22/13 #50: Gorilla glue, just curious ...


Larry is indeed right on target.
I do have one cabinetmaker client that uses hot melts for frame assembly. They get the pressure on within 10 to 12 seconds after glue application in order to avoid too thick a joint. They really like the slight flexibility of the joint, the ease of clean up of squeeze out, and the short clamp time. After 12 hours, they think the strength is comparable to PVAs and after 72 hours, it is much better. They are gluing some miter joints with some end grain characteristics, but not 100% end grain. I do not know their cost numbers, but the speed of assembly and the reduced repairs offset the higher cost, they say.
---
6/22/13 #51: Gorilla glue, just curious ...

Steve Smith

Member

Member

Website: http://www.smithandcompany.org
Full Disclosure: I'm a new advertiser here, and a chemist; my company manufactures epoxy adhesives and related things. This post has absolutely nothing to do with that.
I was looking thru this thread, and came to the picture of Jim Baldwin's hands.
Please do not do that. Wear rubber gloves, no matter how
uncomfortable, when using Gorilla Glue or other polyurethane
adhesives. They contain isocyanates, which are sensitizing agents; One
can become *sensitized* and then hypersensitive after some
indeterminate amount of exposure to isocyanates, and then cannot go
anywhere near them without a *strong* allergic reaction. It is a genetic
thing, with those of fair skin and/or reddish hair the most prone to
become sensitized.
Gorilla Glue contains methylene diphenyl diisocyanate monomer and
polymer. Dried, after full polymerization, it is harmless (unless you
burn it; then it liberates small amounts of highly toxic things, as
does most stuff). HOWEVER, in the liquid state, here is what you
should see on the MSDS and expect in real life:
EXPOSURE GUIDELINES:
Medical supervision of all employees who handle or come in contact
with respiratory sensitizers is recommended. Persons with respiratory
problems including asthmatic-type conditions, chronic bronchitis,
other chronic respiratory diseases or recurrent skin eczema or skin
allergies should be evaluated for their suitability of working with
this product. Once a person is diagnosed as sensitized, no further
exposure to the material that caused the sensitization should be
permitted.
HAZARDOUS INGREDIENT(S):
4,4' -Diphenylmethane Diisocyanate:
ACGIH TLV 0.005 ppm (8-hour, 40 hours/week)
OSHA PEL CEILING 0.02 ppm
NIOSH PEL/TWA 0.005 ppm (10-hour, 40 hours/week)
NIOSH PEL/CEILING 0.02 ppm (10-minute)
ppm = parts per million
There is nothing "wrong" with Gorilla Glue, used for what it will do well and used with appropriate hygiene precautions. As with most chemicals, please don't get that stuff on your bare skin, as it may do unexpected and unwelcome things in the days and years to come.
---
6/24/13 #53: Gorilla glue, just curious ...


I love the pic of "your hands" Jim. I used GG for a dozen or more outdoor projects using green lumber (mostly cedar). I hated that crap every minute I used it. I have since found several other products that are better for my work.
Mike
---
6/24/13 #54: Gorilla glue, just curious ...


Mr. smith's comments are worth a million.
For any adhesive or chemical, Google the name of the product and then add MSDS. You will get a listing of the document that indicates risks, exposure guidelines, etc. for that product. For example, for Titebond PUR, which is a good, widely used adhesive (but is not TB 1, 2 or 3, which are pva type), try POLYURETHANE TITEBOND MSDS. The fourth entry down when I do that search has the MSDS reproduced by Rockler with all the precautions mentioned by Mr. Smith and even a bit more. In spite of the cautions, I do suggest that PUR is often the best choice when used properly.
---
6/29/13 #55: Gorilla glue, just curious ...


I've no direct experience of GG PU, but have successfully used liquid PUs and have some background in industrial adhesives R&D.
It seems to me that the major cause of criticism of liquid PUs on wood is the requirement for tight fits and high clamping forces to prevent foaming.
Most of the failures reported seem to emanate from a lack of awareness of the need for this to avoid gaps filled by weak foam - and that these failures have led to generalised but unfounded criticism.
PU is in the wider engineering and technical world a respected structural adhesive with its own characteristics and some great properties - a respected member of the family of adhesives.
One size fits all claims haven't helped its reputation in woodworking - but are typical of most commonly used woodworking adhesives. (those targeting some structural/mission critical applications excepted)
As a user group we're not very good at differentiating between the properties of the different adhesive systems either....
PVA adhesives are a case in point. We're very used to them, they're pretty versatile and there's acres of flashy advertising material about pushing them - but has anybody here ever tried running to ground the information needed to actually design a glued joint using one?
ian
---
8/20/13 #56: Gorilla glue, just curious ...


From my experience problems with Gorilla Glue are primarily created by lack of knowledge and proper procedures on the part of the user, not by the glue. We use GG for practically everything in our shop, not because it is the strongest glue on the planet but rather because it works so well.
It does have a decent learning curve and if you don't use it properly it can be problematic, much like any other glue. GG gets lots of bad press and negative comments from those who have tried it once, failed to get the results they wanted and decided it was the glues fault rather that a lack of experience or knowledge on the part of the user. We use it daily for veneering, solid wood assembly, joinery, laminating dissimilar materials, etc. So far we have had 0 failures, 0 problems and 0 reasons to not love how it performs.
Clearly there are those here who have had other experiences, just as clearly it is probably their own fault and not the glues. Just my two cents. Now if you want to talk about Unibond 800 problems I've got a stack of them to discuss. Again could be the end user that's creating the problem and that would be me in this case. To each his own I suppose.
---
8/21/13 #57: Gorilla glue, just curious ...


Nothing much to add to the post concerning GG but I can empathize with Marco. I live in Mexico and I have had the pleasure of using many fine woods though often they have not been in optimal condition.
I was able to go into the jungle last year and cut dead standing Tzalam trees and, with the help of another guy, we cut them into boards using a chainsaw.
---
4/10/14 #58: Gorilla glue, just curious ...


Website: gregaanesfurniture.com
We find ourselves using loctite PL (polyurethane) construction adhesive for many applications. Does not foam, long open time, great feel while gluing up. Have even used it for veneering in a vacuum press, just squeegee it out thin.
The cons: slow cure time (no I won't spray our woodwork with water to accelerate the cure time unless its shop fixtures), and an ugly and sometimes large glue line. It is just one more tool in the toolkit, perfect at certain times.
---
11/17/14 #59: Gorilla glue, just curious ...


Website: http://www.resetpreacher.com
I have done a bit of woodwork in the past but not on the level with you guys. I damaged my 12-string Guild guitar neck by forgetting my stand. The wood is high figure maple. There is a 3 inch crack now running through the middle. As getting glue in the crack was difficult, I thought GG would expand more into the crack and do a better repair than Elmer's wood glue. Boy was I wrong. In time it reacts as if I had not repaired it at all. Now I have no way to remove the GG. My question is, which glue is most likely to bond with it and the wood for a permanent repair?
---
11/17/14 #60: Gorilla glue, just curious ...


First, as I stated before, there are many PUR adhesives.
At this time, you have one choice as I see it...you need to open the crack with a very small router to remove the old adhesive and form a straight sided, potentially "nice looking"repair. Then put in a wood spline that fits not too snugly and also fill the opening with epoxy. Epoxy can maintain very high strength with a large gap. (Epoxy requires a thick joint. Some of the bad reports about epoxy are because too much pressure was used, especially with a tight fitting joint, so that the joint itself was not thick enough.) Many high quality guitars and stringed instruments do use epoxy, so I suspect that the tonal properties will be ok.
---
11/20/14 #61: Gorilla glue, just curious ...


Website: http://www.resetpreacher.com
I'm thinking about going ahead and using epoxy on the crack on my guitar. If that doesn't work I could alway try something more radical like using separating disk to clean out a section on each side of the crack and then using epoxy. The disk is only a mm thick, though of course the cut out will be a bit thicker. And as the crack is not completely straight the gap left will be larger in places. I've never used epoxy with wood. Can I use ordinary household type or do I need a special kind?
I can add sawdust of the right color to the outside edge to help hide it. When I use epoxy on other materials I like the stronger long setting kind and then heat it a bit with a hair dryer so it will set up quicker.
---
11/20/14 #63: Gorilla glue, just curious ...


Kent,
No offense, but music instrument repair is a job best left to a professional (as evidenced by your failed Elmer's glue-up job).
First of all, the idea with any crack is to close the crack if possible. That would've involved glue-injection, clamping, refinish touch-up and a music-shop guarantee. If the crack was from internal forces and deemed not repairable or close-able, than it would've involved a pigmented filler. If the crack is structural and not repairable, than the neck would be replaced. All these variables are easily ascertained by an instrument repairman.
If this is a valued instrument, than you might consider reserving your hand-work to playing the guitar only and deliver it "as is" into the hands of a professional (before you do further damage).
If you persist with your sawdust/gorilla/epoxy over Elmer's, you will most likely fall flat.
I sorry to be so james blunt
---
11/20/14 #64: Gorilla glue, just curious ...


Jim, you seemed to have missed the point of this thread - it was Gorilla Glue I used. Frankly, I think Elmers wood glue would have done a better job of holding. Now dealing with the GG, I suspect a professional would want to do a more major (and expensive) job that I can't afford. Also as I'm overseas with the U.S. military, I can't afford the expense of shipping it (weighs twice as much as any other guitar I've owned. I also have often sing during the Christmas season and really need to give it another try.
As epoxy seems to hold well with a gap, that is the glue I'm looking at. Though my experience gluing wood may not be on the par with yours, decades of professionally making and repairing both watches and jewelry have given me plenty of experience with epoxy.

---
11/20/14 #65: Gorilla glue, just curious ...


A bit further of my thinking: what are the chances a luthier has dealt with this exact situation? Unless he cuts out a section and glues new wood, he may be experimenting as much as I. If we were dealing with the top or body, there would be a chance of messing up the sound of the guitar. But that is not the case with the neck. As long as it is stable we're good to go. I checked with Guild just to see what a new neck would cost and they don't have it nor would they build one.
---
11/22/14 #66: Gorilla glue, just curious ...


I contacted West Systems for advise on which of their glues to use. They took enough interest to request pictures. I'm impressed! I'll let you know what they say.
I thought I might as well post them here.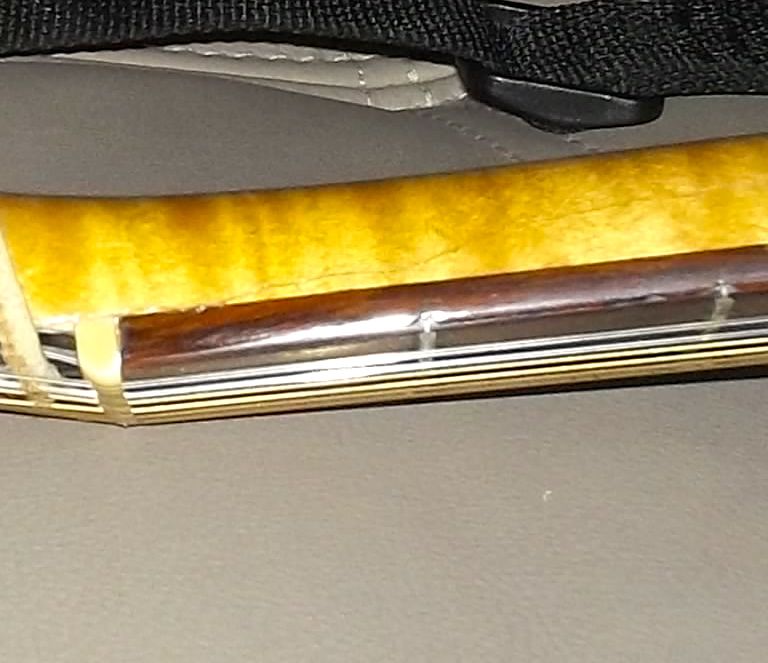 View higher quality, full size image (768 X 663)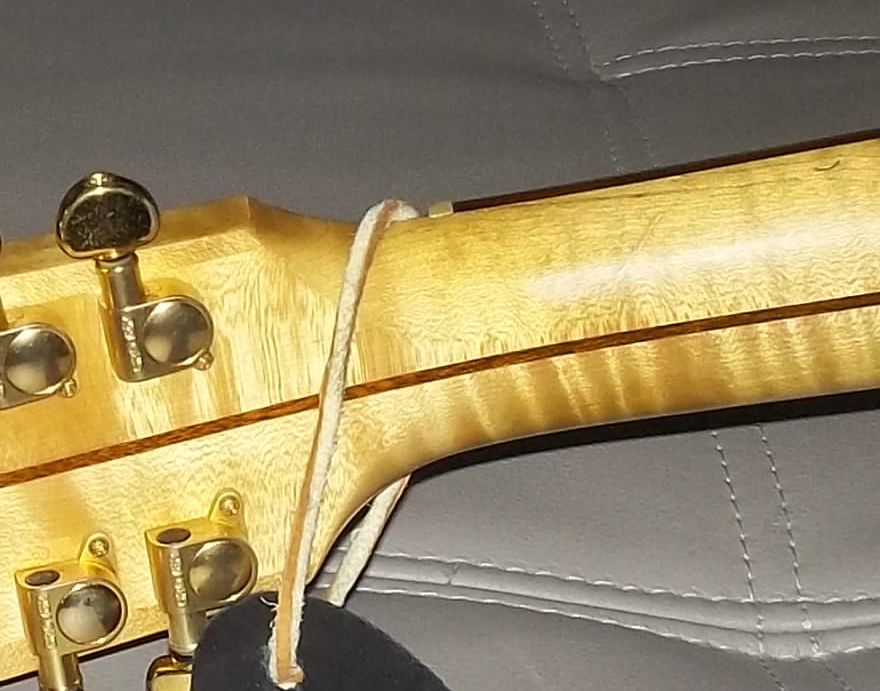 View higher quality, full size image (880 X 691)

---
11/22/14 #67: Gorilla glue, just curious ...


Kent, I know this is post is about GG but you're asking for advise after you've already used it and made a mess. To answer your question then, there is no glue which will bond permanently with the GG and result in an adequate repair. In truth you've probably ruined the instrument (this is something which I didn't want to say).
As far as I'm aware, GG has no accepted application in the construction or repair of wood-winds or stringed instruments. The so-called "gap-filling" properties of GG is nothing more than foaming bubbles which have no structural benefits, while permanently staining and sticking to everything.
As I've said before, there are proper methods of making repairs but you've gotten off on on the wrong foot and I fear the worst.
For starters, hot hide-glue is traditional and still the best glue for repairs and construction. I could go into a long dissertation but this wouldn't undo the damage you've already done. You may as well get out your grinder and epoxy and give it your best shot. I sincerely wish you luck though and I thank you for your military service too.
As I'm sure you know, twelve-string guitars are inherently hard on guitar necks and you're not the only one who's had problems. I believe it's a common practice to leave the strings loose when not in use. This of course is no fun since you now have 12 strings to tune each time you pick it up. My own 12 string developed a bowed neck which would not come straight for either love or money. It was heartbreaking. I also had an antique zither which literately pulled itself to pieces. Now I fool around with a 3 or 4 string dulcimer.
I guess you also have guessed by now that woodworking is quite a bit different that watch or jewelery repair. Still, craftsmen like yourself will always find ways of doing good work. If it were my problem, I would probably make a whole new neck and not out of maple, which is too brittle.
Good luck.
---
11/22/14 #68: Gorilla glue, just curious ...


OK I found this and other stuff...
Beautiful guitar...You need to find a way of opening the crack and injecting glue (not thick epoxy) and clamp, If you've got an internal truss rod, perhaps you might loosen it a bit and let the string-tension open the crack just enough to admit glue.
I believe however, that the problem is the figured maple which is not fibrous enough to fight all12 strings. If the truss-rod is not kept adjusted, the wood is going to fail and perhaps it will again no matter what you do. I believe I'd call this a (very pretty) design flaw.
Article
---
11/22/14 #69: Gorilla glue, just curious ...


This is the third 12-string I've owned. Before this accident it held a tune amazingly well, much better than the others. I believe this is due to the laminate down the middle of the neck. Unfortunately this same feature now prevents the crack from being opened up much. I found I could open it a little by twisting the top a bit to the side. I did clamp the joint fairly well before. From what I've read on this forum, this actually may have caused the GG to fail. West Systems makes an epoxy that is supposed to be pretty thin.
---
11/22/14 #70: Gorilla glue, just curious ...


The recent link points to Stewart McDonald.
As far as I know, there is no better source
for guitar related materials - they may a bit
pricey, but the cost is relative.
I would go as far to say if the glue isn't
available at StewMac, then it isn't something
you should be using for instrument repair.
Dan Ereliwine at StewMac has probably forgotten
more about guitar repair then all of us combined
will ever know - peruse their archives for
repair tips - and they have a "question" type
form at the site - who knows, maybe you'll get
lucky and get a response that will get you headed
in the right direction.
If you do, please post the results here.
As for maple being a bad species for guitar necks,
Fender has produced possibly millions of guitars
with maple necks. My experience has been that neck
behavior and longevity has a lot more to do with
the makeup of the piece of wood and the tree it
came from (old growth, quarter sawn, etc.) then
the species (from the range of acceptable species,
of course)
---
11/22/14 #71: Gorilla glue, just curious ...


Yes there is a thinned-out epoxy (like water) which is for penetrating and sealing surfaces, but it's way to thin to be regarded as a structural glue. Besides as has already been said, the strength of epoxy lies in a thicker glue-line and clamping is counter-productive to that. A clamped wood glue-joint, is the best possible joint and superior to epoxy bonding.
Assembly-glue for wood instruments is usually water soluble and this allows for some dis-assembly and repair as required. It also allows for complete water clean-up which is non-negotiable. A properly joined and clamped glue-joint then, is stronger than the wood fibers and this is your goal. Don't be afraid to remove the fret board and even the neck from the body, as you're already in a desperate situation. Your only hope lies in a proper and professional glue-joint. Unfortunately, given the highly figured maple, I'd say your chances for complete success, are not particularly promising. It's definitely worth a try though, as 12 strings don't come cheap.
---
11/22/14 #72: Gorilla glue, just curious ...


I agree with every word from woody...
---
11/23/14 #73: Gorilla glue, just curious ...


Thanks, Woody, I appreciate learning about stewmac. I appreciate your chiming in. I notice in their teaching on truss rods that they recommend epoxy for instillation. Jim, I made two big mistakes, the biggest not preventing the accident to start with. I do appreciate your advise. But I do not believe I have ruined the guitar. Two ideas have come to me. I could cut out a good sized piece out of the middle of the top of the neck,under the the fretboard. This would leave side pieces of the maple for show. It could be a more strong and stable wood, plywood or even another material (Martin used square steel bars in some of their guitars). Or even less intrusive, steel tubing (round or square depending on the shape of the chanel) might be mounted and glued around the truss rods in the area of the crack and just on either side of it. This sounds like less work than building a new neck and would leave the guitar looking closer to original.
---
9/12/16 #74: Gorilla glue, just curious ...


just thinking if u need help, maybe can ask here: www.saglumanist.com
---
8/22/18 #75: Gorilla glue, just curious ...


AH Gorilla Glue!!!!
In the mid 90s, I was working in seattle for an outfit who did special work on special problems. One big problem in that city was water leaking through concrete foundations, walls etc.etc..
We would drill holes on a 45 degree through the wall and intersect the crack back inside the wall, We would then place an expanding port into the hole, tighten it up and inject a special "grout" under great pressure into the crack. The grout ...when mixed with the water in the leaking crack would foam ....expand ...and follow the crack as it expanded, sealing the crack entirely, If the crack was dry at the time we worked on the problem, we would inject water ahead of the grout.. about the year 2000, I came back home. One day, needing some glue, I went to the local dealer and noticed this new glue called Gorilla Glue and thought I would give it a try. I nearly fell over when i started to use it. Yeah!!! the same stuff I used 5 gallons at a time
---

---
Buy & Sell Exchanges | Forums | Galleries | Other Resources | Site Map
---

Buy and Sell Exchanges

Job Opportunities and Services Exchange
Employment opportunities and services within the woodworking industry

Lumber Exchange
A worldwide buy/sell exchange for lumber and wood products

Machinery Exchange
A worldwide buyer and seller exchange for woodworking machinery and equipment.

Classified Ad Exchange
Classified advertising for the woodworking industry (for advertisements that do not include machinery, lumber products and employment listings)


---

Forums

Adhesives Forum
Discussing topics related to adhesives within the woodworking industry

Architectural Woodworking Forum
Discussing quality standards and production of architectural wood products

Business and Management Forum
A forum for the discussion of business topics: from sales and marketing to dealing with difficult customers.

Cabinet and Millwork Installation Forum
Discussing all aspects of installation issues encountered by cabinet and millwork installers.

Cabinetmaking Forum
Discussing 32mm and face frame cabinet construction including fabrication, casegoods design, and installation.

CAD Forum
Shedding light on the all-too-often shadowy world of CAD.

CNC Forum
Discussing CNC (computer numerically controlled) woodworking equipment, software, and automated product manufacturing.

Dust Collection, Safety and Plant Operation Forum
Discussing topics related to maintaining a safe and productive working environment.

Professional Finishing Forum
Finishing issues for the production environment

Forestry Forum
The science and art of forest cultivation and timber management, planting, surveying, tree diseases, silviculture and timber harvesting

Professional Furniture Making Forum
Helping professional furniture makers improve quality, save time, and increase profits

Laminating and Solid Surfacing Forum
Issues related to laminating and solid surface materials and processes

Commercial Kiln Drying Forum
Discussions covering issues faced be commercial drying operations that process at least 750,000 bd. ft. of lumber per year

Sawing and Drying Forum
Discussing topics related to primary processing and drying of lumber

Solid Wood Machining Forum
Discussing topics related to the machining of solid wood

Value Added Wood Products Forum
Learn how to improve your output, find new markets, and boost sales of your lumber products

Veneer Forum
Discussing topics related to veneer processing, manufacturing, and fabrication

WOODnetWORK
An electronic discussion group for woodworkers throughout the world


---

Galleries

Project Gallery
Where professional woodworkers can post examples of their work

Sawmill Gallery
Professional primary processing companies display and describe their sawmill facilities

Shop Gallery
Professional woodworkers display and describe their shop facilities, products and equipment

Shopbuilt Equipment Gallery
Professional woodworker's jigs, rigs, and shopbuilt equipment


---

Other Resources

Industry News
Late-breaking news from all sectors of the wood industry

Video Library
Index of industrial woodworking related digital videos on the web

Auctions, Sales and Special Offers
Advertisers offering woodworkers discounted prices on good and services, and announcements of upcoming auctions

FORUM GUIDELINES: Please review the guidelines below before posting at WOODWEB's Interactive Message Boards (return to top)


WOODWEB is a professional industrial woodworking site. Hobbyist and homeowner woodworking questions are inappropriate.
Messages should be kept reasonably short and on topic, relating to the focus of the forum. Responses should relate to the original question.
A valid email return address must be included with each message.
Advertising is inappropriate. The only exceptions are the Classified Ads Exchange, Machinery Exchange, Lumber Exchange, and Job Opportunities and Services Exchange. When posting listings in these areas, review the posting instructions carefully.
Subject lines may be edited for length and clarity.
"Cross posting" is not permitted. Choose the best forum for your question, and post your question at one forum only.
Messages requesting private responses will be removed - Forums are designed to provide information and assistance for all of our visitors. Private response requests are appropriate at WOODWEB's Exchanges and Job Opportunities and Services.
Messages that accuse businesses or individuals of alleged negative actions or behavior are inappropriate since WOODWEB is unable to verify or substantiate the claims.
Posts with the intent of soliciting answers to surveys are not appropriate. Contact WOODWEB for more information on initiating a survey.
Excessive forum participation by an individual upsets the balance of a healthy forum atmosphere. Individuals who excessively post responses containing marginal content will be considered repeat forum abusers.
Responses that initiate or support inappropriate and off-topic discussion of general politics detract from the professional woodworking focus of WOODWEB, and will be removed.
Participants are encouraged to use their real name when posting. Intentionally using another persons name is prohibited, and posts of this nature will be removed at WOODWEB's discretion.
Comments, questions, or criticisms regarding Forum policies should be directed to WOODWEB's Systems Administrator
(return to top).

Carefully review your message before clicking on the "Send Message" button - you will not be able to revise the message once it has been sent.

You will be notified of responses to the message(s) you posted via email. Be sure to enter your email address correctly.

WOODWEB's forums are a highly regarded resource for professional woodworkers. Messages and responses that are crafted in a professional and civil manner strengthen this resource. Messages that do not reflect a professional tone reduce the value of our forums.

Messages are inappropriate when their content: is deemed libelous in nature or is based on rumor, fails to meet basic standards of decorum, contains blatant advertising or inappropriate emphasis on self promotion (return to top).

Libel: Posts which defame an individual or organization, or employ a tone which can be viewed as malicious in nature. Words, pictures, or cartoons which expose a person or organization to public hatred, shame, disgrace, or ridicule, or induce an ill opinion of a person or organization, are libelous.

Improper Decorum: Posts which are profane, inciting, disrespectful or uncivil in tone, or maliciously worded. This also includes the venting of unsubstantiated opinions. Such messages do little to illuminate a given topic, and often have the opposite effect. Constructive criticism is acceptable (return to top).

Advertising: The purpose of WOODWEB Forums is to provide answers, not an advertising venue. Companies participating in a Forum discussion should provide specific answers to posted questions. WOODWEB suggests that businesses include an appropriately crafted signature in order to identify their company. A well meaning post that seems to be on-topic but contains a product reference may do your business more harm than good in the Forum environment. Forum users may perceive your references to specific products as unsolicited advertising (spam) and consciously avoid your web site or services. A well-crafted signature is an appropriate way to advertise your services that will not offend potential customers. Signatures should be limited to 4-6 lines, and may contain information that identifies the type of business you're in, your URL and email address (return to top).

Repeated Forum Abuse: Forum participants who repeatedly fail to follow WOODWEB's Forum Guidelines may encounter difficulty when attempting to post messages.

There are often situations when the original message asks for opinions: "What is the best widget for my type of shop?". To a certain extent, the person posting the message is responsible for including specific questions within the message. An open ended question (like the one above) invites responses that may read as sales pitches. WOODWEB suggests that companies responding to such a question provide detailed and substantive replies rather than responses that read as a one-sided product promotion. It has been WOODWEB's experience that substantive responses are held in higher regard by our readers (return to top).

The staff of WOODWEB assume no responsibility for the accuracy, content, or outcome of any posting transmitted at WOODWEB's Message Boards. Participants should undertake the use of machinery, materials and methods discussed at WOODWEB's Message Boards after considerate evaluation, and at their own risk. WOODWEB reserves the right to delete any messages it deems inappropriate. (return to top)



Forum Posting Form Guidelines

Your Name
The name you enter in this field will be the name that appears with your post or response (return to form).
Your Website
Personal or business website links must point to the author's website. Inappropriate links will be removed without notice, and at WOODWEB's sole discretion. WOODWEB reserves the right to delete any messages with links it deems inappropriate. (return to form)
E-Mail Address
Your e-mail address will not be publicly viewable. Forum participants will be able to contact you using a contact link (included with your post) that is substituted for your actual address. You must include a valid email address in this field. (return to form)
Subject
Subject may be edited for length and clarity. Subject lines should provide an indication of the content of your post. (return to form)
Thread Related Link and Image Guidelines
Thread Related Links posted at WOODWEB's Forums and Exchanges should point to locations that provide supporting information for the topic being discussed in the current message thread. The purpose of WOODWEB Forums is to provide answers, not to serve as an advertising venue. A Thread Related Link that directs visitors to an area with inappropriate content will be removed. WOODWEB reserves the right to delete any messages with links or images it deems inappropriate. (return to form)
Thread Related File Uploads
Thread Related Files posted at WOODWEB's Forums and Exchanges should provide supporting information for the topic being discussed in the current message thread. Video Files: acceptable video formats are: .MOV .AVI .WMV .MPEG .MPG .MP4 (Image Upload Tips) If you encounter any difficulty when uploading video files, E-mail WOODWEB for assistance. The purpose of WOODWEB Forums is to provide answers, not to serve as an advertising venue. A Thread Related File that contains inappropriate content will be removed, and uploaded files that are not directly related to the message thread will be removed. WOODWEB reserves the right to delete any messages with links, files, or images it deems inappropriate. (return to form)