You are not logged in. Consider these WOODWEB Member advantages:

A personal "member history" that displays your posts at WOODWEB
Your forms at WOODWEB will be filled in automatically
Create your personal "My Favorites" page
Numerous automatic notification options
Table top strip inlay adhesive
1/18/18

Website: http://chairsnw.com
We make solid wood tables in a variety of woods, Cherry being the most common by far. One of our options is a 3/8" strip inlay-ed 2-1/2" in from the perimeter which we cut with our CNC router when it does the top shape. The inlay is Ipe because it holds its color well and has a pleasing color with all the woods whether Cherry, Maple or Walnut.
The thickness of the inlay strip is .125 maximum after sanding . We've been using slow cure epoxy (sys3) to glue the inlays strips in but I just had two calls this week about strips popping up in places random spots (always across the grain). In theory the .125 thickness should allow the inlay to move with the solids. What adhesive or tips would make this construction more robust. I have been wondering about the clamping pressure because epoxy doesn't like too be starved.
Yellow glue? I don't like it because the inlays might not always fit tight down into the groove. Plastic Resin glue? PL (polyurethane) construction adhesive?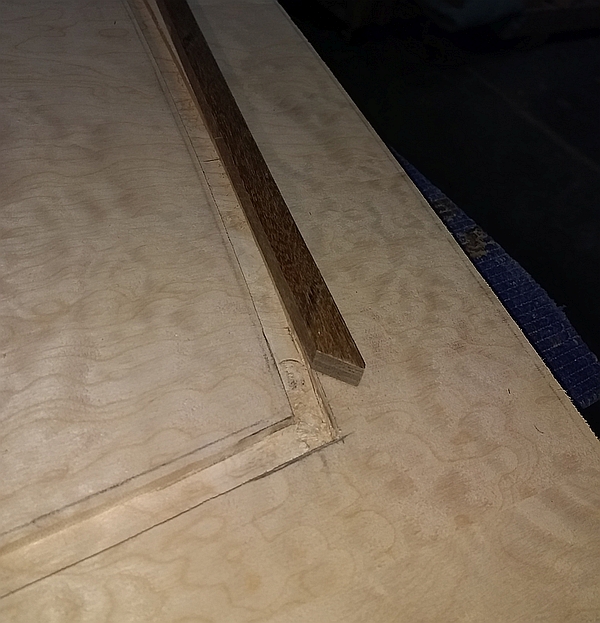 View higher quality, full size image (600 X 623)

---
1/19/18 #3: Table top strip inlay adhesive ...

Your inlay will not expand or contract with the substrate. The table may expand or contract by 1/4" annually depending on the humidity swings. Even if you used a thin veneer for the vein line you would likely see wood failure. No adhesive will help you here.
I have seen tables with vein lines in solid tops where the lines incorporate designed in breaks in the lines across the grain thus reducing the overall stress into smaller stresses on shorter pieces.
Alternatively you can make cross grain strips for the lines across the ends of the table.
---
1/19/18 #4: Table top strip inlay adhesive ...

I agree with Tom. Especially this time of year. Especially this year.
I will add that Ipe never glues well. There are instances, but there is a reason you do not see commercially produced things made of edge glued Ipe. Nothing will hold it for long. I have seen firms go under as a result of massive Ipe glue failures. Search on this site for gluing Ipe and you can learn more.
---
1/20/18 #5: Table top strip inlay adhesive ...

Website: http://MCCWOODWORKING.Com
Many years ago, I had a builder that wanted us to do a deck railing with something other than cedar and we choose Jatoba which is marketed as Brazian Cherry. We used West Systems Epoxy.
During the coming Spring, it all came apart. I called West Systems and spoke with an Engineer. He explained to me that glue has to be able to soak into the pores and create a sort of hook into the wood. He said a lot of these Exoctic woods are too dense for glue to absorb into the pores. I would change to another wood specie from Ipe.
In 2003, we did a Restaurant/Bar where did tables and the bar were Mahogany with maple iays. We finished the tops and the bar with ICA and we put about five coats on them. We buffed them, they looked great. In 2014, they asked us to come back and we buffed them again. The still look great.
We did our inlays similar to what you described. I think our inlays were deeper. I would suggest you change your wood for the inlay and do a great job on your finish.
---
1/20/18 #6: Table top strip inlay adhesive ...

Website: gregaanesfurniture.com
Paul- Thanks for the proffessional advice. Its amusing to see paternalistic responses saying "you can't do that, don't do it". Anything can be done if done right.
The issue about the Ipe as an inlay has a bothersome choice because of the point you spoke of, however the color is perfect even on a variety of woods.
The first apparent choice, Walnut, loses enough of its color to be dismissed. And walnut isn't right on Walnut tables. The inlay must be darker- contrasting. No help from our lumber reps. On circular tables we do poured inlay using slow epoxy tinted with universal colors, and the look can be tuned right to where needed. But for the vast majority of our tables we wish to use wood inlay.
There used to be several ebonized or dyed woods we used based on either pine or Maple. Anything anyone knows of now?
Or how to dye our own 1/4" inlay all the way through?
---
1/20/18 #7: Table top strip inlay adhesive ...

Website: http://MCCWOODWORKING.Com
"Amusing, Paternalistic?" You are the one with the problem. Everyone here is trying to be helpful and share their knowledge and experiences.
Good luck
---
1/21/18 #8: Table top strip inlay adhesive ...

I would like to provide a suggestion for you, but i think it best I don't.
---
1/21/18 #9: Table top strip inlay adhesive ...

"Anything can be done if done right". I don't need to point out the fallacy in such a proclamation.
You can do whatever you like. You can believe whatever you want. That can all exist in spite of observational reality.
Point is, son, you asked for help, and some folks took some time to help. You can discard that at will.
I'll add that this profession will humble its practioners deeply and frequently. One would do well to first accept they have a need to learn. Son.
---
1/21/18 #10: Table top strip inlay adhesive ...

At the risk of being more paternalistic I will point out that there is a marked difference between the example of inlay in mahogany (most likely african) and cherry or maple. The coefficient of expansion is much higher for cherry, maple and walnut.
A thicker finish will help moderate the moisture transfer but ultimately expansion and contraction is inexorable. There have been three or four threads in a month on this subject.
Let us know what you come up with when you find the right way.
---
1/21/18 #11: Table top strip inlay adhesive ...

Greg, If you like the color Ipe, then at least cut the ends out of cross grain, so it matches the substrate. Your failure is due to the grain direction being opposite more than anything else.
The inlay doesn't have to be one long strip, but can go in as little short pieces cut from any solid plank, so you don't have to worry about handling a long fragile strip breaking before you can get it glued.
You could improve the epoxy bond by running down the bottom side of your inlay strip with a right angle disk sander with coarse 24 grit before you rip them off. This will give the epoxy some tooth to hold onto.
You don't mention whether you thicken the epoxy, but most epoxy is brittle when used straight, but you may be able to get something to add into the mix to make it more flexible too. I always add some silica to thicken when using it as an adhesive. I add some dust from my portable belt sander bag to that to get the color I want.
Quality control is usually a good practice. You could cut some wide thin cross grain strips of both species exactly the same length, then zap them in the microwave to see how much they shrink for comparison.
But let me be clear, since you posted this in the adhesive section. Your failure wasn't due to the glue. If it had not buckled and popped out, then the table would have split which to my thinking would be a bigger problem.
Running the Ipe cross grain may not be all it takes. A less dense / more easily crushed like mahogany might make a better wood choice. It is also easy to stain or dye to get good color.
Good luck

---
1/23/18 #12: Table top strip inlay adhesive ...

Website: gregaanesfurniture.com
Kieth- Quite interesting. I see the function of cutting cross grain strips for the portions which are crossing the grain of the main table. However are you suggesting the same when the inlay runs parallel to the base grain?
I have been working on the assumption that if we keep the inlay 1/8" or less in depth it will move with the seasonal table movement. At the same time I see the adhesion problems with Ipe (or similar).
A less dense- more forgiving wood makes sense. We have been using Ipe for the color. Dyed mahogany would give us the color, however dye does not penetrate deep enough, so I am considering building up our own inlay strips by gluing dyed veneer. Apart from all the additional work, do you see an issue with that method?
---
1/24/18 #13: Table top strip inlay adhesive ...

Ipe is a terrible wood for anything other than decking. Even that is debatable.
Epoxy doesn't need to soak into anything. The bond is at the surface. The guy from West System would tell you to add thickening filler to absorb the resin and keep it at the glue line.
Epoxy likes thick joints. The surface should ideally be abraded to 80 grit. We get away with not sanding as much with wood that isn't subjected to strain.
Example: if you build a radius top jamb out of 3/16" veneers and bend them around a form. If you use pva the veneers can be taken directly out of a planer or sanded very smoothly. If you use epoxy the veneers should be run thru a thickness sander with a fresh 60 grit belt. The epoxy bond will fail without abrasion under strain.
As David mentioned ipe is notorious for poor bonding. It is so hard and oily that epoxy barely sticks to it.
Never compare it to teak. That is easy to glue if you follow the standard protocol.
---
1/31/18 #14: Table top strip inlay adhesive ...

I'm convinced that the issue is the ipe. I've made things out of Ipe, and I've seen lacquer (which usually sticks to anything) flake right off of it after a few weeks/months.
I've edge-glued it several times, using offcuts I've picked up on jobsites, and then broke the joint with very little effort after an overnight cure. It holds glue worse than teak or indian rosewood, even when cleaned with lacquer thinner.
I personally would not sell anything with Ipe if it had to be glued or given a film finish.
---
1/31/18 #15: Table top strip inlay adhesive ...

We have been doing poured epoxy on odd shaped tables which can't take the bend of wood and are refining that process for the larger table which are our mainstay, and yes we have been using low density filler in the epoxy to provide more flexing. The only reason we haven't been doing it on the large tables is the cost in time, but I'm now convinced to give it some more work.
This indicates to me Ipe is the main variable to remove. Thanks for the urging to do so.
We are now experimenting with dyeing .1" strips )all the way through) then building up to the needed .25". Gluing thinner veneers is quite a bit of added time as well as having more glue lines visible. I believe that will be a good solution.
To clarify- the paternalism I referred to is simply stating something can't be done- period, which implys don't ask any questions nor even discuss it. I know a manufacturer who has been inlaying 1/4" strips of cherry in their solid tops for three decades now, and they swear by letting it into a groove at least 1/4" deep so it will hold. That seems like such a dangerous method I can't bring myself to go there, however the result shows differently in the large number of tables over three decades.
---
1/31/18 #16: Table top strip inlay adhesive ...

We often try things that sound unachievable with wood. If the Woodweb guys knew half of the stuff I've seen on boats done with epoxy, they would be less dogmatic.
At times I can be that way. Ipe is one of those cases. It is best left in the rain forest from where it came.
Teak bonds perfectly with epoxy if you follow the basics. They are not the same critter.
Wood is an interesting material. If you can completely remove the moisture variable it is extremely stable. If not it moves around a fair amount. Cherry inlays would work fine in my book. Just have a good understanding of finishing.
---
2/2/18 #17: Table top strip inlay adhesive ...

Greg - You are right, it is often hasty to make proclamations about what can and can't be done. I think a bell curve explains it well, as the proclamation will hold for the bulk of examples, but then there are those out there at the edges.
We are now making exterior door panels as 7 plies of solid wood and seeing promising success. This is something I learned could not be done 45 yrs ago, and repeated often over the years.
The 1/4" deep inlay that works is a good proof, but like you, I would be afraid to put it out there without a lot of testing. While the surface area for the glue is generous, it is still a cross grain that should pop the inlay, or even crack the top. That, and out of balance also.
I guess no one ever promised me the craft would be ruled by rigid logic.....
---
2/3/18 #18: Table top strip inlay adhesive ...

I just had massive water damage to one of our properties. Its a circa 1825 2 story carriage house in CT. I renovated it into my workshop in 2002 and converted it to a apartment/studio in 2010. The tenant shut the electricity off in April. In retrospect our property manager lied about any inspection she did over the years.
The water leaked endlessly for 7-10 days at 65psi dead center second floor Christmas weekend. The only copper pipe in the whole building is the radiant floor panel. Yes, pex doesn't pop when frozen, it stretches.
When it was discovered that the building was flooded(water was seen running out of the 2nd floor clapboards. The first floor had 1x6 southern yellow pine flooring 40'x40' floor. It was fully buckled in three spots(45 degrees). Why did it stay down? My flooring contractor had his Dominican guys lay the floor. It was stapled every 3-5" with 2 1/2" staples. They held because the building has a 3" x 6" solid fir subfloor.
Even with 1" of standing water the absurd number of fasteners held down a 40' wide solid wood floor.
Perhaps we should be completely gluing our sold raised wood panels into the frames like we've been doing with mdf panels for 20 years.
I did 90% of the carpentry. 100% of the electrical & plumbing.
Sorry for the long diatribe. I've been managing this unfortunate event for the last 3 weeks. new prop manager, insurance adjuster, lawyer, and builder friend.

---

---
Buy & Sell Exchanges | Forums | Galleries | Other Resources | Site Map
---



Buy and Sell Exchanges



Job Opportunities and Services Exchange
Employment opportunities and services within the woodworking industry

Lumber Exchange
A worldwide buy/sell exchange for lumber and wood products

Machinery Exchange
A worldwide buyer and seller exchange for woodworking machinery and equipment.

Classified Ad Exchange
Classified advertising for the woodworking industry (for advertisements that do not include machinery, lumber products and employment listings)


---



Forums



Adhesives Forum
Discussing topics related to adhesives within the woodworking industry

Architectural Woodworking Forum
Discussing quality standards and production of architectural wood products

Business and Management Forum
A forum for the discussion of business topics: from sales and marketing to dealing with difficult customers.

Cabinet and Millwork Installation Forum
Discussing all aspects of installation issues encountered by cabinet and millwork installers.

Cabinetmaking Forum
Discussing 32mm and face frame cabinet construction including fabrication, casegoods design, and installation.

CAD Forum
Shedding light on the all-too-often shadowy world of CAD.

CNC Forum
Discussing CNC (computer numerically controlled) woodworking equipment, software, and automated product manufacturing.

Dust Collection, Safety and Plant Operation Forum
Discussing topics related to maintaining a safe and productive working environment.

Professional Finishing Forum
Finishing issues for the production environment

Forestry Forum
The science and art of forest cultivation and timber management, planting, surveying, tree diseases, silviculture and timber harvesting

Professional Furniture Making Forum
Helping professional furniture makers improve quality, save time, and increase profits

Laminating and Solid Surfacing Forum
Issues related to laminating and solid surface materials and processes

Commercial Kiln Drying Forum
Discussions covering issues faced be commercial drying operations that process at least 750,000 bd. ft. of lumber per year

Sawing and Drying Forum
Discussing topics related to primary processing and drying of lumber

Solid Wood Machining Forum
Discussing topics related to the machining of solid wood

Value Added Wood Products Forum
Learn how to improve your output, find new markets, and boost sales of your lumber products

Veneer Forum
Discussing topics related to veneer processing, manufacturing, and fabrication

WOODnetWORK
An electronic discussion group for woodworkers throughout the world


---



Galleries



Project Gallery
Where professional woodworkers can post examples of their work

Sawmill Gallery
Professional primary processing companies display and describe their sawmill facilities

Shop Gallery
Professional woodworkers display and describe their shop facilities, products and equipment

Shopbuilt Equipment Gallery
Professional woodworker's jigs, rigs, and shopbuilt equipment


---



Other Resources



Industry News
Late-breaking news from all sectors of the wood industry

Video Library
Index of industrial woodworking related digital videos on the web

Auctions, Sales and Special Offers
Advertisers offering woodworkers discounted prices on good and services, and announcements of upcoming auctions


FORUM GUIDELINES: Please review the guidelines below before posting at WOODWEB's Interactive Message Boards
(return to top)
WOODWEB is a professional industrial woodworking site. Hobbyist and homeowner woodworking questions are inappropriate.
Messages should be kept reasonably short and on topic, relating to the focus of the forum. Responses should relate to the original question.
A valid email return address must be included with each message.
Advertising is inappropriate. The only exceptions are the Classified Ads Exchange, Machinery Exchange, Lumber Exchange, and Job Opportunities and Services Exchange. When posting listings in these areas, review the posting instructions carefully.
Subject lines may be edited for length and clarity.
"Cross posting" is not permitted. Choose the best forum for your question, and post your question at one forum only.
Messages requesting private responses will be removed - Forums are designed to provide information and assistance for all of our visitors. Private response requests are appropriate at WOODWEB's Exchanges and Job Opportunities and Services.
Messages that accuse businesses or individuals of alleged negative actions or behavior are inappropriate since WOODWEB is unable to verify or substantiate the claims.
Posts with the intent of soliciting answers to surveys are not appropriate. Contact WOODWEB for more information on initiating a survey.
Excessive forum participation by an individual upsets the balance of a healthy forum atmosphere. Individuals who excessively post responses containing marginal content will be considered repeat forum abusers.
Responses that initiate or support inappropriate and off-topic discussion of general politics detract from the professional woodworking focus of WOODWEB, and will be removed.
Participants are encouraged to use their real name when posting. Intentionally using another persons name is prohibited, and posts of this nature will be removed at WOODWEB's discretion.
Comments, questions, or criticisms regarding Forum policies should be directed to WOODWEB's Systems Administrator
(return to top).

Carefully review your message before clicking on the "Send Message" button - you will not be able to revise the message once it has been sent.

You will be notified of responses to the message(s) you posted via email. Be sure to enter your email address correctly.

WOODWEB's forums are a highly regarded resource for professional woodworkers. Messages and responses that are crafted in a professional and civil manner strengthen this resource. Messages that do not reflect a professional tone reduce the value of our forums.

Messages are inappropriate when their content: is deemed libelous in nature or is based on rumor, fails to meet basic standards of decorum, contains blatant advertising or inappropriate emphasis on self promotion (return to top).

Libel: Posts which defame an individual or organization, or employ a tone which can be viewed as malicious in nature. Words, pictures, or cartoons which expose a person or organization to public hatred, shame, disgrace, or ridicule, or induce an ill opinion of a person or organization, are libelous.

Improper Decorum: Posts which are profane, inciting, disrespectful or uncivil in tone, or maliciously worded. This also includes the venting of unsubstantiated opinions. Such messages do little to illuminate a given topic, and often have the opposite effect. Constructive criticism is acceptable (return to top).

Advertising: The purpose of WOODWEB Forums is to provide answers, not an advertising venue. Companies participating in a Forum discussion should provide specific answers to posted questions. WOODWEB suggests that businesses include an appropriately crafted signature in order to identify their company. A well meaning post that seems to be on-topic but contains a product reference may do your business more harm than good in the Forum environment. Forum users may perceive your references to specific products as unsolicited advertising (spam) and consciously avoid your web site or services. A well-crafted signature is an appropriate way to advertise your services that will not offend potential customers. Signatures should be limited to 4-6 lines, and may contain information that identifies the type of business you're in, your URL and email address (return to top).

Repeated Forum Abuse: Forum participants who repeatedly fail to follow WOODWEB's Forum Guidelines may encounter difficulty when attempting to post messages.

There are often situations when the original message asks for opinions: "What is the best widget for my type of shop?". To a certain extent, the person posting the message is responsible for including specific questions within the message. An open ended question (like the one above) invites responses that may read as sales pitches. WOODWEB suggests that companies responding to such a question provide detailed and substantive replies rather than responses that read as a one-sided product promotion. It has been WOODWEB's experience that substantive responses are held in higher regard by our readers (return to top).

The staff of WOODWEB assume no responsibility for the accuracy, content, or outcome of any posting transmitted at WOODWEB's Message Boards. Participants should undertake the use of machinery, materials and methods discussed at WOODWEB's Message Boards after considerate evaluation, and at their own risk. WOODWEB reserves the right to delete any messages it deems inappropriate. (return to top)



Forum Posting Form Guidelines

Your Name
The name you enter in this field will be the name that appears with your post or response (return to form).
Your Website
Personal or business website links must point to the author's website. Inappropriate links will be removed without notice, and at WOODWEB's sole discretion. WOODWEB reserves the right to delete any messages with links it deems inappropriate. (return to form)
E-Mail Address
Your e-mail address will not be publicly viewable. Forum participants will be able to contact you using a contact link (included with your post) that is substituted for your actual address. You must include a valid email address in this field. (return to form)
Subject
Subject may be edited for length and clarity. Subject lines should provide an indication of the content of your post. (return to form)
Thread Related Link and Image Guidelines
Thread Related Links posted at WOODWEB's Forums and Exchanges should point to locations that provide supporting information for the topic being discussed in the current message thread. The purpose of WOODWEB Forums is to provide answers, not to serve as an advertising venue. A Thread Related Link that directs visitors to an area with inappropriate content will be removed. WOODWEB reserves the right to delete any messages with links or images it deems inappropriate. (return to form)
Thread Related File Uploads
Thread Related Files posted at WOODWEB's Forums and Exchanges should provide supporting information for the topic being discussed in the current message thread. Video Files: acceptable video formats are: .MOV .AVI .WMV .MPEG .MPG .MP4 (Image Upload Tips) If you encounter any difficulty when uploading video files, E-mail WOODWEB for assistance. The purpose of WOODWEB Forums is to provide answers, not to serve as an advertising venue. A Thread Related File that contains inappropriate content will be removed, and uploaded files that are not directly related to the message thread will be removed. WOODWEB reserves the right to delete any messages with links, files, or images it deems inappropriate. (return to form)