Message Thread:
Curts Thumb
3/19/16

So I walk by Curt who is carrying a piece to the truck, then I see someone has gotten a replacement brake out for the Sawstop saw.. I ask Danny it it had been set off, He says yea curt , I asked "Wet wood , Metal ??" No his thumb.
This is the first full test We have had of the saw, today it saved me a good 30-60 K in medical Bills and workers comp....
Today after 4 years of Sawstop ownership It paid off !!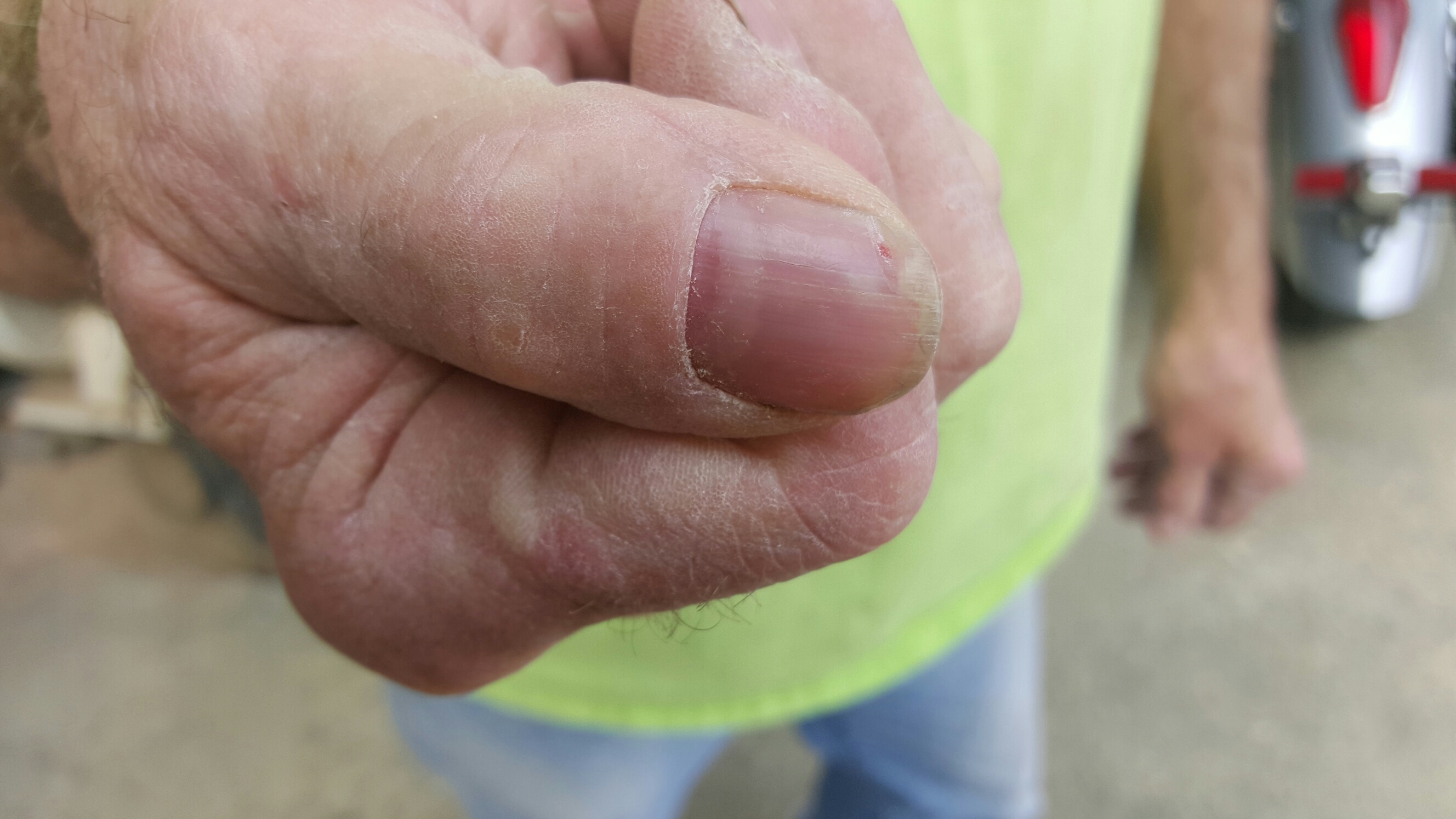 View higher quality, full size image (2656 X 1494)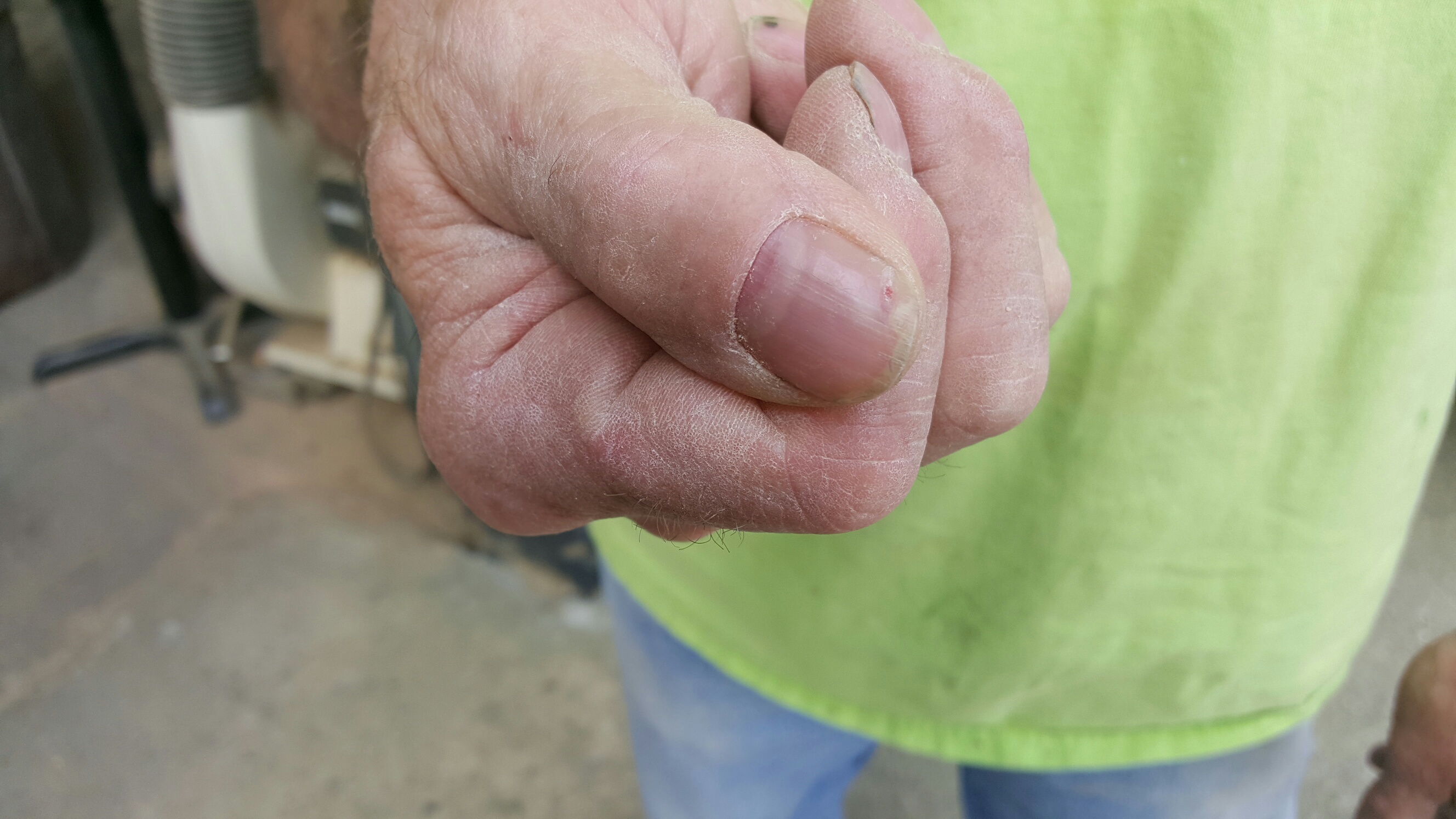 View higher quality, full size image (2656 X 1494)

---
3/20/16 #2: Curts Thumb ...

Send the info to Sawstop and i am pretty sure they will send you a new cartridge for free.
---
3/20/16 #3: Curts Thumb ...

So can you explain what operation he was doing that required his thumb to be that close to the blade that couldn't have been done with a push stick, long push stick, push block, power feeder, GRR-Ripper. See where I'm going with this?
---
3/20/16 #4: Curts Thumb ...

We have always kept Brakes on hand and it had been a while since one had gone off,
Ken you are going in the right direction !
this is living proof the Very experience can still make a mistake, Curt is a decades old Architectural woodworker. Normally somewhat cantankerous he was very animated after this happened and We both were pretty Grateful for the saw after it happened.
He tried with out a push stick
---
3/20/16 #5: Curts Thumb ...

I have never shy'ed away from humiliating my mistakes.
This is Mine split in two twice within 364 days apart and the same guy was standing within ten feet of me both times. This lead to the sawstops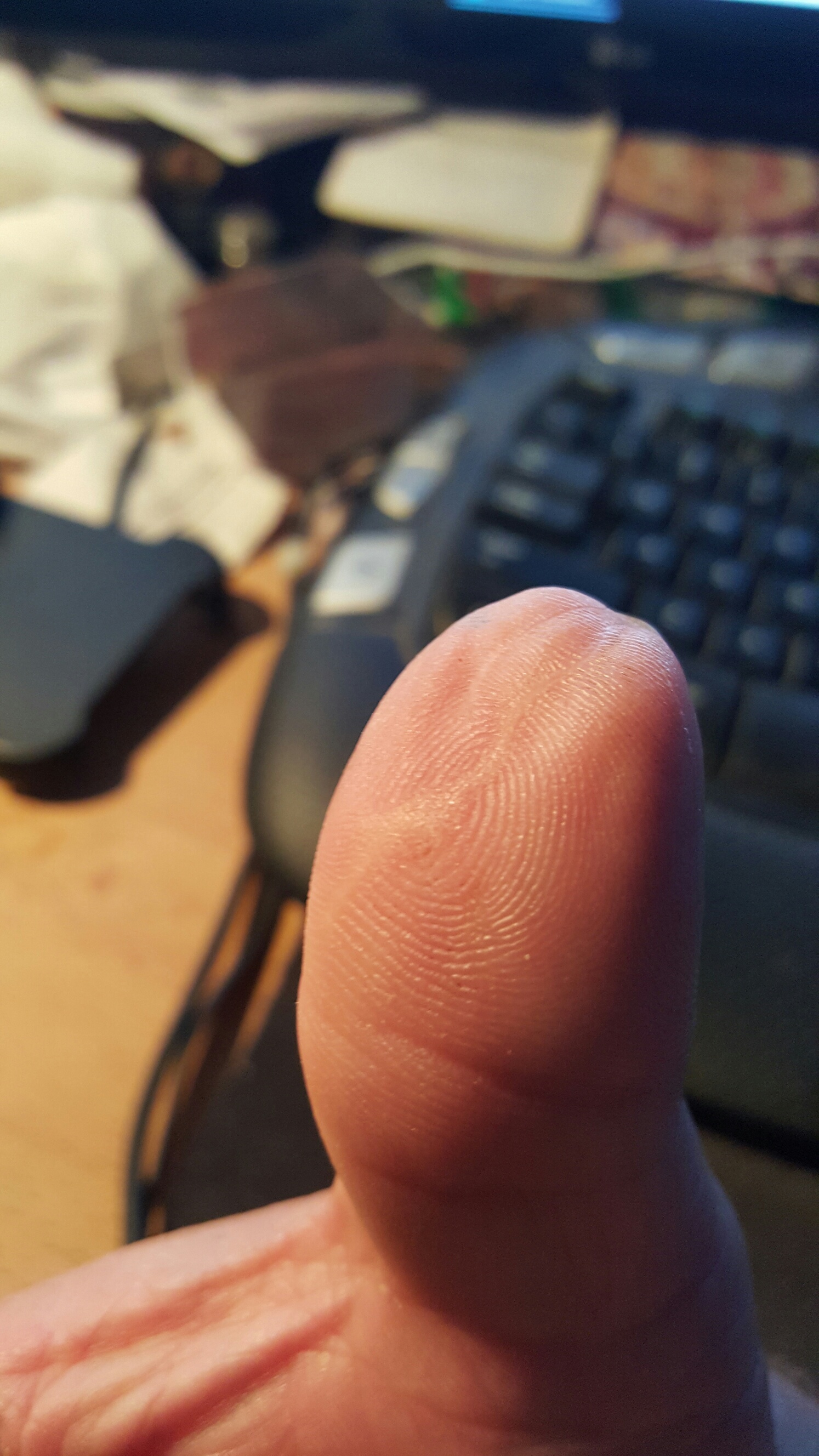 View higher quality, full size image (1494 X 2656)

---
3/20/16 #6: Curts Thumb ...

I had to give this thread a thumbs up.
---
3/20/16 #7: Curts Thumb ...

I have had the corner of my thumb bit off by a unisaw once and this is the second thumb that I have seen saved by the saw stop this week. The guys that have that saw how are they for power? Do they match up with a 3 or 5hp unisaw?
---
3/20/16 #8: Curts Thumb ...

It's good we bring up this dialog every once in a while, not to point fingers but it keeps safety in the forefront of our minds. That said I'm a one man shop with a Rockwell 12/14 cabinet saw and an Altendorf F45. I would never by a Sawstop for me but if I took on an employee that was going to run my cabinet saw I would buy a SS in a second. Based on the experience above, a miscalculation even by a seasoned worker can lead to a serious injury. The reason I don't need a SS is unless I can perform the operation with one of the above mentioned aids I'm not sticking my fingers anywhere they can get bit. And correct me if I'm wrong but most of us would agree that when there is an "incident", kickback, or whatever, we have a feeling prior to it that maybe this isn't the best way to be doing this. Just my thoughts. Again, this is a healthy discussion and not a rag session.
---
3/20/16 #9: Curts Thumb ...

We have a 5hp SawStop, better in everyway than the Unisaw it replaced.
Worth noting that the safety system of the Saw Stop is not considered an acceptable safety device by OSHA. We just had another inspection.
Ours has saved 2 thumbs of experienced employees!
---
3/20/16 #10: Curts Thumb ...

I shared a shop for a while with a guy who had a sawstop tablesaw. During the year I was there the saw was tripped about six times. The crew seemed somewhat ambivalent about saw safety because of the SawStop.
The guy that owned the saw stop got hit one time and was bleeding like a stuck pig. The bleeding was bad enough I asked him if he wanted me to take him to the emergency room.
They are better than nothing but don't trust them.
---
3/20/16 #11: Curts Thumb ...

I always wondered what if your hand got thrown into the blade really really fast. You see the demos where they casually walk a hotdog into the blade but accidents happen a lot faster then that.
---
3/20/16 #12: Curts Thumb ...

Well said,, All the safety features of any tool do not replace common sense.
---
3/20/16 #13: Curts Thumb ...

This is the brake after activation...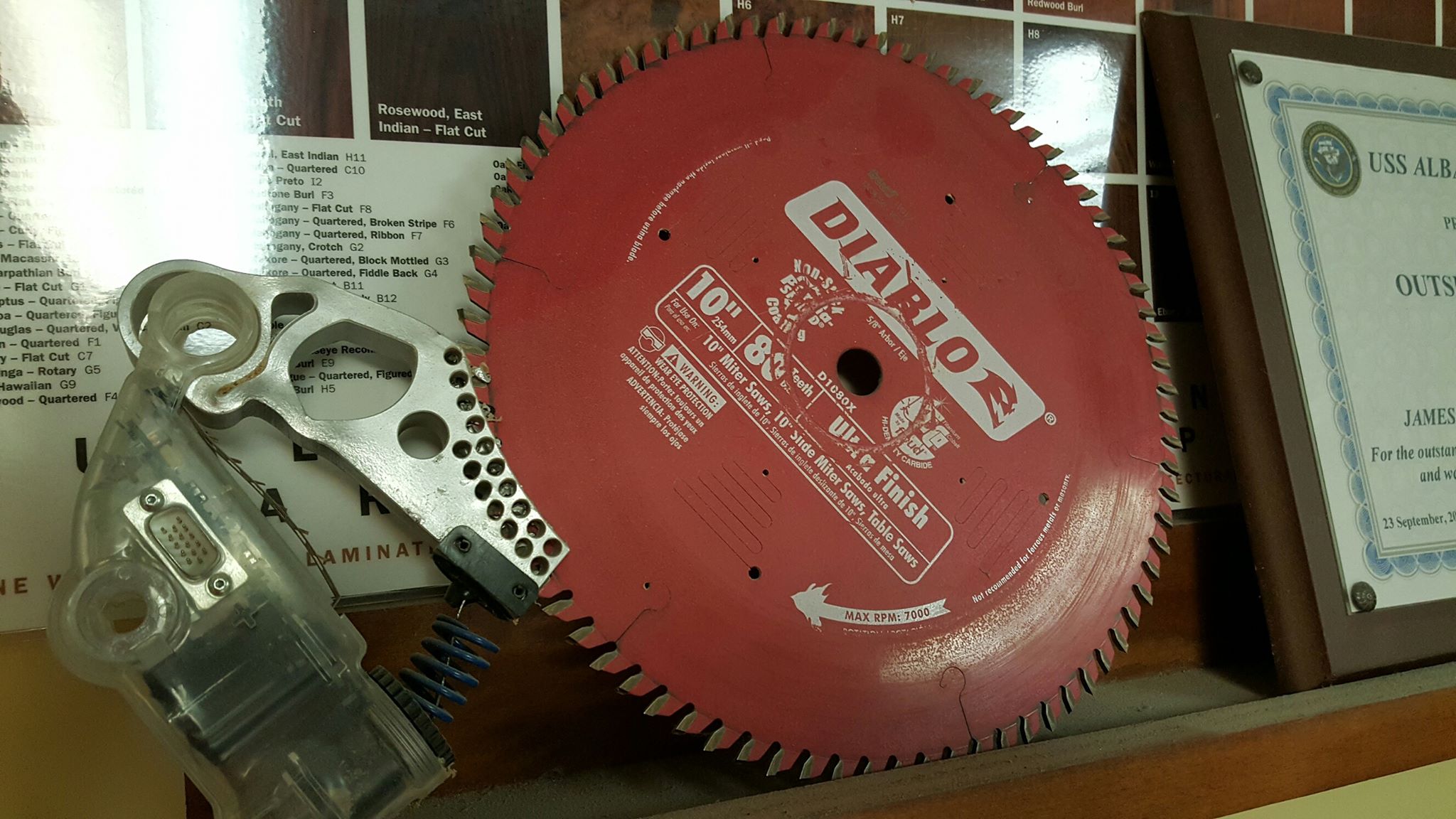 View higher quality, full size image (2048 X 1152)

---
3/20/16 #14: Curts Thumb ...

Of course many accidents never have skin to blade contact.
Not to say that they are not a worthwhile investment.
Also Bosch has something similar, albeit hung up in court for a bit.
---
3/20/16 #15: Curts Thumb ...

Hey door stop guy, there is a video on YouTube that addresses that question. The guys takes a sausage and swings it down hard on the moving blade. The result is a cut that would require several stitches if it were on an actual hand. That seems better than a several finger. It wasn't exactly a scientific test but it was interesting.
---
3/20/16 #16: Curts Thumb ...

Sorry. Door shop.
---
3/20/16 #17: Curts Thumb ...

Website: http://www.joecoholiccustomfurniture.com
For the fellow that asked - I have been running a Sawstop Industrial Cab saw, with a 5 HP three phase 240V motor for five years + now.
Replaced a few older Unisaws (I also run a large Griggio slider, for panel stock - the Sawstop is mainly used for solid wood).
I love the saw. Lots of power - with a good blade (I like to use GLR most of the time) you can push through 8/4 hardwood as fast as you want to go. It is a nice saw. Has held its accuracy, daily use by three of us and three firings. I recently checked the run out on the arbor with a dial indicator - less than 1/2 a thousandth.
All three of the firings were contact (un planned) with metal - the mitre guage and some copper clad Formica. No saves yet on people, but I do preach and practise safety in the shop and the guard is on always as well.
Smaller cabinet saw is still the main culprit in woodworking shop injuries. It is piece of mind for me, with the two employees. And me too.
Take it or leave it - but I appreciate having one in my shop.
---
3/22/16 #18: Curts Thumb ...

James, I think it's great you share this. It's the most seasoned guy that will get hurt, because they get too comfortable with the machine. I'm guilty of that myself. I love the sawstop, it's incredible, and a superior table saw with respect to build quality and functionality. But I do have some concerns. First let me admit I have had my fair share of close calls, some so close I couldn't believe how close I got to bodily injury or serious kick backs. But being human like the rest of you, we do stupid things when we are in a rush or working late.
The sawstop prevents certain types of injuries but not all. Kickbacks are still prone without a proper riving knife, and or guard, and most importantly technique. I like the sawstop's technology but I think people need to always keep in mind that you can't let it drive shop safety culture, because the table saw while principal for us cabinetmakers is not nearly the only dangerous tool we use. I've seen this first hand, where guys get too relaxed on this machine and carry that over to the bandsaw, shaper, jointer, etc. Proper safety precautions, training and oversight will prevent most injuries.
But don't get me wrong, I love sawstop's table saws, it just can't be the only thing between you and accidents.
---
3/23/16 #19: Curts Thumb ...

Website: http://www.allmoxy.com
This is great to see! I love what Saw stop has given the industry, and I really respect this technology, so forgive me for a quick rant.
I think there is such a huge opportunity (for both Saw Stop monetarily AND people loosing their fingers) to expand this technology. This technology needs to be applied to other saw brands. Saw stop only manufactures saws for a very limited slice of the industry and it drives me crazy to see this amazing technology "shelved" so that they can be in the business of manufacturing and selling saws. They should be in the business of saving fingers, not manufacturing saws. They could accomplish so much more with a few small tweaks.
When I was running my shop, I had a guy loose his finger and passionately petitioned Saw stop to allow me to help them develop retrofit kits to use on our machines, with no avail. I hope someday we can make this happen as an industry.
Having said all of that, again, this is a great post, with great news. We live in an amazing time!
---
3/23/16 #20: Curts Thumb ...

Would sliders benefit from having this kind of technology? I know they are inherently safer than a cabinet saw since you don't get as close to the blade. I wonder what the statistics are for accidents on sliders.
---
3/23/16 #21: Curts Thumb ...

Website: http://www.allmoxy.com
Nick, Yes!
---
3/24/16 #22: Curts Thumb ...

For years before the SawStop guys had a saw made with their technology, they tried to license it to other manufacturers. No takers for all sorts of reasons. To retrofit a Unisaw or the like would require about everything to be replaced except the box. Not likely an economic solution. The risk of being litigated out of business, should the technology fail, is huge. Their saws are better designed, better documented, in addition to being safer.
---
3/24/16 #23: Curts Thumb ...

Brady L - The guy that invented the Sawstop technology application has a long and not always pleasant history that can be found online if you look a bit.
Among other things, he tried to get the CPSC to declare tablesaws inherently unsafe in order to force court orders that would then force every new saw to be equipped with his technology. He even lobbied hard to make this retroactive to existing tablesaws throughout the US!
He currently has at least two competitors hamstrung in litigation, preventing other types and applications of safer equipment from becoming available to those that can benefit from them.
While the Sawstop is a good machine, the man behind it appears to be far more concerned about wringing every dollar out of his one innovation rather than bringing an improved measure of safety into shops everywhere.
---
3/24/16 #24: Curts Thumb ...

Honestly I am just Glad I own one.
https://en.wikipedia.org/wiki/SawStop
---
3/24/16 #25: Curts Thumb ...


I vote for the guy who invented sawstop.
Before he came along, the tool manufacturers only provided the least amount of safety they were legally obligated to offer.
He deserves his "pound of flesh". :-) Pun intended.
I can testify that I have an employee that is eternally grateful for the innovation.
So if those poor tool manufacturers have to pay a few dollars licensing fees for this ingenious and industrious fellows invention. Remember all you little guys, (employees) and small shop owners he did this for your fingers! This is no small thing. Shame on the companies that are fighting him!!!
Best Regards My Friends,
Chip Geffre
---
3/24/16 #26: Curts Thumb ...


I'm not ready to throw all the blame at Sawstop. Again, this technology is amazing and has saved so many fingers. In some applications, the saw is just right as well. What I am saying though, is that I think it's a tragedy that the saw manufacturers and Saw Stop can't work out the legal issues, and that is costing everyone money and more importantly, fingers!
---
3/24/16 #27: Curts Thumb ...


I have had a SawStop for almost 5 years. It is a fine saw even forgetting the safety issue. I probably would have bought one years sooner if not for the legal antics of the inventor. I just couldn't get behind supporting some one trying to get the government to force his product on us.
---
3/25/16 #28: Curts Thumb ...


I mean this with a sense of Humor ....
"I just couldn't get behind supporting some one trying to get the government to force his product on us."
If this were my case I would never Vote.
LOL
---